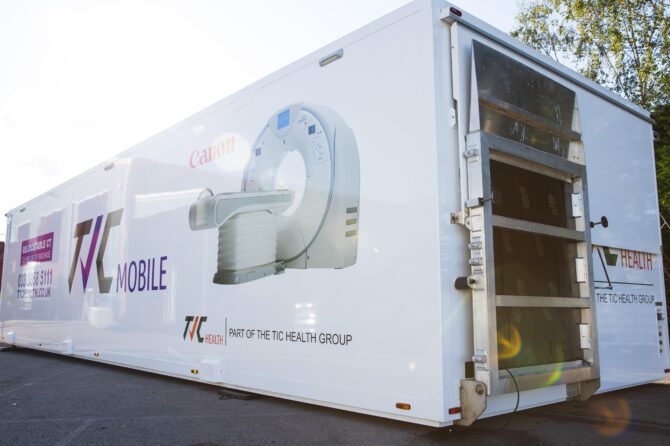 BRADFORD Royal Infirmary has taken delivery of an extra CT scanner which is already playing an important role as the hospital deals with patients during the Covid-19 pandemic.
The scanner, which has been placed outside the hospital, between the A&E and radiology buildings, has come from Canon Medical UK, formerly Toshiba Medical Systems, and has been sent to Bradford thanks to a long-standing relation between the company and Bradford Teaching Hospitals NHS Foundation Trust.
Consultant Thoracic Radiologist, Mark Kon, who is also Clinical Director of the Trust's Radiology and Imaging Unit, said: "Our Trust has enjoyed a close working relationship with Toshiba Medical Systems, now taken over by Canon Medical for a number of years, and I'm pleased to say that relationship has just grown even stronger during these unprecedented times of the Covid-19 pandemic.
"Back in 2013, we became the first hospital in the world to install the 2nd generation Aquilion Prime CT scanner from Toshiba, allowing us to acquire quicker and more detailed head-and-body scans to patients.
"The scanner's introduction also heralded the beginning of a partnership between Canon and the Trust, as Bradford Royal Infirmary was designated their world reference centre.
"Then in 2016, this relationship was cemented, when we acquired three Toshiba ultrasound scanners, which we use general radiology work and in our obstetrics unit."
Latest addition
Mr Kon added: "This latest addition to the Trust's scanner family is known as a 'relocatable scanner'; like a huge box which sits at ground level, which makes it really easy for us to wheel in patients on trolleys.
"It allows us to keep 'Green' patients (without suspected Covid-19) separate from 'Red' (suspected Covid-19) patients, mirroring the cohorting we have on the wards.
"Although our teams of radiographers were divided into Red and Green previously, they shared a common control room, so having this entirely separate new scanner means there is much less risk of cross infection."
He added that as well as allowing better separation between patients, the scanner also brought clear benefits by increasing radiology capacity.
"CT scanning is the backbone of our service and this latest scanner gives us extra capacity for our patients. It will enable us to include chest scans for all CT patients who are being admitted.
"In addition, we are carrying out pre-operation chest scans to ensure our patients are COVID-19 free before undergoing major surgery. Eventually, the scanner may be useful in the recovery phase when we start to catch up with imaging that has been put on hold for the last few weeks.
"We are incredibly grateful to Canon for making the scanner available to us for as long as we need it. It's a valuable resource and will really benefit our patients during these difficult times."
Mark Hitchman, Manager Director of Canon Medical Systems UK, said: "We are once again delighted to be able to provide Bradford Royal Infirmary with additional and flexible CT scanning facilities at this challenging time.
"It is wonderful and motivational to hear how this relocatable scanner is helping the hospital to reduce risk of COVID-19 exposure for both patients and staff, and also to provide additional resources for routine CT scanning in the future."
ENDS
For further media information, please contact communications@bthft.nhs.uk or call 01274 383901
Note to Editors:
Bradford Teaching Hospitals NHS Foundation Trust:
Bradford Teaching Hospitals NHS Foundation Trust is responsible for providing hospital services for the people of Bradford and communities across Yorkshire. We serve a core population of around 500,000 and provide specialist services for 1.1 million people.
Our 5,500 staff work over several sites, including Bradford Royal Infirmary, which provides the majority of inpatient services, and St Luke's Hospital, which predominantly provides outpatient and rehabilitation services. We also manage local community hospitals at Westwood Park, Westbourne Green, and Eccleshill.
In early 2017, a new £28 million wing opened at Bradford Royal Infirmary, part of a £75m investment to improve patient care across our hospitals over a five-year period. It provides world-class facilities for elderly care, children's services, a state-of-the-art intensive care unit with increased single-room provision and a retail concourse.
The new wing is a continuation of our work to improve patient experience after our new £2 million neonatal unit officially opened in January 2015. Our maternity services were recently shortlisted for the Royal College of Midwives' (RCM) Midwifery Service of the Year Award, recognising excellence and innovation in the provision of maternity care.
In 2017, we also completed a £2m refurbishment of our Emergency Department (ED) as part of an ambitious vision to create a more efficient acute medicine service for the people of Bradford. It has been designed to provide a slicker and more efficient service, with faster senior clinical involvement at an early stage in the patient pathway.
As a teaching hospital, we are at the forefront of education and development in healthcare, and have an excellent reputation for research performance. We are one of the leading centres in conducting applied research in the country, particularly in quality and safety, elderly care and rehabilitation.
The Trust is home to the Bradford Institute for Health Research (BIHR) where researchers have led the development, validation and implementation of the award-winning Bradford Electronic Frailty Index (eFI) which helps calculate an elderly person's risk of disability, impairment, falls and complications of chronic diseases, as well as their diminishing independence and capability. This is now being used by 98 per cent of all GPs across the country.
Our award-winning Ophthalmology department is home to numerous worldwide clinical trials taking the lead in eye care research and we are one of only three sites in the United Kingdom to be enlisted in the Perioperative Enhanced Recovery Hip Fracture Care of Patients with Dementia (PERFECTED) study, which will investigate how the NHS can introduce better standards of care to improve outcomes for people with dementia.
The Trust has its own Bradford Hospitals Charity: https://bradfordhospitalscharity.org/
Follow us on Twitter: @BTHFT