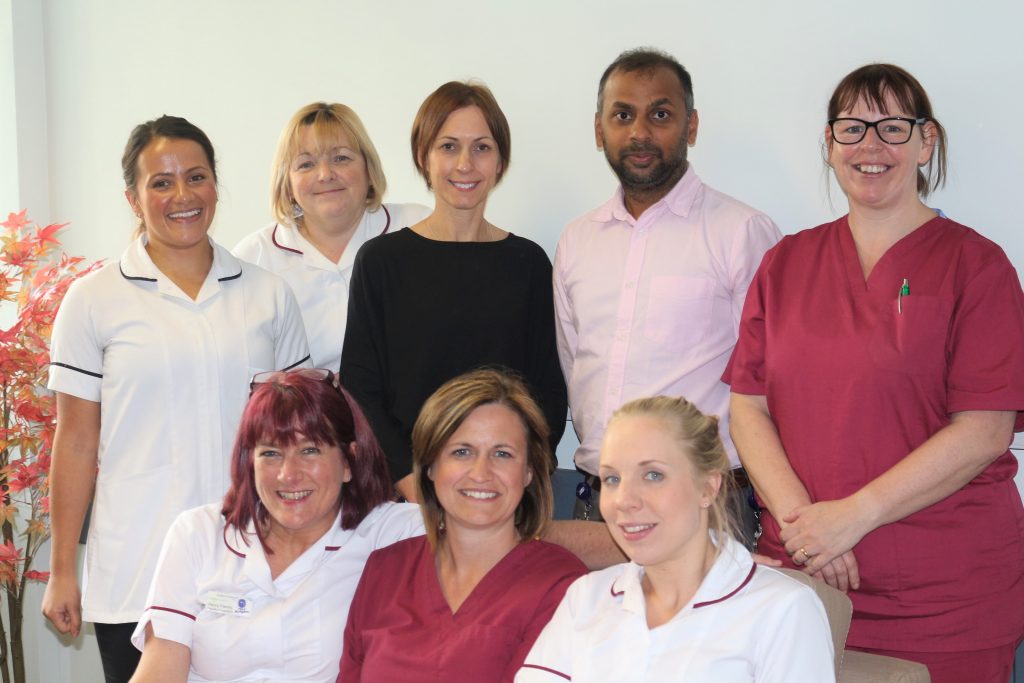 A SPECIAL room which will act as a sanctuary for the families of babies with life-limiting conditions opens tomorrow, (November 12, 2019).
The Butterfly Pathway family room is a new addition to the Women's and Newborn Unit at Bradford Royal Infirmary, part of Bradford Teaching Hospitals NHS Foundation Trust.
Former office space has been transformed by being painted in soothing colours and decorated with soft furnishings, pictures and furniture as part of the new Trust pathway, which supports new mums and their families following diagnosis of a life-limiting condition in their baby.
The Butterfly Pathway has been created by Trust Consultant Neonatologist Dr Chakra Vasudevan and Specialist Midwife, Vicky Jones, with support from members of the Trust's perinatal teams and staff from the Forget Me Not Children's Hospice.
The pathway has proven to be hugely supportive since it came into operation at the Trust around two years ago, and plays a key role in allowing families from throughout the region to prepare for the arrival of their baby and spend as much quality time as possible with them.
Dr Vasudevan said: "The Butterfly Pathway is a unique service and we want our families and other professionals to see that this can be done with limited resources and have great impact on the lives of children and their families.
Making memories
"The pathway helps families avoid painful and intrusive intensive care and spend time with their babies and siblings, making memories and caring for their child at home. It also helps them understand the implications of diagnosis and deal with bereavement.
"It's vital that we value every life equally and the pathway plays a vital role in allowing families to treasure their children."
Families on the pathway are offered support, choices and a care plan from a multidisciplinary team comprising of a neonatologist, midwife, geneticists, obstetricians and the perinatal palliative care team based at the Forget Me Not Hospice. This allows them to make informed choices about their labour, and provide the right care for their baby immediately after birth.
Vicky Jones said: "The main reason the pathway works is because it involves a multi-disciplinary team. That's what makes it special. We all work hard to make sure we get the environment right – both for our babies and their families.
The pathway is making a big difference to parents and families. Feedback from one of its mums reads: "I dread to think of the emotions I would have had to go through on my own. The Bradford Butterfly Pathway means I have people I can turn to, experts who have experienced my case many times over. I know I can get through my journey with them by my side."
Staff from the Women's and Newborn Unit donated funds raised by the Breaking Waters dragon boat team, representing the Trust's own Bradford Hospitals' Charity to transform the room. Funds have also been donated by the 4Louis charity, which works across the country to support anyone affected by miscarriage, stillbirth and the death of a baby or child.
Picture caption: Members of the Butterfly Pathway team in the new family room
ENDS
PHOTOCALL: Tuesday 12 November, 2.30pm. Opening of new Butterfly Pathway Room: Women's and Newborn Unit, Bradford Royal Infirmary, Smith Lane, Bradford BD9 6DA.
For further media information, please contact communications@bthft.nhs.uk or call 01274 383901.
Note to Editors:
Bradford Teaching Hospitals NHS Foundation Trust:
Bradford Teaching Hospitals NHS Foundation Trust is responsible for providing hospital services for the people of Bradford and communities across Yorkshire. We serve a core population of around 500,000 and provide specialist services for 1.1 million people.
Our 5,500 staff work over several sites, including Bradford Royal Infirmary, which provides the majority of inpatient services, and St Luke's Hospital, which predominantly provides outpatient and rehabilitation services. We also manage local community hospitals at Westwood Park, Westbourne Green, and Eccleshill.
In early 2017, a new £28 million wing opened at Bradford Royal Infirmary, part of a £75m investment to improve patient care across our hospitals over a five-year period. It provides world-class facilities for elderly care, children's services, a state-of-the-art intensive care unit with increased single-room provision and a retail concourse.
The new wing is a continuation of our work to improve patient experience after our new £2 million neonatal unit officially opened in January 2015. Our maternity services were recently shortlisted for the Royal College of Midwives' (RCM) Midwifery Service of the Year Award, recognising excellence and innovation in the provision of maternity care.
In 2017, we also completed a £2m refurbishment of our Emergency Department (ED) as part of an ambitious vision to create a more efficient acute medicine service for the people of Bradford. It has been designed to provide a slicker and more efficient service, with faster senior clinical involvement at an early stage in the patient pathway.
As a teaching hospital, we are at the forefront of education and development in healthcare, and have an excellent reputation for research performance. We are one of the leading centres in conducting applied research in the country, particularly in quality and safety, elderly care and rehabilitation.
The Trust is home to the Bradford Institute for Health Research (BIHR) where researchers have led the development, validation and implementation of the award-winning Bradford Electronic Frailty Index (eFI) which helps calculate an elderly person's risk of disability, impairment, falls and complications of chronic diseases, as well as their diminishing independence and capability. This is now being used by 98 per cent of all GPs across the country.
Our award-winning Ophthalmology department is home to numerous worldwide clinical trials taking the lead in eye care research and we are one of only three sites in the United Kingdom to be enlisted in the Perioperative Enhanced Recovery Hip Fracture Care of Patients with Dementia (PERFECTED) study, which will investigate how the NHS can introduce better standards of care to improve outcomes for people with dementia.
Follow us on Twitter: @BTHFT
The Trust has its own Bradford Hospitals Charity: https://bradfordhospitalscharity.org/
For more information please visit www.bradfordhospitals.nhs.uk