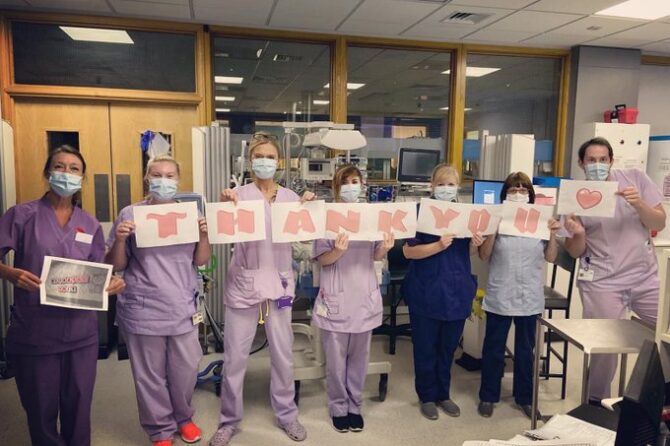 NHS hospital staff and partner organisations are to pay tribute to the communities they serve by standing to applaud them and floodlighting their buildings in a rainbow of colours.
During the first months of the COVID-19 pandemic, people stood on their doorsteps every Thursday evening to applaud the efforts of the NHS. Now that token of appreciation is to be returned.
On Thursday, December 3, at 4.30pm, staff of Bradford Teaching Hospitals NHS Foundation Trust and Airedale NHS Foundation Trust will be staging a 'Clap for Our Community'; staff will stand outside Bradford Royal Infirmary and Airedale General Hospital to applaud the efforts of local people in abiding by government and local restrictions in order to protect the NHS.
And just as local communities displayed images of rainbows as a sign of their admiration for medics caring for the sick, that rainbow of thanks will now be reflected to shine on them.
BRI will be lighting its main entrance off Duckworth Lane as well as its Women's and Newborn Unit in an ever-changing display of colours as staff say their 'thank you.' Airedale Hospital will also be floodlit in a rainbow of colours along with other key buildings in and around Bradford.
These include Bradford District Care NHS Foundation Trust's HQ at New Mill, Saltaire, and Lynfield Mount Hospital; Bradford City Hall and City Park; Foster Square arches, the Margaret McMillan Tower, Keighley Shared Church and the BEAP Community Partnership.
Messages of thanks
Bradford District and Craven CCG will be joining the tribute by encouraging their staff to take part by clapping from home and sharing their messages of thanks for communities on social media channels.
The Trust's Chief Executive, Mel Pickup said: "To see people stand and applaud the NHS and keyworkers week after week and display images of rainbows in their homes was truly humbling.
"It brought home to us how much the NHS is loved and appreciated, and during a time when the response of the NHS in caring for patients had never been so challenged, this meant so much to everyone. These touching tributes really lifted the spirits of our staff, as they showed just how much the 'carers' were themselves cared for.
"We decided to stage our 'Clap for Our Communities' and light our very own rainbow as a huge thank you to the people of Bradford and beyond and to say that we will always be grateful for their support and courage shown at a time of uncertainty and fear.
"We would ask them to continue with their brilliant efforts of 'Hands, Face, Space' and please keep abiding by the restrictions. Only by working together can we beat this virus."
Bradford District and Craven CCG will be encouraging their staff to take part by clapping from home and sharing their messages of thanks for communities on social media channels.
ENDS
For further media information, please contact communications@bthft.nhs.uk or call 01274 383901
Note to Editors:
Bradford Teaching Hospitals NHS Foundation Trust:
Bradford Teaching Hospitals NHS Foundation Trust is responsible for providing hospital services for the people of Bradford and communities across Yorkshire. We serve a core population of around 500,000 and provide specialist services for 1.1 million people.
Our 5,500 staff work over several sites, including Bradford Royal Infirmary, which provides the majority of inpatient services, and St Luke's Hospital, which predominantly provides outpatient and rehabilitation services. We also manage local community hospitals at Westwood Park, Westbourne Green, and Eccleshill.
In early 2017, a new £28 million wing opened at Bradford Royal Infirmary, part of a £75m investment to improve patient care across our hospitals over a five-year period. It provides world-class facilities for elderly care, children's services, a state-of-the-art intensive care unit with increased single-room provision and a retail concourse.
The new wing is a continuation of our work to improve patient experience after our new £2 million neonatal unit officially opened in January 2015. Our maternity services were recently shortlisted for the Royal College of Midwives' (RCM) Midwifery Service of the Year Award, recognising excellence and innovation in the provision of maternity care.
In 2017, we also completed a £2m refurbishment of our Emergency Department (ED) as part of an ambitious vision to create a more efficient acute medicine service for the people of Bradford. It has been designed to provide a slicker and more efficient service, with faster senior clinical involvement at an early stage in the patient pathway.
As a teaching hospital, we are at the forefront of education and development in healthcare, and have an excellent reputation for research performance. We are one of the leading centres in conducting applied research in the country, particularly in quality and safety, elderly care and rehabilitation.
The Trust is home to the Bradford Institute for Health Research (BIHR) where researchers have led the development, validation and implementation of the award-winning Bradford Electronic Frailty Index (eFI) which helps calculate an elderly person's risk of disability, impairment, falls and complications of chronic diseases, as well as their diminishing independence and capability. This is now being used by 98% of all GPs across the country.
Our award-winning Ophthalmology department is home to numerous worldwide clinical trials taking the lead in eye care research and we are one of only three sites in the United Kingdom to be enlisted in the Perioperative Enhanced Recovery Hip Fracture Care of Patients with Dementia (PERFECTED) study, which will investigate how the NHS can introduce better standards of care to improve outcomes for people with dementia.
The Trust has its own Bradford Hospitals Charity: https://bradfordhospitalscharity.org/
Follow us on Twitter: @BTHFT
For more information please visit www.bradfordhospitals.nhs.uk