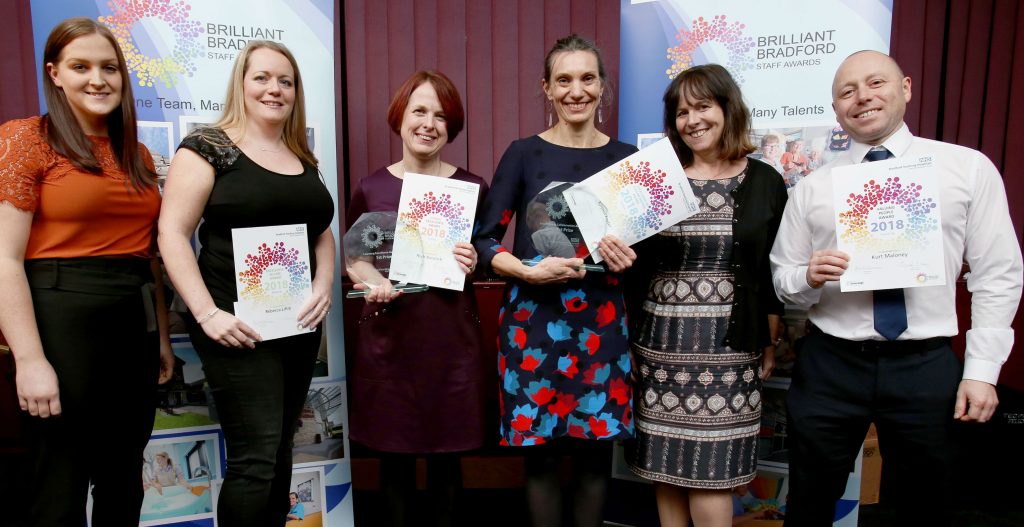 Staff at Bradford Teaching Hospitals have been recognised for their inspiring and innovative work at a special Brilliant Bradford awards ceremony.
Awards were presented to staff at Bradford Teaching Hospitals NHS Foundation Trust for demonstrating excellence in their field of work and going the extra mile to improve the lives of patients.
The awards ceremony, held at Bradford City Football Club and sponsored by Sovereign Health Care, celebrated the contributions and achievements of staff at all levels from clinical or non-clinical areas.
The awards are a key part of the Trust's commitment to celebrating the success of individuals and teams, and recognising best practice across all sites, departments and job roles – highlighting the very best of patient care, compassion, skill and innovation.
And this year – the 70th anniversary of the birth of the NHS – our winners embody everything that's good about our great National Health Service.
Individual winners received a glass plaque, commemorative certificate and £300 (1st prize) and £100 (runner-up) donated by Sovereign.
Team of the Year winners received £4,000. The standard of entries was so high for this award that the judges decided there should be four runners-up – each receiving £1,250 in prize money. All the teams will re-invest their winnings to support further service improvements within their departments.
Chief Executive, Professor Clive Kay, said: "We know that there are many staff who go the extra mile, have done something extraordinary, perhaps come up with innovative ideas or simply make our Trust a more welcoming, caring and friendly place to work and be treated and cared for.
"If ever I need reminding just how brilliant our staff are, day in, day out, then the annual staff awards always brings it home loud and clear. I would like to thank all those who took the time to submit a nomination and congratulate all those who were successful."
The awards were presented by Chairman, Professor Bill McCarthy and special guest, Bob Dugdale, non-executive director of Sovereign Health Care.
This year there were seven awards on offer, with five other special awards presented on the night.
Team of the Year: The Intensive Care Unit (ICU) In-Situ Simulation Team
Runners-up: Mortuary team, A&E team, Estates Gardening team, Stroke Multi-Disciplinary Team.
Employee of the Year: Patricia (Trish) Kay, Housekeeper, Ward 6, BRI.
Runner-up: Lisa Smith, Staff Nurse, Intensive Care Unit (ICU).
The Finance and Performance Excellence Award for someone who has made a significant contribution either to the financial health of the Trust, through increased productivity or cost savings, or who has supported performance improvements.
Winner: Joanne Kennedy, Assistant Director of Contracting.
Runner-up: Andrew Hodgson, Principal Business Intelligence Analyst.
The Excellence in Care Award recognises the achievement of someone who's demonstrated how they have made a significant contribution to care and compassion.
Winner: Caroline Salt, Lead Head and Neck Cancer Clinical Nurse Specialist.
Joint runners-up: Rebecca Little, Highly Specialist Dietitian, and Jade Stephenson, Sister, Orthopaedic Outpatients.
The Learning Excellence Award recognises the work of someone who's shown how they have made a significant contribution to learning excellence or professional development, through training or education.
Winner: Ruth Boocock, Highly Specialist Dietitian/Team Leader, Diabetes.
Runner-up: Laura Deery, Practice and Professional Development Sister, Ward 30.
The Valuing People Award recognises the achievement of someone who embodies or inspires others to feel motivated, engaged, well-led and valued; who's made a significant and outstanding contribution towards the Trust's aim of being an outstanding NHS employer.
Winner: Gez Barrett, Matron, Intensive Care Unit.
Runner-up: Kurt Maloney, Team Leader, Adult Learning Disabilities and Mental Health Dietitians
The Excellence in Collaboration Award recognises the work of someone who's shown how they have made a significant contribution to effective collaboration between the Trust and one or more external partners.
Winner: Kirsten Foster, Principal Dietitian, Paediatrics and Public Health
Runner-up: Gail Harney, Lead Nurse, Multi-Agency Integrated Discharge Team
Trainees of the Year: Dr Saurav Kataria and Dr Richard Libertini.
The Chief Executive's Unsung Hero Award: Leon Watmuff, Porter.
The Chairman's Unsung Hero Award: Munir Yousef, Business Intelligence Analyst.
 Personal Impact Award: Sonia Nosheen, Transformation Manager.
 Lifetime Achievement Award: Sister Barbara Brown, Outpatients at St Luke's Hospital, who has clocked up an amazing 50 years' service in the NHS.