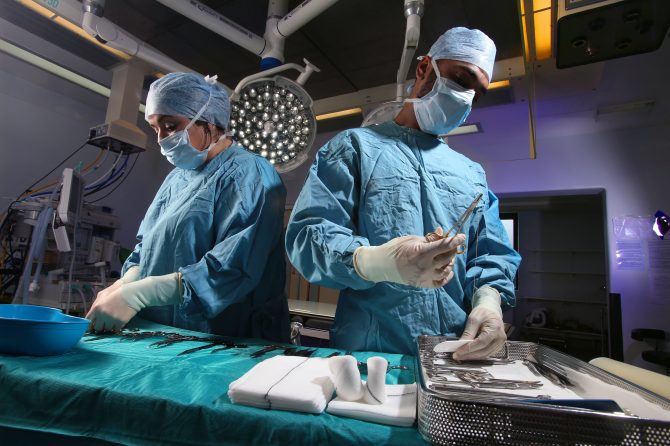 BRADFORD Teaching Hospitals is opening its doors to show people what a career with their operating theatres team can offer.
The theatre recruitment event takes place at Bradford Royal Infirmary, part of Bradford Teaching Hospitals NHS Foundation Trust, on Saturday, 9 November, from 10am to 2pm, when there will be interactive sessions and an opportunity to chat to existing theatre staff, who will explain their roles and the opportunities available.
The Trust is looking to add to its theatre team by recruiting band 5 nurses into the role of theatre practitioners, who would work in the areas of anaesthetics, scrub and recovery. Successful applicants will be fully mentored and supported throughout their training.
General Manager, Theatres and Day Case, Jonathan Waddington said: "This is a fantastic opportunity to join a theatre team which can offer experience in a wide variety of surgical specialities. Working in theatres might not always seem like the obvious choice to those embarking on careers in nursing but the open event is a great way of showcasing how interesting and rewarding a career in this field can be.
"As a major teaching hospital, we have an excellent education and training ethos and there are opportunities for theatre staff to continually develop their knowledge. We are one of the few trusts to use the revolutionary da Vinci robot for urology surgery and one of only a handful of national cochlear implant centres. These are just two examples of innovation that set us apart from other trusts."
Specialist areas
Matron for Theatres, Wendy Hartley, added: "The fact that BTHFT has a number of specialist areas ensures that career development is continual and there are always opportunities to be involved in something new and exciting. Anyone joining the team will have access to these opportunities, as well as have a fantastic support network behind them."
In total, the Trust has 20 theatres, including its nucleus theatres, which are based in four theatre suites. Earlier in the year, it blazed a trail with its new apprenticeship roles in the operating theatre.
Bradford Teaching Hospitals became one of the first NHS trusts in the country to employ apprentice operating department practitioners (ODPs) as part of a new apprenticeship scheme. ODPs work in the operating theatres at Bradford Royal Infirmary while they study for a degree level qualification via Bolton University, with the offer of a permanent post with the Trust in three years' time.
Anyone interested in attending the theatre recruitment event should email Theatres.DaycaseCBU@bthft.nhs.uk to register beforehand.
The event will also be signposted from the main concourse via the main entrance on the day.
ENDS
For further media information, please contact communications@bthft.nhs.uk or call 01274 382265
Note to Editors:
Bradford Teaching Hospitals NHS Foundation Trust:
Bradford Teaching Hospitals NHS Foundation Trust is responsible for providing hospital services for the people of Bradford and communities across Yorkshire. We serve a core population of around 500,000 and provide specialist services for 1.1 million people.
Our 5,500 staff work over several sites, including Bradford Royal Infirmary, which provides the majority of inpatient services, and St Luke's Hospital, which predominantly provides outpatient and rehabilitation services. We also manage local community hospitals at Westwood Park, Westbourne Green, and Eccleshill.
In early 2017, a new £28 million wing opened at Bradford Royal Infirmary, part of a £75m investment to improve patient care across our hospitals over a five-year period. It provides world-class facilities for elderly care, children's services, a state-of-the-art intensive care unit with increased single-room provision and a retail concourse.
The new wing is a continuation of our work to improve patient experience after our new £2 million neonatal unit officially opened in January 2015. Our maternity services were recently shortlisted for the Royal College of Midwives' (RCM) Midwifery Service of the Year Award, recognising excellence and innovation in the provision of maternity care.
In 2017, we also completed a £2m refurbishment of our Emergency Department (ED) as part of an ambitious vision to create a more efficient acute medicine service for the people of Bradford. It has been designed to provide a slicker and more efficient service, with faster senior clinical involvement at an early stage in the patient pathway.
As a teaching hospital, we are at the forefront of education and development in healthcare, and have an excellent reputation for research performance. We are one of the leading centres in conducting applied research in the country, particularly in quality and safety, elderly care and rehabilitation.
The Trust is home to the Bradford Institute for Health Research (BIHR) where researchers have led the development, validation and implementation of the award-winning Bradford Electronic Frailty Index (eFI) which helps calculate an elderly person's risk of disability, impairment, falls and complications of chronic diseases, as well as their diminishing independence and capability. This is now being used by 98% of all GPs across the country.
Our award-winning Ophthalmology department is home to numerous worldwide clinical trials taking the lead in eye care research and we are one of only three sites in the United Kingdom to be enlisted in the Perioperative Enhanced Recovery Hip Fracture Care of Patients with Dementia (PERFECTED) study, which will investigate how the NHS can introduce better standards of care to improve outcomes for people with dementia.
The Trust has its own Bradford Hospitals Charity: https://bradfordhospitalscharity.org/
Follow us on Twitter: @BTHFT