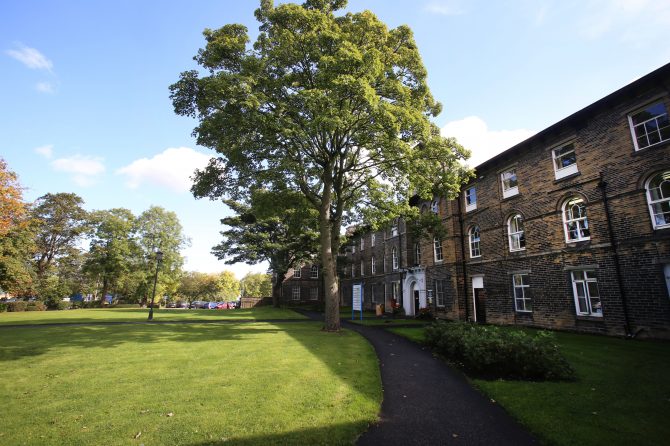 BRADFORD Teaching Hospital's Clinical Health Psychology team has published helpful guidance on how to look after your emotional wellbeing during the coronavirus pandemic.
Covid-19 is bringing a great deal of worry and uncertainty into many of our lives. It is also a new and extreme situation that people are adapting to – so it is natural to find this difficult and stressful.
The team provides psychological support to people in Bradford who are living with a physical health condition, such as cancer or chronic pain. People may have already been dealing with tough situations, related to their health or other things.
During the pandemic, we are being asked to stay at home which can create more challenges. People may be feeling isolated, facing financial hardship or have additional worries about themselves or family members too.
Mark Pitkethly, Head of Clinical Health Psychology at Bradford Teaching Hospitals NHS Foundation Trust (BTHFT), said: "For many of us, social distancing and household isolation has taken away the ways we might usually cope with stress, such as through exercise, trips out or spending time with others.
"As human beings we are hardwired to experience difficult emotions like fear and anger in threatening situations, so these feelings are completely natural but are also very unpleasant. As well as looking after ourselves physically and following the coronavirus guidance to reduce the spread, it is vitally important that we also take care of our emotional wellbeing."
There is lots of helpful guidance and support being made available from mental health and other organisations. The Clinical Health Psychology team have created a summary list of this guidance on their website for their patients to access, along with 10 helpful ways we can all look after our wellbeing during this time, and beyond:
Acknowledge our thoughts and feelings, without judging them
Be kind to ourselves when things are tough, try to offer the same kindness we would with a dear friend
Take a pause when we feel overwhelmed, ask ourselves what we need to take care
Focus on the things that we can control, including what we can do support ourselves and others
Keep or create new daily routines
Exercise or move our bodies in whatever way if possible for us, following the guidance on social distancing or isolation
Focus on something enjoyable, bearing in mind we might need to find something new or different
Stay connected to people who are important to us , keeping in touch using phone or video
Limit how often we read the media coverage, so that this doesn't become overwhelming
Avoid coping strategies that might have unhelpful consequences, such as drinking, drugs or smoking
Visit www.bradfordhospitals.nhs.uk/psychology for more information and a leaflet that you can download.
A poster offering five ways to support your own emotional wellbeing during Covid-19 can be downloaded here.
Mindfulness
Mindfulness – the practice of learning to live more in the present moment and with compassion for ourselves and others – can also support people to cope with the stress of living with a health condition, and will be an important source of support to many people during the coronavirus pandemic and beyond.
The Clinical Health Psychology team are updating their webpage with information about how to access mindfulness meditations and communities in the UK and worldwide, with specific practices for support with COVID-19.  Please visit www.bradfordhospitals.nhs.uk/mindfulness for more information.
Apps can be a helpful way of starting and keeping up a mindfulness practice, or support emotional wellbeing in other ways. Some are free and others have a subscription cost; some are offering free access in the coming months because of COVID-19.  Here are some popular apps that may be helpful:
Calm, Headspace, Happify, Mind Shift, Insight Timer, Self-help for Anxiety Management, Smiling Mind and Action for Happiness
More NHS approved apps to support mental well-being and sleep can be found at:   https://www.nhs.uk/apps-library/category/mental-health/.
There will be many important ways that people can cope with their stress or concerns about COVID-19, and these won't have all been mentioned here. People will have learned ways of coping from other challenges or situations that they have experienced in their lifetime.
Merry Hill, another Consultant Clinical Psychologist in the BTHFT team, said: "We all cope with difficulties in different ways, so it is important that people do things that feel right or supportive for them."
Mark added: "There are hard and challenging times ahead but we can support each other to get through this."
For more ideas about how to look after your mental well-being during COVID-19, visit:
ENDS
For further media information, please contact daniel.webber@bthft.nhs.uk or call 01274 383901
Note to Editors:
Bradford Teaching Hospitals NHS Foundation Trust:
Bradford Teaching Hospitals NHS Foundation Trust is responsible for providing hospital services for the people of Bradford and communities across Yorkshire. We serve a core population of around 500,000 and provide specialist services for 1.1 million people.
Our 5,500 staff work over several sites, including Bradford Royal Infirmary, which provides the majority of inpatient services, and St Luke's Hospital, which predominantly provides outpatient and rehabilitation services. We also manage local community hospitals at Westwood Park, Westbourne Green, and Eccleshill.
In early 2017, a new £28 million wing opened at Bradford Royal Infirmary, part of a £75m investment to improve patient care across our hospitals over a five-year period. It provides world-class facilities for elderly care, children's services, a state-of-the-art intensive care unit with increased single-room provision and a retail concourse.
The new wing is a continuation of our work to improve patient experience after our new £2 million neonatal unit officially opened in January 2015. Our maternity services were recently shortlisted for the Royal College of Midwives' (RCM) Midwifery Service of the Year Award, recognising excellence and innovation in the provision of maternity care.
In 2017, we also completed a £2m refurbishment of our Emergency Department (ED) as part of an ambitious vision to create a more efficient acute medicine service for the people of Bradford. It has been designed to provide a slicker and more efficient service, with faster senior clinical involvement at an early stage in the patient pathway.
As a teaching hospital, we are at the forefront of education and development in healthcare, and have an excellent reputation for research performance. We are one of the leading centres in conducting applied research in the country, particularly in quality and safety, elderly care and rehabilitation.
The Trust is home to the Bradford Institute for Health Research (BIHR) where researchers have led the development, validation and implementation of the award-winning Bradford Electronic Frailty Index (eFI) which helps calculate an elderly person's risk of disability, impairment, falls and complications of chronic diseases, as well as their diminishing independence and capability. This is now being used by 98 per cent of all GPs across the country.
Our award-winning Ophthalmology department is home to numerous worldwide clinical trials taking the lead in eye care research and we are one of only three sites in the United Kingdom to be enlisted in the Perioperative Enhanced Recovery Hip Fracture Care of Patients with Dementia (PERFECTED) study, which will investigate how the NHS can introduce better standards of care to improve outcomes for people with dementia.
The Trust has its own Bradford Hospitals Charity: https://bradfordhospitalscharity.org/
Follow us on Twitter: @BTHFT