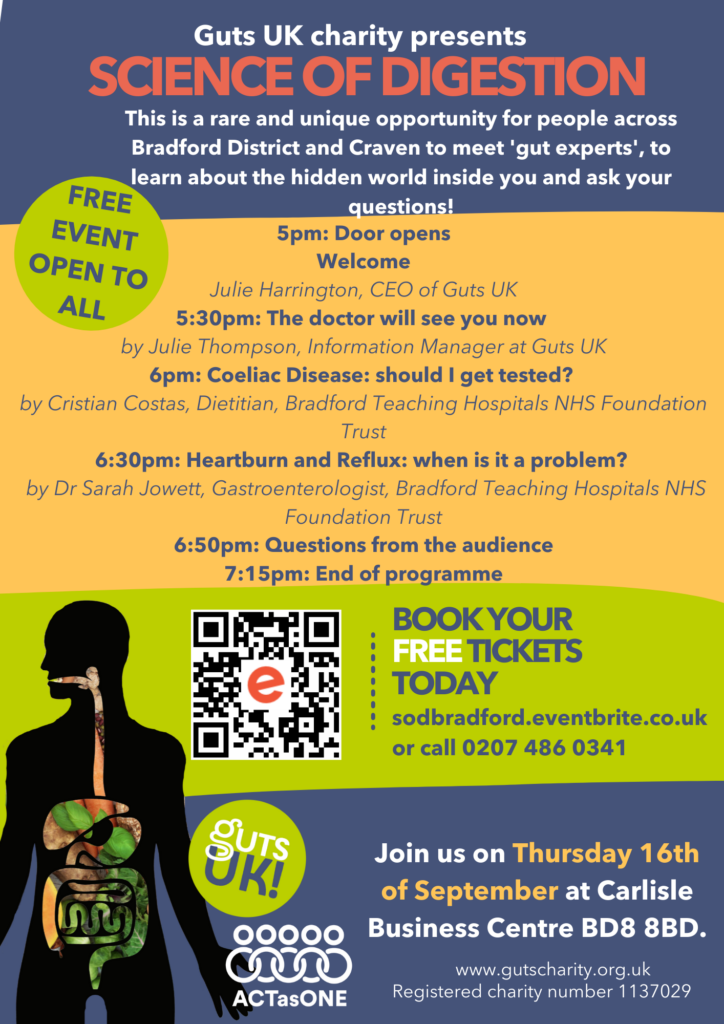 LOCAL people are being offered the chance to find out more about the digestive system at Guts UK's Science of Digestion event on 16 September (5 – 7.15pm) at Carlisle Business Centre.
The charity is working with health experts from Bradford District and Craven to offer people an insight into the hidden world inside them in an effort to raise awareness of digestive diseases and encourage good gut health.
People attending the event will be helped to understand how 25 feet of guts form the digestive system, an understanding of diseases such coeliac and irritable bowel syndrome and recognising when heartburn and reflux is an issue that needs further investigation.
Speaking at the event will be Dr Sarah Jowett, Gastroenterology Consultant and Cristian Costas, Dietitian from Bradford Teaching Hospitals NHS Foundation Trust alongside Julie Harrington Chief Executive at Guts UK and Julie Thompson, Information Manager at Guts UK. The event is being supported by Act as One, the health and care partnership for Bradford District and Craven.
As part of efforts to improve awareness of good digestive health, Guts UK is working with local health and care professionals and community groups to produce resources in a range of formats which will be made available during the evening or after the event.
Embarrassed
Dr Sarah Jowett, Gastroenterology Consultant at Bradford Teaching Hospitals NHS Trust, said: "While many other organs receive lots of attention and information is readily shared, when it comes to our guts – bowels and all – we often find people can be embarrassed to talk to others about any issues they may be having. Quite often there won't be anything serious going on but occasionally this could be a sign of a significant underlying health condition.
"It's really important we understand our digestive system, look after it and know the signs that tell us something could be wrong. I hope we can get a cross-section of our community along to the event, who in turn can help others by sharing their learning from the event."
Julie Harrington, Chief Executive for Guts UK, added: "Our research shows that 58 per cent of people are embarrassed to talk about our digestive disease or symptoms. Sadly, this leads to 51% of people delaying seeking medical help for 6 months or longer. We are really pleased to be coming to Bradford to help people from across the district find out more about one of the most important and most complex systems in their body."
Guts UK is the UK's charity for the digestive system, top to tail – to find out more please visit https://gutscharity.org.uk/
With social distancing measures in place, people need to book a ticket in advance through Eventbrite https://www.eventbrite.co.uk/e/science-of-digestion-bradford-tickets-167304575489
ENDS
Act as One
Act as One is the health and care partnership for Bradford District and Craven serving a population of around 700,000 people with a health and care workforce of around 33,000 as well as over 5,000 voluntary and community sector organisations. The partnership is made up of NHS, local authority, community and voluntary sector organisations and independent care providers working towards a vision of people living 'happy, healthy at home'.