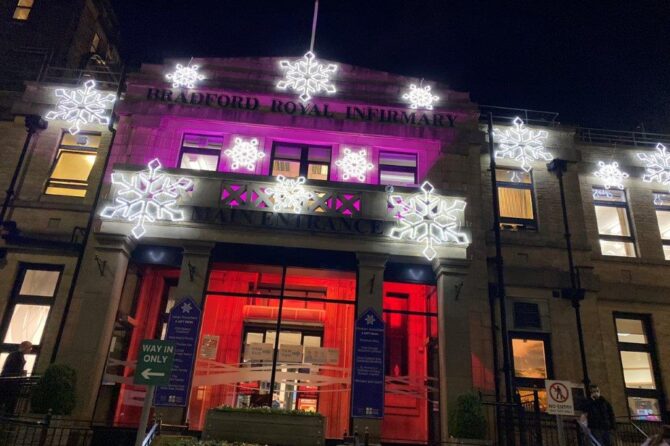 Twinkling snowflakes are lighting up the face of Bradford Teaching Hospitals once again this year – to mark the generous support of the local community.
Bradford Hospitals' Charity's Snowflake Appeal aims to raise money to make the festive season extra special for patients.
Companies, groups and individuals were invited to sponsor a snowflake to pay for gifts and comfort items for patients who are in hospital over the Christmas period. It helps staff make their stay as comfortable as possible during what is traditionally a tough time to be in hospital, away from family and friends.
Some of the snowflakes are dedicated to some exceptional fundraisers from throughout the year.
Head of Fundraising for Bradford Hospitals' Charity, Hayley Collis, said: "Our snowflakes are a symbol of support from the community for their local hospitals, especially during another year of the pandemic.
"I'd like to say a massive thank-you to all our corporate sponsors and everyone who's raised money for Bradford Hospitals' Charity. What you've done makes such a difference to our patients and staff. Have a wonderful Christmas."
The snowflakes are attached to both Bradford Royal Infirmary and St Luke's Hospital, with dedications advertised in the entrance to both.
You can watch a video about the snowflake appeal here.
This year's snowflakes sponsors are below, thank you to all of you!
Whitaker & Leach
Sovereign Health Care
Will and Adam Robinson
Wright Signs
Sparkle for Axl
Matthew and Annie Wise
Nicola Chantel
Dr Kavitha Kirby
Inaaya Fasheeha and Fiza Noor
Rebecca Binns
Mike Robinson at Beaupark
To find out more about Bradford Hospitals' Charity and how you can support your local hospitals, visit www.bradfordhospitalscharity.org. Alternatively, contact Hayley Collis or Elaine Drake on 01274 274809 or email charity@bthft.nhs.uk