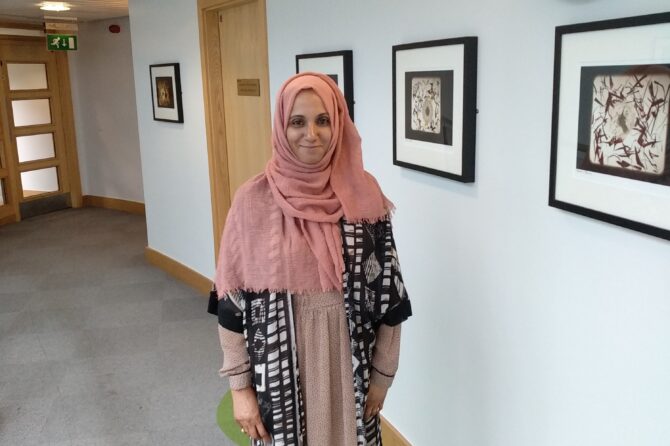 People are being invited to find out about the latest news and updates from the landmark Born in Bradford study and how they can get involved in its exciting research projects about life and health in the city.
Born in Bradford is one of the largest medical projects in the world, tracking the lives and health of more than 30,000 children across the district.
The team will be hosting an open event at Kala Sangam between 12.30pm and 3pm on June 16. Booking is not necessary and everyone is welcome.
Research Fellow, Aamnah Rahman, said:
Doctors and nurses in Bradford have been working closely with the UK's leading scientists to develop a programme of research at Born in Bradford that will help us to improve the lives of future generations of children.

The study and its various projects help scientifically shape health and social policies of the future and provide culturally-sensitive guidance to families and communities, based on research gathered through real people living in the district.

Since its launch in 2007, Born in Bradford has gleamed a wealth of medical and social research – from discovering that exposure to air pollution caused by fumes from vehicles can significantly restrict the growth of babies in the womb (the findings of which were published in the prestigious health journal, The Lancet) to creating the first Yorkshire-wide congenital anomalies register.
Researchers hope that the June 16 open space event will help keep the public up-to-date with its latest work, especially as, due to the COVID-19 pandemic, face-to-face  contact has been minimal.
Aamnah continued:
We're interested to hear what areas and topics people think we should research in the future and are keen to have more adults and children involved  as we have plans to develop a 'Centre for Peer-Led Research' in Bradford within our ActEarly study.

As a 'City of Research' its' vital that our communities take ownership as it makes our projects and subsequent findings more meaningful that the public are involved at every level including planning, implementation, delivery and evaluation.

We also want to develop a more 'Citizen Science' based approach to our research and that can only happen when we have involvement from communities.
The public are encouraged to pop in to the event at any time during its two-and-a-half-hour window.
The Born in Bradford (BiB) family research programme has now grown to host spin-off research projects, including BiB Growing Up, Age of Wonder, BIBBS (Born in Bradford Betterstart), HERO (Home-based Extended Rehabilitation for Older People), ActEarly, BiB Breathes and JU:MP (Join Us: Move Play), which is a scheme aiming to test and learn more about what helps five-to-14-year-olds and their families stay active.
ActEarly Senior Research Fellow, Shahid Islam, concluded:
Through recent community conversations many people informed us that they found our research really valuable and wanted us to create opportunities for conversations. That is exactly what this is about.

We have set up an open space for conversations without setting an agenda so we can exchange ideas, findings, feedback and hopefully take away some inspiring ideas.
Visit www.cityofresearch.org to find out more about the growing opportunities and studies that the district's home-grown research talent is leading. You can also sign up and get involved.
For more information about the event please contact Aamnah on email aamnah.rahman@bthft.nhs.uk or telephone 01274 366954.
Born in Bradford (BiB) is led by the Bradford Institute for Health Research at Bradford Royal Infirmary and supported by Bradford Teaching Hospitals NHS Foundation Trust.