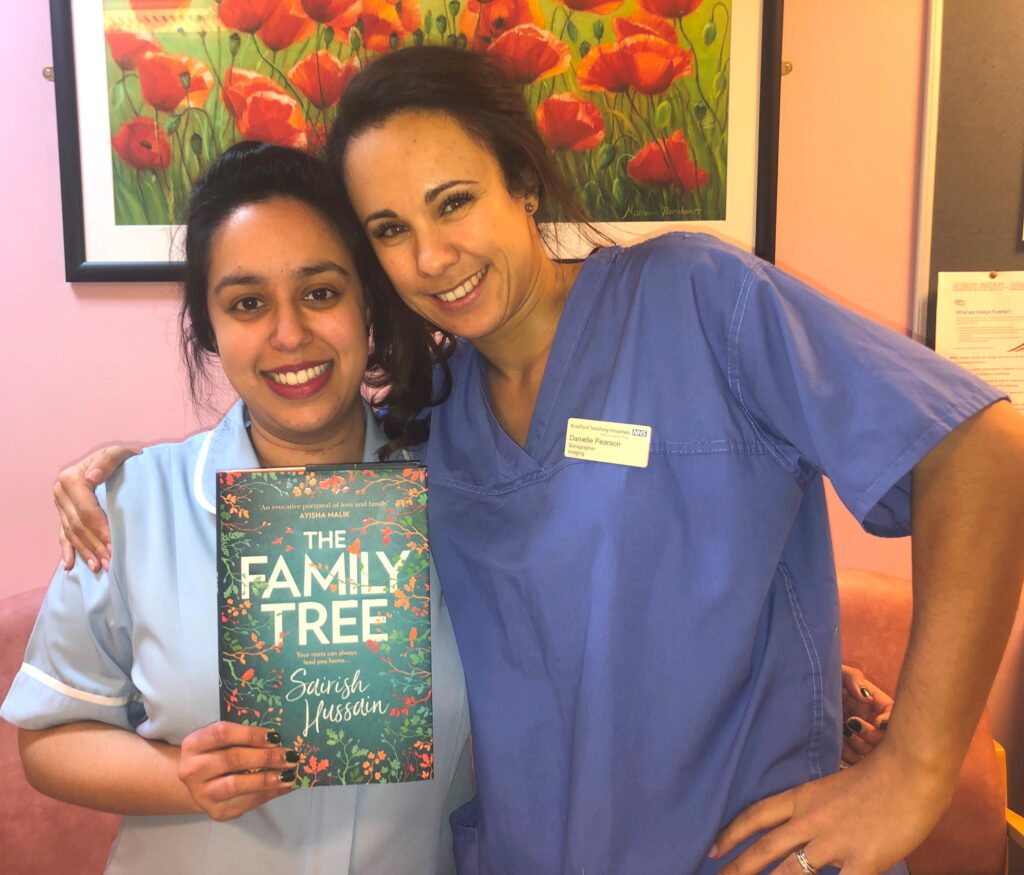 WE ARE thrilled to announce that Healthcare Assistant Sairish Hussain has written and published her first novel!
The Family Tree is a moving, multigenerational story of a British Muslim family in the North of England full of love, laughter and resilience as well as all the faults, mistakes and stubborn loyalties which make us human.
Despite only being published by Harper Collins on February 20, the novel has already collected widespread acclaim and rave reviews, including being named one of Cosmopolitan magazine's 'best new books by black and POC authors in 2020'!
The novel opens with widowed father Amjad trying his best to raise his two young children. When the kids are older, a brutal, random attack changes their lives forever and sends the family off into different directions. The story follows each of them as they try to find their way back to each other.
The idea for the book first came to Sairish, 27, who is part of the Sonography team within our Maternity Unit, while she was an English Language and Literature student at the University of Huddersfield.
She later put pen to paper while studying for an MA and then a PhD in Creative Writing, and the novel began to take shape.
"I came up with the idea for the book in 2014, during the final year of my degree, and let it stew in my head for a while," she said.
"I was fed up with the negative portrayal of British Muslims. Life happens to us too, just like everyone else, but all I heard about was forced marriage, 9/11 and suicide bombings.
Growing up
"Growing up, I wanted to hear about British Muslim women who could be angry and politicised without becoming jihadi brides.
"I also wanted to portray Muslim men realistically as I have never come across a loving Muslim dad and his daughter. They are always portrayed as strict and overbearing, but it's not like that.
"Although I already had the plot in my head before I started writing, it changed a lot. I wrote the first 25,000 words while studying for my MA. I was then awarded the university's Vice-Chancellor's Scholarship after achieving a Distinction and was able to progress onto PhD study and continue writing the novel."
Then, in 2017, Sairish – whose favourite writers include Zadie Smith, Chimamanda Ngozi Adichie and James Baldwin – attended a talk at Bradford Literature Festival on how to get published.
"One of the members of the panel there was Lisa Milton from Harper Collins.
"Everyone queued up to pitch their books to her, so I thought I might as well too. She offered to read it and a few weeks later I got an email back saying she loved it and wanted to be my publisher!
"I then got an agent and did a lot more editing with the agent and an editor. It's such a long process but very exciting."
Colleagues within the Sonography team recently held a celebration to mark the book's publication, and many have bought their own copies.
Lovely and supportive
"People have been waiting for the book for two years and everyone has been so lovely and supportive."
Sairish works part-time at the Trust alongside her proud mum, long-term Urdu and Punjabi translator Perveen Hussain, who chose the colours for the novel's beautiful sleeve. It picks out the branches of a host of different trees to highlight one of the book's key themes: family roots.
She said: "She has worked hard and we are very proud of her!"
Senior Sonographer Danielle Pearson echoed Perveen's comments, adding: "She is amazing and very talented – and we are very proud. She's been on cloud nine and deserves to be as she works very hard!"
Sairish, who lives with her family in Fairweather Green, Bradford, signed a two-book deal with Harper Collins, and has already begun writing a second novel. But she hopes as many people as possible will dive into The Family Tree first.
"I just want people to read it and enjoy it," she added.
Huge congratulations to Sairish on the novel's success. The Family Tree (HQ, Harper Collins) is available now from all good bookshops!
ENDS
Picture caption: Sairish with her manager at Bradford Teaching Hospitals, Senior Sonographer Danielle Pearson
For further media information, please contact dan.webber@bthft.nhs.uk or call 01274 383901.
Note to Editors: 
Bradford Teaching Hospitals NHS Foundation Trust:
Bradford Teaching Hospitals NHS Foundation Trust is responsible for providing hospital services for the people of Bradford and communities across Yorkshire. We serve a core population of around 500,000 and provide specialist services for 1.1 million people.
Our 5,500 staff work over several sites, including Bradford Royal Infirmary, which provides the majority of inpatient services, and St Luke's Hospital, which predominantly provides outpatient and rehabilitation services. We also manage local community hospitals at Westwood Park, Westbourne Green, and Eccleshill.
In early 2017, a new £28 million wing opened at Bradford Royal Infirmary, part of a £75m investment to improve patient care across our hospitals over a five-year period. It provides world-class facilities for elderly care, children's services, a state-of-the-art intensive care unit with increased single-room provision and a retail concourse.
The new wing is a continuation of our work to improve patient experience after our new £2 million neonatal unit officially opened in January 2015. Our maternity services were recently shortlisted for the Royal College of Midwives' (RCM) Midwifery Service of the Year Award, recognising excellence and innovation in the provision of maternity care.
In 2017, we also completed a £2m refurbishment of our Emergency Department (ED) as part of an ambitious vision to create a more efficient acute medicine service for the people of Bradford. It has been designed to provide a slicker and more efficient service, with faster senior clinical involvement at an early stage in the patient pathway.
As a teaching hospital, we are at the forefront of education and development in healthcare, and have an excellent reputation for research performance. We are one of the leading centres in conducting applied research in the country, particularly in quality and safety, elderly care and rehabilitation.
The Trust is home to the Bradford Institute for Health Research (BIHR) where researchers have led the development, validation and implementation of the award-winning Bradford Electronic Frailty Index (eFI) which helps calculate an elderly person's risk of disability, impairment, falls and complications of chronic diseases, as well as their diminishing independence and capability. This is now being used by 98 per cent of all GPs across the country.
Our award-winning Ophthalmology department is home to numerous worldwide clinical trials taking the lead in eye care research and we are one of only three sites in the United Kingdom to be enlisted in the Perioperative Enhanced Recovery Hip Fracture Care of Patients with Dementia (PERFECTED) study, which will investigate how the NHS can introduce better standards of care to improve outcomes for people with dementia.
Follow us on Twitter: @BTHFT
The Trust has its own Bradford Hospitals Charity: https://bradfordhospitalscharity.org/