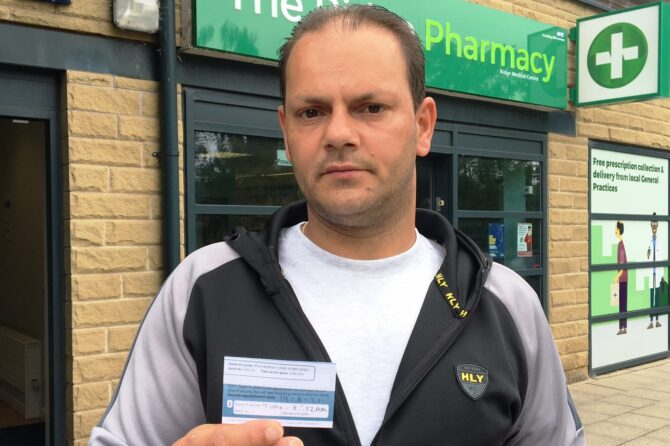 ANOTHER landmark moment in the fight against coronavirus (COVID-19) has been reached as the vaccination programme in Bradford district and Craven delivered its 500,000th dose of the vaccine.
This comes as it was announced that more than half of all adults in the UK have received a second dose of a COVID-19 vaccine and three quarters of UK adults have had a first jab.
Mary Dodgson, 62, from Woodside, was one of the people who helped reach the half a million dose milestone by getting her first jab of the COVID-19 vaccine at The Ridge Medical Centre in Great Horton, Bradford.
Mary, who is diabetic, overcame her fear of needles to get the vaccination because it was "the right thing to do."
Mary said: "My daughter and son have both had their first dose of the vaccine but I had a fall in March and badly broke my ankle so I haven't been able to come and get my jab until now."
"The thought of getting Covid and becoming ill has made me come and get vaccinated – even though I hate needles!"
First jab
Martin Vano, 35, of Great Horton (pictured), who was also getting his first jab at The Ridge, said: "My wife and I have two young daughters, aged six and eight, and we want to go and meet up with other families and friends again. We'd also like to be able to visit family in Slovakia as we haven't seen them for a few years now."
Anyone aged 30 and over, people with conditions that put them at higher risk from COVID-19, people with learning disabilities, carers or frontline health and social care workers are eligible for the vaccine. People need to have two doses, with the second dose 8-12 weeks after the first one.
People who are eligible can book an appointment through the national booking service at NHS.UK (https://nhs.uk/CovidVaccine). The service can be used to book an appointment for someone else and if people cannot book online, they can call 119 free of charge.
People can speak to a translator if they need to and if they have difficulties communicating or hearing, or are a British Sign Language (BSL) user, they can use textphone 18001 119 or the NHS 119 BSL interpreter service at (https://interpreternow.co.uk/nhs119).
Nancy O'Neill, deputy accountable officer and strategic director of transformation and change at NHS Bradford District and Craven Clinical Commissioning Group (CCG), said: "Yet another incredible local NHS milestone has been reached as 520,414 doses of the COVID-19 vaccine have been given to people in Bradford district and Craven.
Hard work
"Reaching this milestone is no accident – it is down to months of hard work and everyone in the NHS, our local authorities and voluntary and community organisations that have played a role in this and are helping to protect thousands of local people from serious illness and saving lives.
"And as this is during Volunteers' Week, I'd also like to say a huge thank you to everyone who has given up their time to help make this happen – we couldn't have done it without you."
Chief Nurse at Bradford Teaching Hospitals, Karen Dawber, said: "Across Bradford District and Craven we are making fantastic progress on our vaccination rollout and ensuring as many people as possible get the maximum protection against this awful virus.
"It's really important that people continue to keep their appointments for their first and second doses so we can keep moving forward with the vaccination programme and our goal to give every adult their jab by the end of July.
"I would also urge everyone who is eligible to book their vaccination as soon as possible to help to protect both themselves and others."