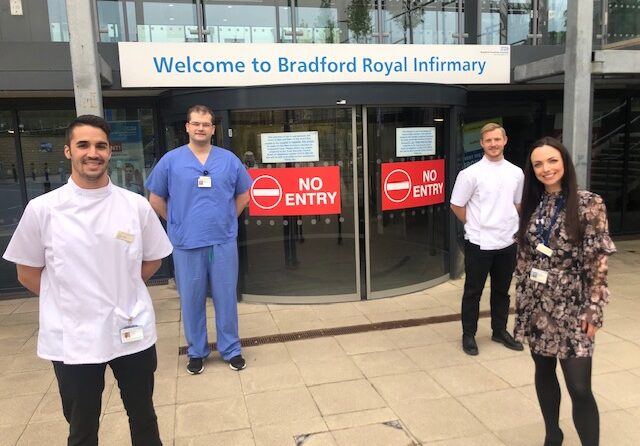 FIVE Bradford Teaching Hospitals' dietitians have been nominated for national awards for the incredible work they and our entire dietetics team have carried out throughout the COVID-19 pandemic!
They are Nichola Ludlam-Raine, Bariatric and Diabesity Specialist Dietitian; Cristian Costas, Specialist Gastroenterology Dietitian; Sam Francis, Specialist Stroke Dietitian; Dietitian Aaron Boysen; and former Student Dietitian Alex Lickley.
Nichola, Cristian, and Aaron have all been nominated for a 2021 CN Award – which recognise excellence in clinical, medical and health nutrition – in the Social Media Personality of the Year category, while Alex is in the running for the CN Student of the Year prize.
Cristian has also been shortlisted in a second CN Award category – Clinical Nutrition Professional of the Year – following outstanding work within and outside the Trust to promote coeliac awareness and the role diet can play in easing the condition.
Sam, meanwhile, has been named among the winners of a separate but equally prestigious prize, after being named a Rising Star in the Advancing Healthcare Awards.
To have five individuals nominated for top national healthcare awards from a single speciality is remarkable, and testament to the skill and dedication of all our dietitians.
Fantastic
Principal Dietitian, Rupert Allen, said: "With awards it's really difficult, as the whole team are award winners as they have been absolutely fantastic over the past year. I hope these nominations are recognition of the team's hard work as well as those individuals.
"Each of them is passionate, innovative and deeply caring, and it's a real pleasure to be able to work with them. Each of them has really shown the importance of nutrition for patient care, and the role of the dietitian."
Nichola, 35, joined the Trust in 2012 and said: "I'm extremely grateful for the nomination and it's nice to have 10 years of online work recognised. I started blogging back in 2012 and, alongside social media, it allows me to reach people who would not normally access healthcare."
Sam, 30, qualified three years ago and added: "The award is for all allied health professionals, so it's nice to have that affirmation across a wide field.
"It's also nice to know that my manager thinks I've got good things coming up, too!"
Aaron, 28, was nominated in part due to The Dietetics Digest Podcast, which he hosts in his spare time. Since its launch the podcast – available now on Apple Podcasts and Spotify – has racked up over 10,000 downloads so far.
Honour
"It's an honour to be recognised for the work I've put in over the year," said Aaron, "as well as the work I've done outside hospital to support dietitians."
Double CN Awards nominee Cristian said it "felt great to be representing Bradford and to get recognition for the way we are innovating and supporting patients in different ways".
"I work clinically with the Trust's coeliac service and externally to promote the role dietitians can play in helping people with gastro conditions."
Congratulations to all five, and indeed to all our incredible dietitians for your dedication and hard work. We simply would not have got through the past year without you.
The CN Awards are being judged by public vote. Please cast yours now for Cristian, Nichola, Aaron and Alex here: https://nutrition2me.com/cn-awards/2021-cn-awards-the-shortlist/
Ends