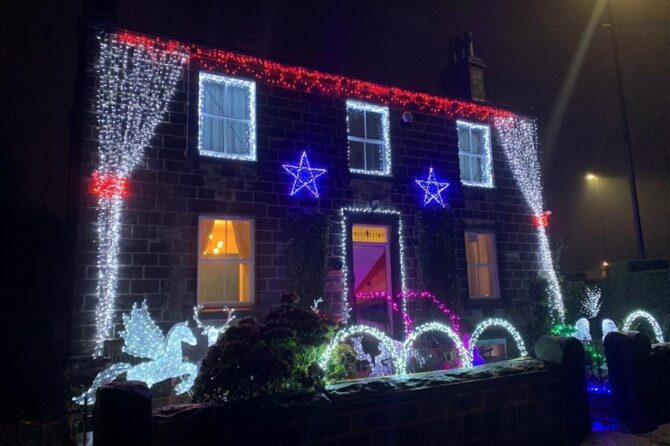 Two doctors are spreading festive cheer in a bid to brighten their local community in the midst of the pandemic and raise vital funds for an NHS Charity.
Consultant Rheumatologist, Kavitha Nadesalingam, who is based at St Luke's Hospital, part of Bradford Teaching Hospitals, and her husband, Leeds GP Dave Kirkby, have festooned their home in Horsforth with thousands of lights to illuminate dark days.
Two times a week-day (at 5.30pm and 6.30pm) and thrice daily at the weekends (4.30pm, 5.30pm and 6.30pm) their detached Yorkshire stone house comes alive with the sound of music and a co-ordinated light show in aid of Bradford Hospitals' Charity (BHC).
Dr Nadesalingam said: "Our street is very neighbourly and we always get into the Christmas spirit by switching on our lights together every year.
"It's been a challenging year for many and we wanted to do something lovely to lift the mood of the community and our colleagues in the NHS.
"This week, Dave and I turned 40 on consecutive days, so because we can't have a party, we decided to go big with the lights and decorations on the house instead."
For the past three months, Dr Kirby has spent weekends and evenings arranging the timings for the songs and getting the lights rewired.
Lights and music
Dr Nadesalingam added: "We sourced much of our equipment and computer programme from www.syncrolite.co.uk so we could co-ordinate the lights and music."
The couple, who have four young children, have been thrilled with the response from the community.
"It's great to see people smile when they watch the light and music show and the response to our charity fundraising page is absolutely amazing," said Dr Nadesalingam.
"We were expecting small change like a pound or two but we have been delighted at the amounts coming in and a huge thank you to everyone for their donations."
The couple's fundraising page – which was only launched on Saturday – currently stands at £1,800.
The light and music show will continue to New Year's Day.
Decorations
"Dave put the show together so I've booked the first week of January off to take down all the decorations as it's going to take forever!!
Karen Dawber, Bradford Teaching Hospitals' Chief Nurse, said: "We are absolutely thrilled Drs Nadesalingam and Kirby have chosen BHC to benefit from their fundraising through this illuminating idea.
"The festive season, both in hospital and in the local community, is going to be challenging this year but their idea is spreading sparkle and magic in so much ways.
"The fundraising will help us spread additional sparkle and magic around Bradford Teaching Hospitals for our patients and NHS colleagues over the Christmas period."
To donate please go to: https://www.justgiving.com/fundraising/kavitha-kirby
To view the video of the light show, click the link below:
https://www.youtube.com/watch?app=desktop&feature=youtu.be&v=iGDth50K7VI
ENDS
For further media information, please contact communications@bthft.nhs.uk or call 01274 364700.
Note to Editors:
Bradford Teaching Hospitals NHS Foundation Trust:
Bradford Teaching Hospitals NHS Foundation Trust is responsible for providing hospital services for the people of Bradford and communities across Yorkshire. We serve a core population of around 500,000 and provide specialist services for 1.1 million people.
Our 5,500 staff work over several sites, including Bradford Royal Infirmary, which provides the majority of inpatient services, and St Luke's Hospital, which predominantly provides outpatient and rehabilitation services. We also manage local community hospitals at Westwood Park, Westbourne Green, and Eccleshill.
In early 2017, a new £28 million wing opened at Bradford Royal Infirmary, part of a £75m investment to improve patient care across our hospitals over a five-year period. It provides world-class facilities for elderly care, children's services, a state-of-the-art intensive care unit with increased single-room provision and a retail concourse.
The new wing is a continuation of our work to improve patient experience after our new £2 million neonatal unit officially opened in January 2015. Our maternity services were recently shortlisted for the Royal College of Midwives' (RCM) Midwifery Service of the Year Award, recognising excellence and innovation in the provision of maternity care.
In 2017, we also completed a £2m refurbishment of our Emergency Department (ED) as part of an ambitious vision to create a more efficient acute medicine service for the people of Bradford. It has been designed to provide a slicker and more efficient service, with faster senior clinical involvement at an early stage in the patient pathway.
As a teaching hospital, we are at the forefront of education and development in healthcare, and have an excellent reputation for research performance. We are one of the leading centres in conducting applied research in the country, particularly in quality and safety, elderly care and rehabilitation.
The Trust is home to the Bradford Institute for Health Research (BIHR) where researchers have led the development, validation and implementation of the award-winning Bradford Electronic Frailty Index (eFI) which helps calculate an elderly person's risk of disability, impairment, falls and complications of chronic diseases, as well as their diminishing independence and capability. This is now being used by 98% of all GPs across the country.
Our award-winning Ophthalmology department is home to numerous worldwide clinical trials taking the lead in eye care research and we are one of only three sites in the United Kingdom to be enlisted in the Perioperative Enhanced Recovery Hip Fracture Care of Patients with Dementia (PERFECTED) study, which will investigate how the NHS can introduce better standards of care to improve outcomes for people with dementia.
Follow us on Twitter: @BTHFT