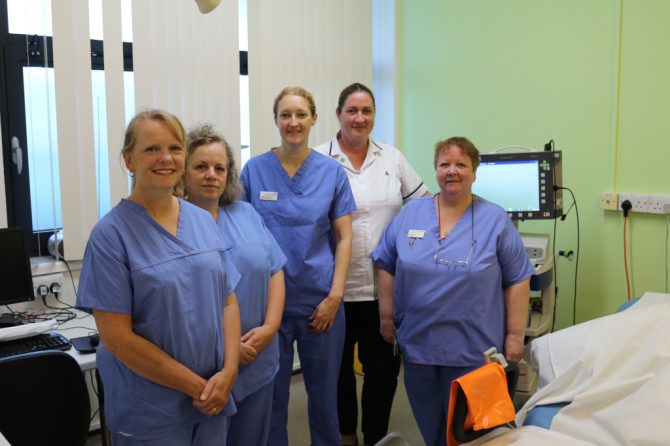 Bradford Teaching Hospitals NHS Foundation Trust is transforming care for women with bladder problems thanks to a new outpatients' clinic which vastly improves the way a vital examination is performed.
Women who are referred by their GP for bladder problems are now offered cystoscopy, a procedure in which a thin viewing tube goes into the bladder, as an outpatient appointment instead of an operation under general anaesthetic.
Patients can now come in for the test at the Women's Unit, Bradford Royal Infirmary, and even have their problem treated at the same time – all under local anaesthetic and without the need for a hospital stay.
Carmel Ramage, Consultant Urogynaecologist at the Trust, said: "Previously, women had to be admitted to the main hospital for a cystoscopy in theatre, which meant a much longer time in hospital, a general anaesthetic and greater cost for the NHS in terms of bed space and theatre use.
"Some patients were also very nervous about going into theatre for the procedure, and may have declined the test previously, but now feel more comfortable having it done where they come for all their other appointments."
When women are referred to the urogynaceology team, they will first have a series of tests, known as urodynamics, which determine whether cystoscopy is needed.
For those women who require the cystoscopy procedure, it only takes about 10 minutes and patients are able to go back to work and get on with their lives straight afterwards. For those who do need treatment, this can be given at the same time.
Carmel said the new service was more efficient and provided a much better level of care and patient experience. This latest development is built on the already excellent primary care continence pathway, which treats women for minor bladder problems without needing to go to hospital.
Dr Anne Connolly, clinical lead for maternity, women's and sexual health for NHS Bradford District and Craven CCGs, said: "Many women suffer in silence with incontinence as they think it is a normal part of ageing or because they have had children.
"We would encourage any women with this issue to speak to their GP as most incontinence problems can be improved by simple advice and support but occasionally women will need more investigations or treatment.
"We already have an excellent incontinence service for women in Bradford. This new cystoscopy service will give women the option of having investigations and treatment as an outpatient, whilst not having to take time away from work and families."
Carmel also explained that many simple measures including pelvic floor muscle training and drinking the right sort and amount of fluid can vastly improve women's quality of life.
"Other minimally invasive treatments have excellent outcomes and less than 5% of patients need more invasive pelvic surgery. Women are so relieved when they hear something can be done to help them," she said.
Patient feedback is very positive, with women praising the new service and staff and saying they were extremely likely to recommend it to others:  "Everything went well – no waiting around: a lot better than going on a ward, and great staff" and "hard to improve on this excellent service."