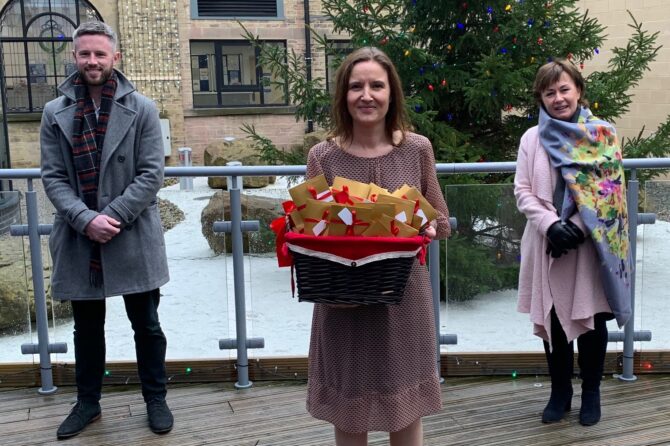 A SPOT of well-deserved pampering is in store for Bradford hospital staff who have been caring for elderly patients.
The staff at Bradford Teaching Hospitals Foundation Trust were surprised with the Christmas treat, which has been organised as a 'thank you' during a particularly challenging year.
The gift was arranged by kind-hearted Elderly Care Consultants who have presented vouchers to around 350 elderly care staff, including nursing, domestic, ward clerks and ward hostesses, who work across the Trust's hospitals – Bradford Royal Infirmary, St Luke's Hospital and Westbourne Green and Westwood Park Community Hospitals, as well as the Trust's Virtual Elderly Care Ward.
They will all now be able to enjoy a relaxing beauty treatment at the Bingley-based salon, 'Mirror, Mirror Beauty.'
The idea came from Consultants in Elderly Care, Alison McMurtry and Maj Pushpangadan, after plans for the annual staff Christmas party had to be cancelled due to the COVID-19 pandemic.
The pair's festive spirit was quickly embraced by their fellow 10 Elderly Care and Medicine consultant colleagues and together they arranged a collection.
Worked tirelessly
Alison said: "It's been a tough year for all of us, but in particular our Care of the Elderly ward staff, who have worked tirelessly to care for patients of all ages, with and without coronavirus.
"We had planned our usual Christmas party for this year but of course we were unable to have it for obvious reasons. As Consultants we wanted to do something else to thank our staff and show them how much their dedication and compassion really is appreciated.
"The idea for the beauty/pampering treatment came up because we noticed that everyone was getting sore hands because of the constant washing and use of sanitiser gel, and we are very grateful for the support from 'Mirror, Mirror Beauty' which has given us the chance to treat them all to something special and we hope they enjoy it.
"We're sure even the chaps will find a treat to enjoy! We've already got our Christmas 'do' re-booked for next year and we're keeping everything crossed that in 2021 we can have a party!"
Edward Bennett, who co-owns the beauty salon with his mum, Suzanne Bennett, said: "We were only too happy to support these hard working members of staff at Bradford Teaching Hospitals, who have been caring for elderly patients and been at the front line during the pandemic. We are really proud to be involved and we hope the staff will all now be able to enjoy a special treat."
The Elderly Care Consultant body who have generously donated are: Alex Brown, Alison McMurtry; Amy Illsley, Andrew Clegg, Claire Scampion, Eliz Brierley, Elizabeth Teale, Evelyn Tan, Helen Terry, Shabi Barodawala, Wooi Jin Soo and Maj Pushpangadan.
ENDS
For further media information, please contact communications@bthft.nhs.uk or call 01274 383901
Note to Editors:
Bradford Teaching Hospitals NHS Foundation Trust:
Bradford Teaching Hospitals NHS Foundation Trust is responsible for providing hospital services for the people of Bradford and communities across Yorkshire. We serve a core population of around 500,000 and provide specialist services for 1.1 million people.
Our 5,500 staff work over several sites, including Bradford Royal Infirmary, which provides the majority of inpatient services, and St Luke's Hospital, which predominantly provides outpatient and rehabilitation services. We also manage local community hospitals at Westwood Park, Westbourne Green, and Eccleshill.
In early 2017, a new £28 million wing opened at Bradford Royal Infirmary, part of a £75m investment to improve patient care across our hospitals over a five-year period. It provides world-class facilities for elderly care, children's services, a state-of-the-art intensive care unit with increased single-room provision and a retail concourse.
The new wing is a continuation of our work to improve patient experience after our new £2 million neonatal unit officially opened in January 2015. Our maternity services were recently shortlisted for the Royal College of Midwives' (RCM) Midwifery Service of the Year Award, recognising excellence and innovation in the provision of maternity care.
In 2017, we also completed a £2m refurbishment of our Emergency Department (ED) as part of an ambitious vision to create a more efficient acute medicine service for the people of Bradford. It has been designed to provide a slicker and more efficient service, with faster senior clinical involvement at an early stage in the patient pathway.
As a teaching hospital, we are at the forefront of education and development in healthcare, and have an excellent reputation for research performance. We are one of the leading centres in conducting applied research in the country, particularly in quality and safety, elderly care and rehabilitation.
The Trust is home to the Bradford Institute for Health Research (BIHR) where researchers have led the development, validation and implementation of the award-winning Bradford Electronic Frailty Index (eFI) which helps calculate an elderly person's risk of disability, impairment, falls and complications of chronic diseases, as well as their diminishing independence and capability. This is now being used by 98% of all GPs across the country.
Our award-winning Ophthalmology department is home to numerous worldwide clinical trials taking the lead in eye care research and we are one of only three sites in the United Kingdom to be enlisted in the Perioperative Enhanced Recovery Hip Fracture Care of Patients with Dementia (PERFECTED) study, which will investigate how the NHS can introduce better standards of care to improve outcomes for people with dementia.
The Trust has its own Bradford Hospitals Charity: https://bradfordhospitalscharity.org/
Follow us on Twitter: @BTHFT