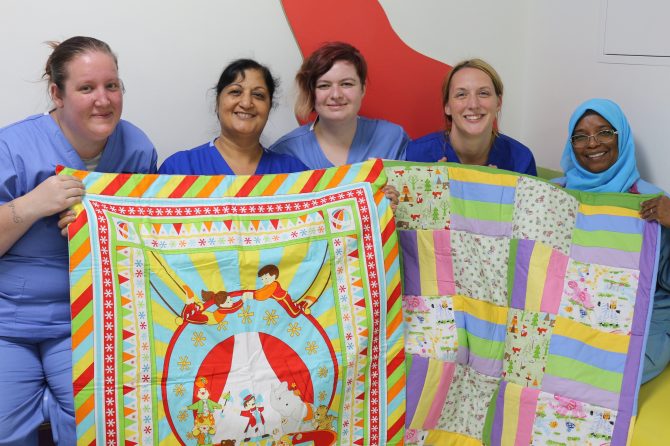 A BUNDLE of beautiful hand-made quilts has been donated to a Bradford hospital to bring comfort and reassurance to young patients.
The Paediatric A&E department at Bradford Royal Infirmary, part of Bradford Teaching Hospitals NHS Foundation Trust, has taken delivery of 48 quilts, which have been made by local volunteers and are now being used by babies, children and adolescents.
Paediatric sister Kamal Rakhra said: "We were incredibly touched to receive the quilts which have been given to us through an amazing charity called Project Linus. The quilts are used to bring comfort to young patients while they are in hospital, and they are able to take them home with them when they leave.
"Each time our young patients return for hospital-based care, they are invited to bring the quilts back in with them. The quilts can give reassurance as they are so cosy and can make young patients feel safe and secure.
"We have also been using the quilts for very poorly children needing palliative care and for young patients in our high dependency and resuscitation rooms, as well as gifting them to families when sadly there has been a sudden bereavement. The quilts bring comfort to the families because this may have been the last item that has been in contact with their child.
"The Project Linus quilts are the most beautiful, human and humble way to given warmth and comfort to others."
Made and shared
The local Project Linus UK volunteers are based in Saltaire, and the co-ordinator is Lesley O'Brien, who owns the Barley Craft Fabric shop. She undertakes workshops and groups and it is from these that the beautiful quilts are made and shared.
Lesley said: "It's a pleasure to be able to donate the quilts to Bradford Teaching Hospitals as when you hear about children being poorly you naturally want to do something, and by giving these quilts, our volunteers feel they are helping in some small way.
"Each quilt is like a hug. They have been made with lots of love and we feel we are passing on that love to sick children and babies."
Lesley and the hard-working volunteers have made an incredible 169 quilts so far this year. More volunteers are always wanted so anyone interested can get in touch with Lesley at lesleyo21@yahoo.co.uk
Project Linus UK is a volunteer organisation which provides homemade quilts, blankets and incubator covers to children in hospitals and hospices. Since 2000 volunteers have created over 400,000 quilts – an amazing achievement. Read more about it here: projectlinusuk.uk
The idea began in America, in December 1995 when founder Karen Loucks saw a newspaper article showing how much a comfort blanket had helped a child cancer victim, and decided to organise blankets for her local children's cancer unit and started spreading the word. Since that time over 3,000,000 blankets and quilts have been delivered worldwide.
ENDS
Picture caption: Paediatric A&E staff with some of the beautiful quilts
For further media information, please contact communications@bthft.nhs.uk or call 01274 382265
Note to Editors:
Bradford Teaching Hospitals NHS Foundation Trust:
Bradford Teaching Hospitals NHS Foundation Trust is responsible for providing hospital services for the people of Bradford and communities across Yorkshire. We serve a core population of around 500,000 and provide specialist services for 1.1 million people.
Our 5,500 staff work over several sites, including Bradford Royal Infirmary, which provides the majority of inpatient services, and St Luke's Hospital, which predominantly provides outpatient and rehabilitation services. We also manage local community hospitals at Westwood Park, Westbourne Green, and Eccleshill.
In early 2017, a new £28 million wing opened at Bradford Royal Infirmary, part of a £75m investment to improve patient care across our hospitals over a five-year period. It provides world-class facilities for elderly care, children's services, a state-of-the-art intensive care unit with increased single-room provision and a retail concourse.
The new wing is a continuation of our work to improve patient experience after our new £2 million neonatal unit officially opened in January 2015. Our maternity services were recently shortlisted for the Royal College of Midwives' (RCM) Midwifery Service of the Year Award, recognising excellence and innovation in the provision of maternity care.
In 2017, we also completed a £2m refurbishment of our Emergency Department (ED) as part of an ambitious vision to create a more efficient acute medicine service for the people of Bradford. It has been designed to provide a slicker and more efficient service, with faster senior clinical involvement at an early stage in the patient pathway.
As a teaching hospital, we are at the forefront of education and development in healthcare, and have an excellent reputation for research performance. We are one of the leading centres in conducting applied research in the country, particularly in quality and safety, elderly care and rehabilitation.
The Trust is home to the Bradford Institute for Health Research (BIHR) where researchers have led the development, validation and implementation of the award-winning Bradford Electronic Frailty Index (eFI) which helps calculate an elderly person's risk of disability, impairment, falls and complications of chronic diseases, as well as their diminishing independence and capability. This is now being used by 98 per cent of all GPs across the country.
Our award-winning Ophthalmology department is home to numerous worldwide clinical trials taking the lead in eye care research and we are one of only three sites in the United Kingdom to be enlisted in the Perioperative Enhanced Recovery Hip Fracture Care of Patients with Dementia (PERFECTED) study, which will investigate how the NHS can introduce better standards of care to improve outcomes for people with dementia.
Follow us on Twitter: @BTHFT
The Trust has its own Bradford Hospitals Charity: https://bradfordhospitalscharity.org/