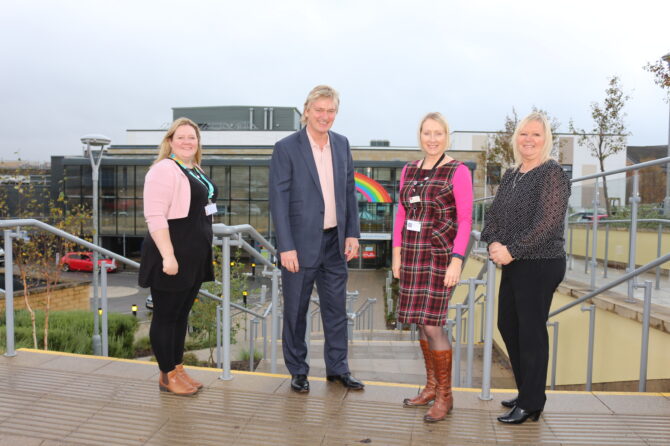 Christmas arrived early for Bradford Teaching Hospitals when Sovereign Health Care dropped into the Trust recently to donate £8,000.
Assistant Chief Nurse (Quality and Workforce) Jo Hilton and Associate Director of Nursing, Adele Hartley-Spencer, welcomed Sovereign Health Care's Chief Executive, Russ Piper and Key Account Manager, Barbara Keiss to the Trust for the cheque presentation on behalf of Chief Nurse Karen Dawber.
The annual donation will be used for 'Sage and Thyme' communication training for all staff (clinical and non-clinical) who work with cancer patients.
Jo explained: "We want to do all we can to support our colleagues and we have found that staff really benefit from this training which increases communication skills and confidence to recognise distress, hear concerns and communicate helpfully with patients affected by cancer.
"Good communication influences patients' emotional health and physical wellbeing; it impacts on symptom resolution, physiological measures, for example blood pressure and decreases reported pain and drug usage.
"This generous donation from Sovereign Health Care will help sustain this important and invaluable training as the skills learnt through this course have never been as important than in the current pandemic."
NHS staff who have undergone previous Sage and Thyme training, which is delivered by the Trust's psychologists, have recorded an increase in both confidence and willingness to talk to people about their emotional concerns.
It is hoped that over time this training can be rolled out to other colleagues throughout all the Trust's hospitals, which include Bradford Royal Infirmary, St Luke's Hospital and the community hospitals of Eccleshill, Westwood Park and Westbourne Green, who regularly come into contact with cancer patients.
Chief Executive of Sovereign Health Care, Russ Piper, said: "We are delighted to support this vital training to help staff feel more confident when speaking to patients affected by cancer.
"The Sovereign Health Care Community Programme exists not only to buy equipment for hospitals like Bradford, but to fund training which supports staff to carry out their roles effectively.
"I'm proud to say that, over the years, we have donated hundreds of thousands of pounds for the benefit of the city's patients and our NHS colleagues, including helping the Trust to purchase its Da Vinci surgical robot in January 2013."
The Foundation Trust's £2million da Vinci robot was made possible thanks to the support of the Sovereign Health Care which generously donated £200,000 and they also donated £500,000 towards the building of the Sovereign Lecture Theatre.
Russ added: "It's really, really incredibly important that Sovereign Health Care retains and strengthens its links to Bradford Teaching Hospitals which goes back a long time and makes a positive contribution to the local health and wellbeing of local people."