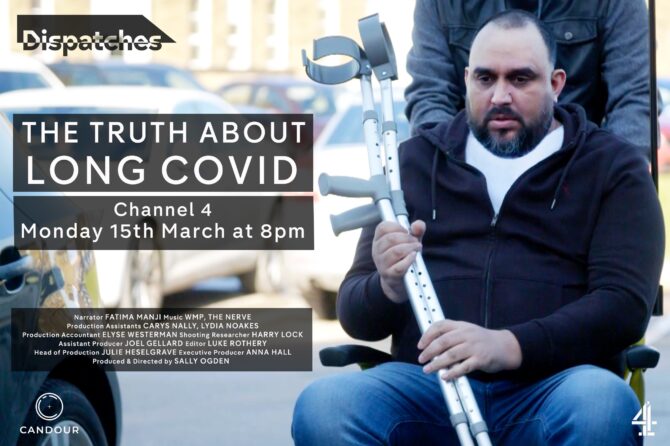 Dispatches: The Truth About Long Covid
Monday 15th March, 8pm
A YEAR into the global pandemic, one in 10 people who catch COVID-19 will still be suffering physical and psychological side effects months later. It's been estimated that long Covid could cost the UK around £2.5 Billion pounds a year. Dispatches investigates what is long Covid and can people recover?
Experts predict we are now entering a second worldwide health crisis. With well over 10 million people predicted to develop long Covid around the world.
Bradford has seen some of the worst infection rates in the country with one in 10 people contracting the disease. High levels of Covid have in turn led to high levels of long Covid. In Bradford there are predicted to be more than 4,000 people suffering with long-term symptoms.
There are now over 60 long Covid assessment clinics around the country. But six months before any dedicated NHS funding came through, Respiratory Consultant Dr Paul Whitaker saw the urgent need to support his patients and set up the first long Covid clinic in Yorkshire at St Luke's Hospital in Bradford, part of Bradford Teaching Hospitals NHS Foundation Trust.
Dr Whitaker said: "The definition of long Covid is people having symptoms going on beyond 12 weeks. The number of people who have had Covid in the UK makes this an almost overwhelming problem.
"We do chest x-rays, CT scans and full lung function tests. Some people have evidence of scarring, some people have evidence of an inability to absorb oxygen properly. But most people have normal tests. For these people it really comes down to fatigue, to muscle strength and also to what the physiotherapists call dysfunctional breathing, so after Covid people breathe a little bit differently.
"When you look back to how we did things six to eight months ago it was quite different. I mean initially then there was a lot more emphasis on physical rehabilitation programmes, almost kind of a regimented approach to try and get people better and this didn't work. I guess one breakthrough is, we don't push people too hard, we do things really in their own time, time itself has just allowed them to recover."
In February the National Institute of Health Research announced £18.5 million for four new long Covid studies. However, the problem for clinicians on the ground is they will take between two-to-three years to get any results.
Dr Whitaker said: "A lot of my knowledge about long Covid has come from the patients, as they've tried different rehab techniques and so actually to get their feedback on a weekly basis is really useful. So we are learning all the time and following these patients over the long term but it is frightening what's been happening with people.
"Some patients are recovering very quickly but some patients are developing a condition that is akin to chronic fatigue syndrome. And this is where the experience of people who have been dealing with chronic fatigue for decades is really important. One thing we know is, we don't push people too hard. We are concentrating a lot more on the psychology and the mental recovery of patients."
There is currently no psychologist on the long Covid team. In fact, there is currently no additional funding across the country for specialist psychological services for long Covid. Dr Whitaker is encouraging his patients to self-refer into a mental health service that is already facing unprecedented demand.
He added: "We've had two patients who have come to the clinic frankly suicidal. So we've been pushing for more psychology input – so far we haven't managed to get it – we will keep trying – and then in the meantime we will keep supporting them as best we can in this clinic."
Suzanne Heywood-Everett, Consultant Clinical Psychologist, said: "I know in Dr Whitaker's clinic he found that the prevalence for anxiety and depression was around 25 per cent and I guess what we are seeing from the data is that we'd anticipate the rates are likely to be much higher than that. So it's really important we are not just thinking about mental health now, we are thinking about how our mental health as a nation is affected over the next five-to-ten years."
Even though the long Covid clinical team are getting some positive results, the Bradford assessment centre and others like it are presently only funded until the end of March this year.
Dr Whitaker: "To manage long Covid properly is a very expensive problem and this is going to run into hundreds of millions a year. What we're hoping for is with the government and NHS England's ongoing review of the problem that more investment is made so that these patients can access care quickly and they're not waiting four or five or six months to see people who can help them."
Professor John Wright, Epidemiologist and Director of Bradford Institute for Health Research: "The attention over the past year has been funding things like PPE and testing and ICU beds and we need to move to seeing how we fund the rehabilitation of these patients with long Covid. The legacy of Covid is the lives of people with long Covid and it's really crucial that we give them the support that they need."
ENDS
For further information, please contact:
Samantha Fraser / sfraser@channel4.co.uk
Notes to Editors:
Any use of information in this release must credit Dispatches: The Truth About Long Covid, Monday 15th March, 8pm, Channel 4