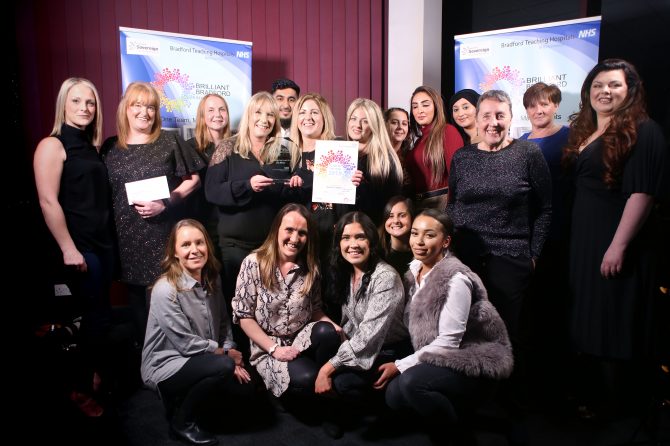 BRADFORD hospital staff have been recognised for their inspiring and innovative work at a special Brilliant Bradford awards ceremony.
Awards have been presented to staff at Bradford Teaching Hospitals NHS Foundation Trust who have demonstrated excellence in their field of work as well as those who have gone the extra mile to improve the lives of the patients they care for.
The awards ceremony, which saw the Trust's Employee of the Year and Team of the Year crowned, celebrated the contributions and achievements of staff at all levels.
A gathered audience at Bradford City Football Club heard that the Trust's staff were a key part of the Trust's commitment to celebrating the success of individuals and teams, and recognising best practice across all sites, departments and job roles – highlighting the very best of patient care, compassion, skill and innovation.
The awards are sponsored by Sovereign Health Care, who donated the prizes.
Individual award winners received a glass plaque, a commemorative certificate and £300 (1st prize) and £100 (runner-up) donated by Sovereign.
Team of the Year winners received £4,000 in prize money, with runners up £3,000 and the team in third place receiving £2,000. All the teams will re-invest their winnings to support further service improvements within their departments.
The Trust's new Chief Executive, Mel Pickup said: "I already knew that Bradford Teaching Hospitals staff were great as so many people had told me before I joined the Trust, but in case I needed any reminder, then the Brilliant Bradford awards brought it home loud and clear!
"These awards showcased the best of who we are – 'Team Bradford' – and the care, commitment and compassion that our staff put into their work, day in, day out. I feel enormous pride in joining Bradford Teaching Hospitals and the awards gave me even more insight into why the Trust is home to so many talented, caring staff who are the very best of the NHS.
High standards
"It never fails to amaze me how our NHS staff set themselves such high standards as they constantly try to improve the care we deliver to our patients. This was evident from all the awards nominees – whether they worked in clinical and research roles or were part of our important support services teams."
She added that 2019 had been a momentous year for the Trust; it included becoming a first healthcare organisation in Europe to implement a Command Centre to transform patient flow in its hospitals; opening the new £3m flagship research centre, the Wolfson Centre for Applied Health Research, starting a two-year programme with Airedale NHS Foundation Trust to make services more seamless for patients and easier for our staff to deliver and completing a £1.8m transformation of our Women's and Newborn Unit.
The Trust also continued to win national and regional awards for its ground-breaking work, including a HSJ award for the Ambulatory Care Experience (ACE) service and a King's Fund award for its Emergency Department team's work on improving the care of deteriorating patients.
The awards were presented by Chairman, Max Mclean and special guest, Russ Piper, Chief Executive of Sovereign Health Care, sponsors for the awards or the 20th year.
This year there were 12 awards on offer, including Team of the Year and Employee of the Year.
Winners of the 2019 Team of the Year Award were Ward 4/Medical Admissions Unit (MAU) and Employee of the Year 2019 was Play Specialist, Children's Specialist Service, Lisa Smith.
Ward 4 Manager, Mel Stack said: "This is fantastic. I am so proud of the team. This is a busy environment but every day everyone goes above and beyond to care for our patients. It's lovely to be recognised in this way."
A shocked Lisa added: "I couldn't believe it when my name was called. I work with some amazing people, such dedicated nurses who all inspire and support each other. To me they are all winners too.  I don't think it's sunk in that I've won – but there will be some celebrating later!"
Closing the evening, Trust Chairman, Max Mclean told staff: "I am humbled by what I have heard and seen tonight. I am incredibly proud to be your chairman. You show every day that you embody our values – we care, we value people, we are one team. Thank you for everything you do!"
Full list of winners
Team of the Year: Ward 4/Medical Admissions Unit (MAU)
Runners up were Ward 5/Day Surgery and in third place, eRostering, Locum Booking and Nurse Bank team
 Team of the Year winners received a commemorative plaque and £4,000 in prize money, with runners up £3,000 and the team in third place receiving £2,000 from Sovereign Healthcare. All the teams will re-invest their winnings to support further service improvements within their departments.
Employee of the Year: Play Specialist, Children's Specialist Service, Lisa Smith
Runner-up: Plaster Technician, Orthopaedics Outpatients, Charlene Brown
The Finance and Performance Excellence Award is for someone who has made a significant contribution either to the financial health of the Trust, through increased productivity or cost savings, or who has supported performance improvements.
Winner: Maternity Housekeeper, Beverley Frost
Runner-up: Principal Dietitian, Rupert Allen
The Excellence in Care Award recognises the achievement of someone who's demonstrated how they have made a significant contribution to care and compassion.
Winner: Senior Sister, Ward 14, Toseka Naqvi
Runner-up: Sister, Neonatal Unit, Bethany Andrew
The Learning Excellence Award recognises the work of someone who's shown how they have made a significant contribution to learning excellence or professional development, through training or education.
Winner: Staff Nurse: ENT/Eye Outpatients, Penny Stoyles
Runners-up: Senior Sister: Ward 2, Claire Hall, and Senior Sister: Ward 4, Melanie Stack
The Valuing People Award recognises the achievement of someone who embodies or inspires others to feel motivated, engaged, well-led and valued; who's made a significant and outstanding contribution towards the Trust's aim of being an outstanding NHS employer.
Winner: Senior Healthcare Assistant, ENT/Eye Outpatients, Catherine Peacock
Runner-up: Ward Sister, Ward 15, Zanab Bi
The Excellence in Collaboration Award recognises the work of someone who's shown how they have made a significant contribution to effective collaboration between the Trust and one or more external partners.
Winner: Manager of the Homeless team, Helen Phelan
Runner-up: Stroke Data Officer, Alex Stenhouse
Trainee of the Year: Clinical Photographer, Medical Illustrator, Nicola Moorhouse
The Chief Executive's Unsung Hero Award: Maintenance Assistant, Paul Whitehead
The Chairman's Unsung Hero Award: Shiraz Bismillah, in Renal Medicine
Personal Impact Award: Pharmacy Technician – Higher Level\Stores and Distribution Manager, Amanat Ali
Lifetime Achievement Award: Receptionist, Brendan Tate
Ends
For further media information, please contact communications@bthft.nhs.uk or call 01274 382265.
Note to Editors:
Bradford Teaching Hospitals NHS Foundation Trust:
Bradford Teaching Hospitals NHS Foundation Trust is responsible for providing hospital services for the people of Bradford and communities across Yorkshire. We serve a core population of around 500,000 and provide specialist services for 1.1 million people.
Our 5,500 staff work over several sites, including Bradford Royal Infirmary, which provides the majority of inpatient services, and St Luke's Hospital, which predominantly provides outpatient and rehabilitation services. We also manage local community hospitals at Westwood Park, Westbourne Green, and Eccleshill.
In early 2017, a new £28 million wing opened at Bradford Royal Infirmary, part of a £75m investment to improve patient care across our hospitals over a five-year period. It provides world-class facilities for elderly care, children's services, a state-of-the-art intensive care unit with increased single-room provision and a retail concourse.
The new wing is a continuation of our work to improve patient experience after our new £2 million neonatal unit officially opened in January 2015. Our maternity services were recently shortlisted for the Royal College of Midwives' (RCM) Midwifery Service of the Year Award, recognising excellence and innovation in the provision of maternity care.
In 2017, we also completed a £2m refurbishment of our Emergency Department (ED) as part of an ambitious vision to create a more efficient acute medicine service for the people of Bradford. It has been designed to provide a slicker and more efficient service, with faster senior clinical involvement at an early stage in the patient pathway.
As a teaching hospital, we are at the forefront of education and development in healthcare, and have an excellent reputation for research performance. We are one of the leading centres in conducting applied research in the country, particularly in quality and safety, elderly care and rehabilitation.
The Trust is home to the Bradford Institute for Health Research (BIHR) where researchers have led the development, validation and implementation of the award-winning Bradford Electronic Frailty Index (eFI) which helps calculate an elderly person's risk of disability, impairment, falls and complications of chronic diseases, as well as their diminishing independence and capability. This is now being used by 98 per cent of all GPs across the country.
Our award-winning Ophthalmology department is home to numerous worldwide clinical trials taking the lead in eye care research and we are one of only three sites in the United Kingdom to be enlisted in the Perioperative Enhanced Recovery Hip Fracture Care of Patients with Dementia (PERFECTED) study, which will investigate how the NHS can introduce better standards of care to improve outcomes for people with dementia.
Follow us on Twitter: @BTHFT
The Trust has its own Bradford Hospitals Charity: www.bradfordhospitals.nhs.uk/charity