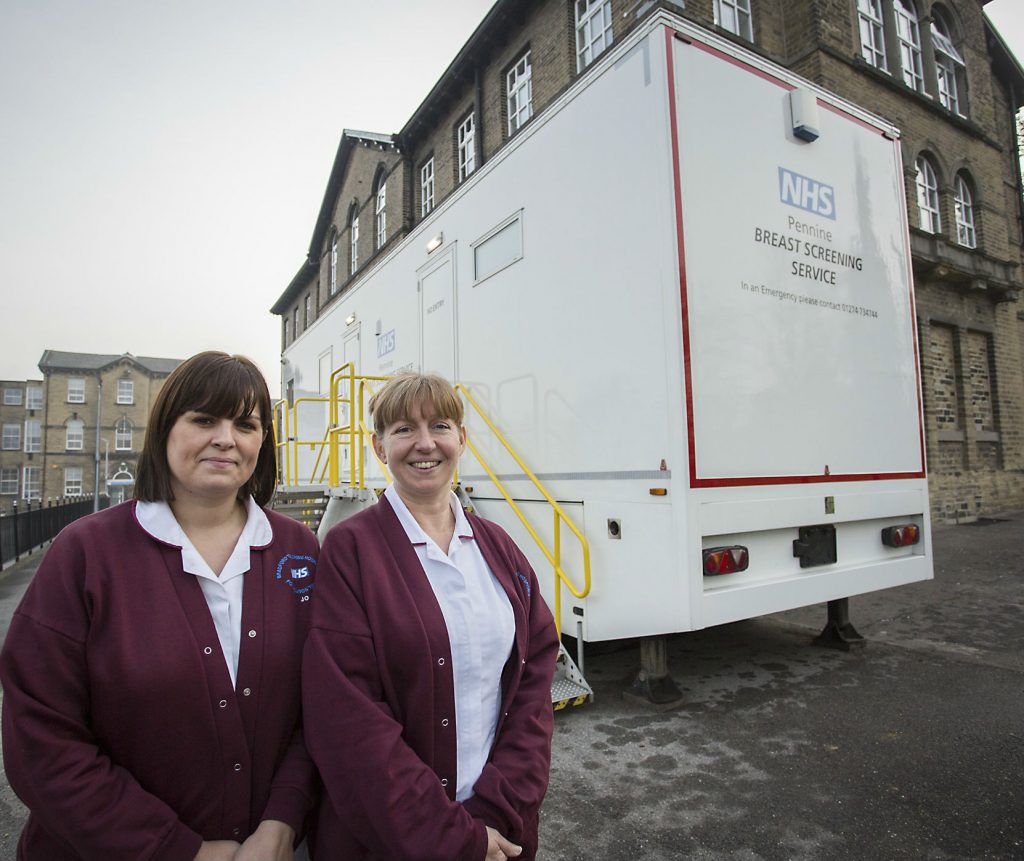 ROUTINE breast screening for women across Keighley and Airedale starts this month (September) following a five-month pause due to the COVID-19 pandemic.
The Pennine Breast Screening team will be inviting women registered with GPs in the Keighley area initially. Women should wait for their invitation before contacting the Breast Screening Unit.
Appointments will be at the mobile unit in the car park at the side of Sainsbury's, Keighley, but appointments can be made at any of the other units instead.
Screening is a vital health check for women aged 50-70 and all women are urged to take up three-yearly invitations. Check out this video to learn more about the process: www.vimeo.com/241078206
The mobile units have been updated to ensure the safety of women and staff, and women attending appointments will be asked to follow certain infection prevention and control measures which will be set out in their appointment letters.
Breast Screening Health Promotion Specialist, Sadie Greenwood, said: "We're delighted that we can start inviting women for screening once again.
"We've been working hard to make sure we can see women safely and are now ready for the service to go live. Appointment times have been extended to allow thorough cleaning of the unit between appointments, and in some areas staff will be working shifts to provide a similar number of appointments per day over a longer period, including Saturdays, to create a more flexible service with slots available throughout the day and evening."
Treatment options
Breast cancer affects 1 in 7 women and a mammogram can potentially find disease in the breast up to two years before you can feel or see it yourself, making treatment options simpler and easier.
If you are younger or older than the 50-70 age range, please be breast aware and contact your GP as soon as possible if you notice a change. Due to COVID-19, the age extension trial has been paused and women over 71 are not able to self-refer at the moment.
Consultant Breast Radiologist, Dr Shazia Khan said: "This is a really important early detection test that saves lives. The mammographers are a professional female team who provide an excellent service and put women at ease.
"A mammogram lasts around five minutes, although it is advised that you allow 30 minutes for the whole appointment. It can feel a little weird the first time you have a mammogram, and most women say it's 'a bit of a tight squeeze but no big deal' and are grateful for the peace of mind that it brings."
The Pennine Breast Screening Unit, based at St Luke's Hospital, covers one of the largest breast screening regions in England and invites over 202,000 women over a three yearly period for their mammogram
If you get an invite letter and want to change the appointment date or do not wish to attend, contact the Pennine team on: 01274 365521 or email: pennine.screening@bthft.nhs.uk
Follow us on FB/Twitter/Insta @PennineBSU
ENDS
For further media information, please contact communications@bthft.nhs.uk or call 01274 383901.
Note to Editors:
Bradford Teaching Hospitals NHS Foundation Trust:
Bradford Teaching Hospitals NHS Foundation Trust is responsible for providing hospital services for the people of Bradford and communities across Yorkshire. We serve a core population of around 500,000 and provide specialist services for 1.1 million people.
Our 5,500 staff work over several sites, including Bradford Royal Infirmary, which provides the majority of inpatient services, and St Luke's Hospital, which predominantly provides outpatient and rehabilitation services. We also manage local community hospitals at Westwood Park, Westbourne Green, and Eccleshill.
In early 2017, a new £28 million wing opened at Bradford Royal Infirmary, part of a £75m investment to improve patient care across our hospitals over a five-year period. It provides world-class facilities for elderly care, children's services, a state-of-the-art intensive care unit with increased single-room provision and a retail concourse.
The new wing is a continuation of our work to improve patient experience after our new £2 million neonatal unit officially opened in January 2015. Our maternity services were recently shortlisted for the Royal College of Midwives' (RCM) Midwifery Service of the Year Award, recognising excellence and innovation in the provision of maternity care.
In 2017, we also completed a £2m refurbishment of our Emergency Department (ED) as part of an ambitious vision to create a more efficient acute medicine service for the people of Bradford. It has been designed to provide a slicker and more efficient service, with faster senior clinical involvement at an early stage in the patient pathway.
As a teaching hospital, we are at the forefront of education and development in healthcare, and have an excellent reputation for research performance. We are one of the leading centres in conducting applied research in the country, particularly in quality and safety, elderly care and rehabilitation.
The Trust is home to the Bradford Institute for Health Research (BIHR) where researchers have led the development, validation and implementation of the award-winning Bradford Electronic Frailty Index (eFI) which helps calculate an elderly person's risk of disability, impairment, falls and complications of chronic diseases, as well as their diminishing independence and capability. This is now being used by 98% of all GPs across the country.
Our award-winning Ophthalmology department is home to numerous worldwide clinical trials taking the lead in eye care research and we are one of only three sites in the United Kingdom to be enlisted in the Perioperative Enhanced Recovery Hip Fracture Care of Patients with Dementia (PERFECTED) study, which will investigate how the NHS can introduce better standards of care to improve outcomes for people with dementia.
Follow us on Twitter: @BTHFT
The Trust has its own Bradford Hospitals Charity: https://bradfordhospitalscharity.org/