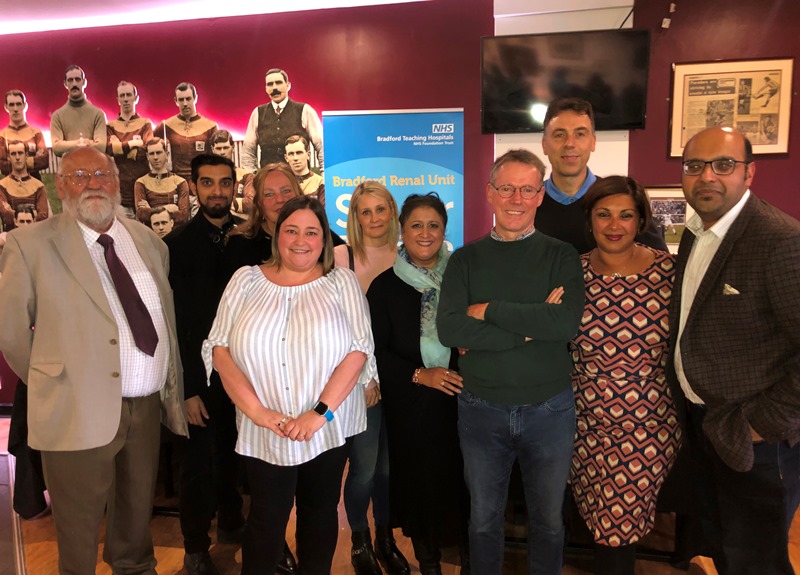 BRADFORD Teaching Hospitals NHS Foundation Trust's Renal department – which plays such an important role in the lives of kidney patients throughout the district – has celebrated its 25th anniversary!
The unit was established back in 1994 at BRI and St Luke's – with the subsequent addition of a satellite unit at Skipton General Hospital in 2001 – by our recently retired renal consultant Robin Jeffrey and his wife Corinne, who met while working together at Bradford.
Twenty-five years on, it has six renal consultants, over 400 transplant patients, more than 300 dialysis patients, and recently received a glowing report from the UK Renal Association.
Speaking at a celebration event held at Bradford City FC's Valley Parade, Robin told former and current staff that they should be "proud of what they'd achieved".
Robin said: "The opportunity to start up a dialysis unit does not come to many! When I arrived we had to set about getting staff. The Renal facility then moved from BRI to St Luke's and we also took over the Smith Lane satellite unit in Bradford that had been run by St James's.
"St Luke's started slowly with five patients and Corinne tells a story that at the end of one shift the nurses came to her prostrate saying, 'We just can't keep going at this pace!'
"The unit has now become very large. I think we should be excited about what's to come and proud of what we have offered the people of Bradford and Airedale."
From 1994 to 2003 the renal department grew rapidly, with current renal consultants Russell Roberts, Habib Akbani and John Stoves all joining during this time.
Satellite unit
The Skipton satellite unit also came under Bradford's wing.
John Stoves, Consultant in Nephrology and General Medicine and current Renal Clinical Lead, also helped lead the celebrations.
He said: "Today is an opportunity for us to come together as a very proud multidisciplinary team to celebrate the establishment of a highly respected and highly praised unit that serves this wonderfully diverse and sleeping giant of a city."
John highlighted the recent results of a national independent review. Funded by the Department of Health, the Getting it Right First Time project (GIRFT) aims to deliver improvements in quality within NHS sites across the country.
He added: "With the fastest dialysis population growth in England, the GIRFT report congratulated the Bradford team on its achievements in service delivery.
"GIRFT noted a well-led, highly-motivated group providing expert services to a renal patient population which has the second-highest deprivation levels in England.
"It is remarkable that a smallish unit with comparatively low staffing ratios and a heavily pressed workload has achieved such a forward-looking and 'can do' service."
VIP guest Bradford kidney transplant patient Harvey Crowther, 76, attended the celebration event with his wife, Rachel, and paid an emotional tribute to the unit's staff.
Expertise of staff
He said: "I am now a grandfather of five and without the expertise of the staff at the unit I probably would never have become a grandfather at all.
"The Renal Unit at Bradford is a fantastic place. I had a kidney transplant 21 years ago yesterday.
"I went from feeling like death on wheels to feeling like a teenager. I would like to say thank you to all of you for giving me my life back."
Renal Matron Rukeya Miah added it was "an absolute privilege to be part of such a dedicated team who are all integral to the unit's success".
"The unit has a long history of working in partnership with other teams to achieve the best possible results for patients," she added.
The next 25 years look just as bright for the Renal Unit too. Ambitions have been outlined to develop shared care haemodialysis and renal ambulatory care units at St Luke's; establish an integrated renal ward and acute dialysis facility at BRI; and build a new, managed haemodialysis satellite unit in Airedale.
Here's to the next 25 successful years!