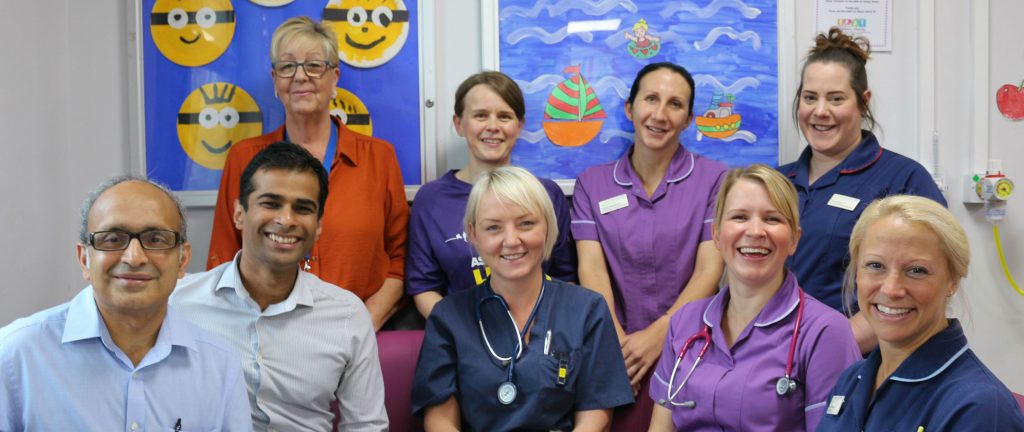 We're delighted to announce that our innovative Children and Young Persons' Ambulatory Care Experience (ACE) has been nominated for a second major award in a matter of months!
Last November, the pioneering scheme topped the Improvement in Emergency and Urgent Care category at the prestigious Health Service Journal (HSJ) awards in London. And the ACE team have now also been shortlisted in the Innovation and Improvement category at the 2019 BMJ Awards.
Launched in December 2017, the ACE project aims to bring care to young patients in the comfort of their own homes and prevent unnecessary referrals to our hospitals.
It works along similar lines to our ambulatory care service and elderly care virtual ward, and sees our talented community nurse team treating children aged up to 16 in the comfort of their own homes under the expert eye of our paediatricians.
Consultant Paediatrician and ACE service lead, Dr Mathew Mathai, said: "We are delighted to have been nominated for a BMJ Award!
"Being nominated generates a real buoyancy and optimism, and I'm really thrilled for the whole Paediatric team. I would like to acknowledge the amazing work of children's community nurses and the support of our inpatient team in making this service work.
"Our clinical educators have also been pivotal to our success alongside my consultant colleagues, who have helped drive this innovation forward. And Denise Stewart, Project Manager, has been so important in keeping us all on track."
Mat and ACE colleagues have to present the project to BMJ Award judges at BMA House on April 24. A glittering awards ceremony at which the winners of each category will be announced will then take place at the Park Plaza, London Bridge later that evening.
Asked what he thought about the ACE project's chances, Mat said: ""I am hopeful, but just being nominated is worthwhile as you get to meet inspiring colleagues and teams from around the country."
Plans for the future of the ACE service include improving engagement with Bradford GPs, building on links with the West Yorkshire and Harrogate Health and Care Partnership (WYHHCP), and patients, plus strengthening the relationship between ACE and our own paediatric and A&E teams.
ACE Leadership Fellow, Dr Reena Basu, who is spreading the word about ACE to WYHCCP trusts, added: "Being nominated for such an important award encourages others trusts to explore what ACE is doing and follow suit."
Congratulations to the ACE team on their nomination. We'll all be rooting for you on April 24!