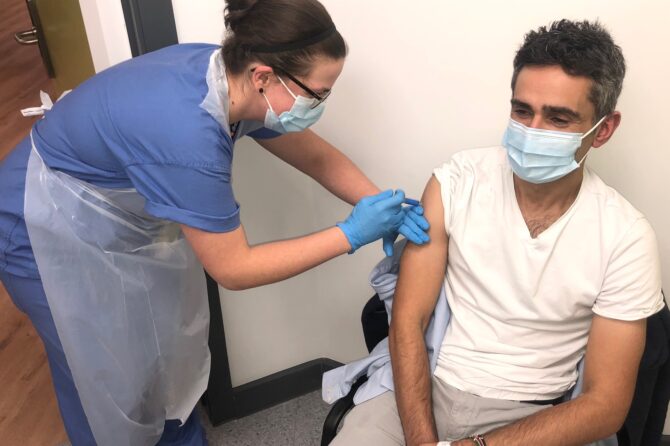 A BRADFORD teacher has echoed calls for more BAME (Black, Asian and minority ethnic) volunteers to take part in key Covid-19 vaccine trials.
Jamil Parapia, 42, volunteered to take part in the Novavax Covid-19 trial being run at the University of Bradford by the city's Patient Recruitment Centre (PRC), after reading about it in the media.
A national call has been put out for more people from BAME backgrounds, as well as those aged over 65, to take part in Covid-19 vaccine trials.
Ethnic minority groups are 'under-represented' in clinical trials in the UK, despite research showing BAME people are disproportionately affected by coronavirus, the Department for Business, Energy and Industrial Strategy (BEIS) has said.
Mr Parapia, a modern languages teacher at Bingley Grammar School, said: "I read about the vaccine trial in the newspaper – in The Times I think, and went on the NHS website to find out more about it.
"There was also a call for more people from minority backgrounds and I am mixed race so I thought it was my social responsibility to take part.
Support the science
"We all want to get out of this predicament and the restrictions we are under so we have to support the science. The impact Covid is having on people has hit home – it needs to end.
"If I can do my part by taking part in a phase 3 trial, which is the final phase a vaccine goes through before it is released, then hopefully other people will do the same."
Mr Parapia, a father-of-two from Otley, said he had also been inspired to take part by his Dad, Professor Liakat Parapia, former Clinical Director of Pathology at Bradford Teaching Hospitals.
Although Prof. Parapia retired over a decade ago, he still supports and fundraises for the Bradford Royal Infirmary-based Annette Fox Leukaemia Research Fund.
In a short film recorded by the Trust, Mr Parapia added: "My Dad is the former Clinical Director of Pathology at Bradford Teaching Hospitals. He's been retired now for some time but having grown up watching both Mum and Dad dedicate their entire lives to medicine and helping other people, they really inspired me to take part in this.
"I'm just an ordinary guy, I have no medical background but I feel that this is a part I can play in the fight against this dreadful disease. I hope you do too."
Take part
Bradford MP Naz Shah has also appealed for others to join her and take part in Bradford's Covid-19 vaccine trial.
Ms Shah said volunteering allowed her to "contribute to the good work that the hospital trust and university, and people up and down the country are doing" to create a safe vaccine.
A spokesperson for the National Institute for Health Research said: "We are still looking for more volunteers, particularly people from BAME backgrounds, so that the vaccines and other studies on Covid can help protect the whole population, particularly those most at risk of serious disease."
Thank you to each and every one of you who have already signed up to participate in the PRC's Novavax trial. As a result, it is on course to be the second-highest recruiting vaccine trials centre out of the 26 sites in the UK with more than 720 volunteers. However, more people are now needed for future trials in Bradford.
Find out more here: bepartof.bradfordresearch.nhs.uk
Bradford's new PRC, which was launched earlier this year, is hosted by Bradford Teaching Hospitals NHS Foundation Trust, run by the Bradford Institute for Health Research, and based at Bradford Royal Infirmary.
ENDS

For further media information, please contact communications@bthft.nhs.uk
Note to Editors:
Bradford Teaching Hospitals NHS Foundation Trust:
Bradford Teaching Hospitals NHS Foundation Trust is responsible for providing hospital services for the people of Bradford and communities across Yorkshire. We serve a core population of around 500,000 and provide specialist services for 1.1 million people.
Our 5,500 staff work over several sites, including Bradford Royal Infirmary, which provides the majority of inpatient services, and St Luke's Hospital, which predominantly provides outpatient and rehabilitation services. We also manage local community hospitals at Westwood Park, Westbourne Green, and Eccleshill.
In early 2017, a new £28 million wing opened at Bradford Royal Infirmary, part of a £75m investment to improve patient care across our hospitals over a five-year period. It provides world-class facilities for elderly care, children's services, a state-of-the-art intensive care unit with increased single-room provision and a retail concourse.
The new wing is a continuation of our work to improve patient experience after our new £2 million neonatal unit officially opened in January 2015. Our maternity services were recently shortlisted for the Royal College of Midwives' (RCM) Midwifery Service of the Year Award, recognising excellence and innovation in the provision of maternity care.
In 2017, we also completed a £2m refurbishment of our Emergency Department (ED) as part of an ambitious vision to create a more efficient acute medicine service for the people of Bradford. It has been designed to provide a slicker and more efficient service, with faster senior clinical involvement at an early stage in the patient pathway.
As a teaching hospital, we are at the forefront of education and development in healthcare, and have an excellent reputation for research performance. We are one of the leading centres in conducting applied research in the country, particularly in quality and safety, elderly care and rehabilitation.
The Trust is home to the Bradford Institute for Health Research (BIHR) where researchers have led the development, validation and implementation of the award-winning Bradford Electronic Frailty Index (eFI) which helps calculate an elderly person's risk of disability, impairment, falls and complications of chronic diseases, as well as their diminishing independence and capability. This is now being used by 98% of all GPs across the country.
Our award-winning Ophthalmology department is home to numerous worldwide clinical trials taking the lead in eye care research and we are one of only three sites in the United Kingdom to be enlisted in the Perioperative Enhanced Recovery Hip Fracture Care of Patients with Dementia (PERFECTED) study, which will investigate how the NHS can introduce better standards of care to improve outcomes for people with dementia.
The Trust has its own Bradford Hospitals Charity: https://bradfordhospitalscharity.org/
Follow us on Twitter: @BTHFT
For more information please visit www.bradfordhospitals.nhs.uk