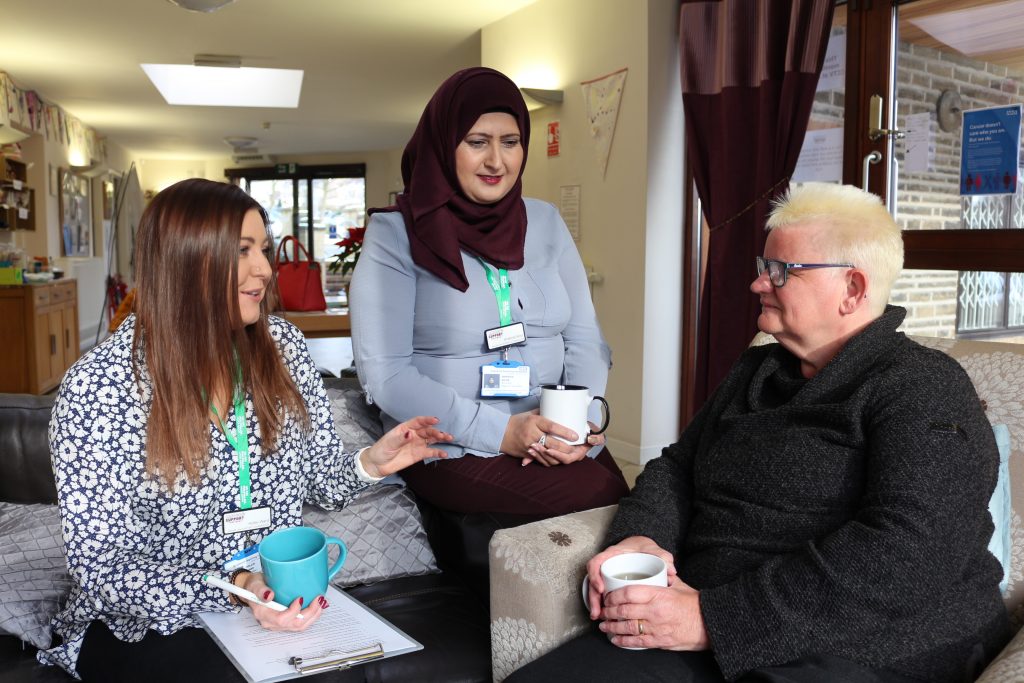 Bradford is piloting a new way to support people to live better with and beyond cancer.
The new initiative aims to ensure that every patient is aware of and able to access the range of support and services available to help them reach their goals and live as full a life as possible after treatment.
The pilot is being coordinated by the West Yorkshire and Harrogate Cancer Alliance and involves partners Bradford Teaching Hospitals NHS Foundation Trust, the Bradford district clinical commissioning groups and Cancer Support Yorkshire, with funding from Macmillan Cancer Support.
Cancer patients each have their own individual and wide-ranging needs at the end of their treatment, and support that is well-signposted and tailored to each individual can make a huge difference to their lives.
From now on, the offer of support to help people with their personal finances, the ability to maintain social networks and psychological wellbeing as well as chronic physical problems such as fatigue and pain, will be formalised in a face-to-face appointment.
Patients will be supported through the process by the use of an electronic Health Needs Assessment – or eHNA – devised by Macmillan, which helps patients to think about their issues or concerns and possible solutions. They are then signposted to support services, as appropriate.
Initially, the scheme will be focused on people who have come to the end of their treatment for head and neck cancer; gynaecological cancer; cancers of the gastrointestinal tract (digestive system), such as stomach, liver and pancreas, as well as colorectal cancer.
Amanda Procter, Lead Cancer Nurse for Bradford Teaching Hospitals, said: "More people than ever are living with and beyond cancer, so it's crucial that the NHS recognises that quality of life outcomes are as important to people as survival.
"We already work very closely with Cancer Support Yorkshire in Bradford to provide opportunities for people to access support services and information which can enable them to reach their personal goals after treatment.
Patient journey
"However, we know that not everyone is currently making the most of those opportunities, or perhaps aren't even aware that they are there. That's why this pilot programme is so important as it makes the offer of support an integral part of the patient journey and appointment process, so patients don't miss out because they have moved on after their treatment has ended and miss the opportunity to improve  their quality of life in the future."
Two support coordinators, funded by Macmillan, are now in post to meet patients face-to-face and offer personalised health and wellbeing support at a specially-arranged appointment.
Based at Cancer Support Yorkshire's premises, close to Bradford Royal Infirmary, the coordinators will assess each patient involved in the pilot programme at their one-to-one appointment, and talk through their personal circumstances to see what help and support each may need to return to work, connect with their local community, eat well and exercise.
Sarah Wood, Executive Director of Cancer Support Yorkshire, said: "We are excited to be working in partnership with Macmillan, Bradford Hospitals and West Yorkshire and Harrogate Cancer Alliance to improve access to personalised health and wellbeing support for cancer patients in Bradford.
"Cancer Support Yorkshire is fully committed to this collaborative work enabling those affected by cancer to live as full a life as possible with an integrated range of existing support services in the community."
Professor Sean Duffy, Clinical Lead for the WYH Cancer Alliance, said: "Personalised post-treatment support and putting patients in charge of their own recovery can have a significant impact on their experience of care and their quality of life. The chance to talk one-to-one with someone often helps patients to identify unmet needs they hadn't even realised they had.
"Cancer is one of many long-term conditions for which support services already exist in the community, closer to home, to which people can be signposted and which can make all the difference. However, we recognise that there is significant variation in how this is currently happening across West Yorkshire and Harrogate.
"The Bradford initiative is a great example of how when organisations work together and focus on improvement, this brings huge benefits for those affected by cancer and their families."
The pilot is part of the innovative national Living With and Beyond Cancer programme, which is being coordinated locally by the West Yorkshire and Harrogate Cancer Alliance. The Alliance aims to improve the lives of everyone affected by cancer across the region.
Pictured are (L-R) project coordinators Hollie Ward and Shahida Noor with patient Val Balding.