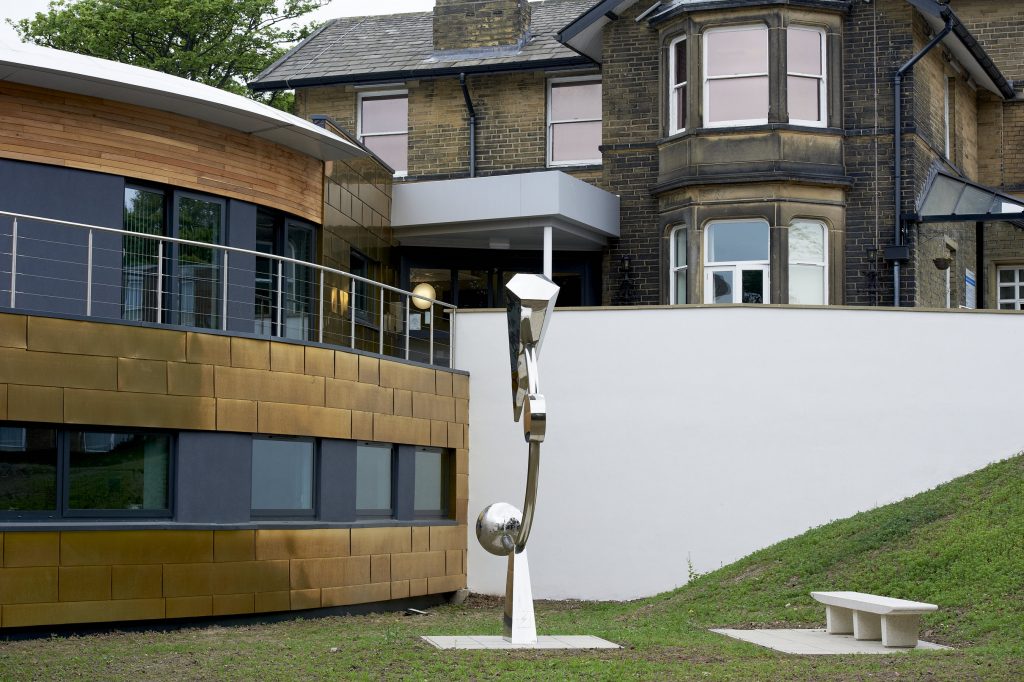 A new health research collaboration to tackle healthcare challenges will be hosted in Bradford.
Yorkshire and Humber region will receive £9 million over five years through government-funded investment in health research to equip NHS for the future
The funding will tackle the biggest challenges the health and care system faces over the next five years including urgent care, healthy childhood, frailty in older people and reduced life expectancy for people with mental health conditions
Research will help deliver commitments in Long Term Plan
Health Minister Nicola Blackwood has announced today fifteen partnerships or Applied Research Collaborations (ARCs) – including one hosted in Bradford – with multi-million pound funding for research that could transform the lives of millions of people living with a range of conditions, including dementia, mental ill health and obesity.
The partnerships have been set up across the country and are made up of NHS organisations, social care services, leading academics, innovators, and local authorities. They have been awarded funding through the National Institute for Health Research (NIHR) for ground-breaking new projects that will address the increasing demands on the NHS and give patients greater independence and choice about how they manage their healthcare.
Bradford Institute for Health Research (BIHR), which is part of Bradford Teaching Hospitals NHS Foundation Trust, is hosting the Yorkshire and Humber ARC. The £9 million funding for the Yorkshire region will enable BIHR and partner organisations across Yorkshire and the Humber, including 44 NHS organisations, 15 Local Authorities and 10 universities, to prioritise research into a number of health issues including older people with frailty, healthy childhood, urgent care and mental ill health.
Director of Yorkshire and Humber ARC, Professor John Wright, of BIHR said: "We are delighted that the Yorkshire and Humber region has been awarded this important programme of applied research. Medical research can often seem remote from everyday life.
NHS partners
"Our ARC will support people-powered research that aims to improve health and well-being for our communities. Our themes of healthy childhood, mental health, older people and urgent care are the priorities that have been identified by our NHS partners and the public and will ensure our patients benefit from cutting-edge innovation."
Chair of the Yorkshire and Humber ARC Strategy Board, Lord Willis, said: "We are a silicon dale of health research in Yorkshire with some of the leading centres of excellence across Sheffield, Bradford, Leeds and York. The new ARC will ensure our NHS and social services are able to improve effectiveness and impact to benefit our patients and their families."
Health Minister, Nicola Blackwood said: "As the population grows and demand on the NHS increases, it is paramount we develop the next generation of technologies and improve the way we work to ensure the NHS continues to offer world-leading care.
"The UK has a proud history of cutting edge health research and by supporting the great minds in health and social care, this funding has the potential to unlock solutions to some of the biggest challenges facing healthcare and revolutionise the way patients access treatments in the future."
Notes for editors – NIHR section
NIHR Applied Research Collaborations are comprised of health and care providers, commissioners, local authorities, universities, private companies, charities, and academics, who will work together to address a specific health or care issue in their region.
Details of priority for the Yorkshire and Humber ARC:
Older People with Frailty
Early Life and Prevention
Urgent and Emergency Care
Mental and Physical Multimorbidity
Health Economics, Evaluation, Equality
Improvement Science
The National Institute for Health Research (NIHR) is the nation's largest funder of health and care research. The NIHR:
Funds, supports and delivers high quality research that benefits the NHS, public health and social care
Engages and involves patients, carers and the public in order to improve the reach, quality and impact of research
Attracts, trains and supports the best researchers to tackle the complex health and care challenges of the future
Invests in world-class infrastructure and a skilled delivery workforce to translate discoveries into improved treatments and services
Partners with other public funders, charities and industry to maximise the value of research to patients and the economy
The NIHR was established in 2006 to improve the health and wealth of the nation through research, and is funded by the Department of Health and Social Care. In addition to its national role, the NIHR supports applied health research for the direct and primary benefit of people in low- and middle-income countries, using UK aid from the UK government.
ENDS
For further media information, interviews, photos, please contact communications@bthft.nhs.uk or call 01274 383901
Note to Editors:
Bradford Teaching Hospitals NHS Foundation Trust:
Bradford Teaching Hospitals NHS Foundation Trust is responsible for providing hospital services for the people of Bradford and communities across Yorkshire. We serve a core population of around 500,000 and provide specialist services for 1.1 million people.
Our 5,500 staff work over several sites, including Bradford Royal Infirmary, which provides the majority of inpatient services, and St Luke's Hospital, which predominantly provides outpatient and rehabilitation services. We also manage local community hospitals at Westwood Park, Westbourne Green, and Eccleshill.
In early 2017, a new £28 million wing opened at Bradford Royal Infirmary, part of a £75m investment to improve patient care across our hospitals over a five-year period. It provides world-class facilities for elderly care, children's services, a state-of-the-art intensive care unit with increased single-room provision and a retail concourse.
The new wing is a continuation of our work to improve patient experience after our new £2 million neonatal unit officially opened in January 2015. Our maternity services were recently shortlisted for the Royal College of Midwives' (RCM) Midwifery Service of the Year Award, recognising excellence and innovation in the provision of maternity care.
In 2017, we also completed a £2m refurbishment of our Emergency Department (ED) as part of an ambitious vision to create a more efficient acute medicine service for the people of Bradford. It has been designed to provide a slicker and more efficient service, with faster senior clinical involvement at an early stage in the patient pathway.
As a teaching hospital, we are at the forefront of education and development in healthcare, and have an excellent reputation for research performance. We are one of the leading centres in conducting applied research in the country, particularly in quality and safety, elderly care and rehabilitation.
The Trust is home to the Bradford Institute for Health Research (BIHR) where researchers have led the development, validation and implementation of the award-winning Bradford Electronic Frailty Index (eFI) which helps calculate an elderly person's risk of disability, impairment, falls and complications of chronic diseases, as well as their diminishing independence and capability. This is now being used by 98 per cent of all GPs across the country.
Our award-winning Ophthalmology department is home to numerous worldwide clinical trials taking the lead in eye care research and we are one of only three sites in the United Kingdom to be enlisted in the Perioperative Enhanced Recovery Hip Fracture Care of Patients with Dementia (PERFECTED) study, which will investigate how the NHS can introduce better standards of care to improve outcomes for people with dementia.
The Trust has its own Bradford Hospitals Charity: https://bradfordhospitalscharity.org/
Follow us on Twitter: @BTHFT
For more information please visit www.bradfordhospitals.nhs.uk