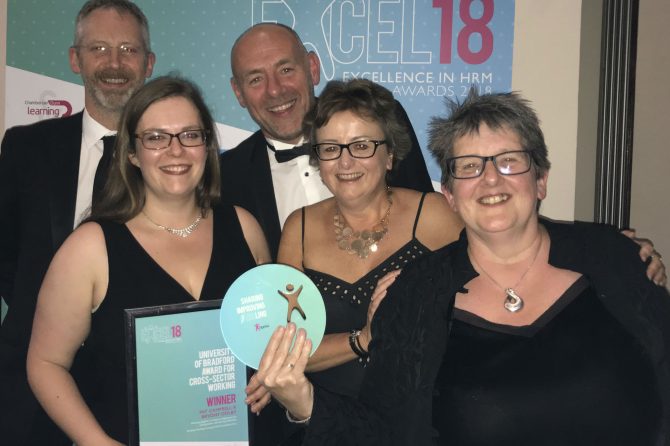 A Bradford hospital team has scooped a top accolade for its trail-blazing work with young people with learning difficulties.
The team at Bradford Royal Infirmary (BRI), part of Bradford Teaching Hospitals NHS Foundation Trust, has been recognised in the Healthcare People Management Association (HPMA) Awards 2018.
The awards recognise and reward outstanding work in healthcare human resource management, and were presented at a glittering ceremony held in London. The Bradford team received the University of Bradford award for cross-sector working.
Bradford Teaching Hospitals is proud to support Project SEARCH, which provides young people with learning difficulties with nine months on-the-job work experience. This is done through systematic instruction and mentoring and fully immersing the young people in the work culture of the host employer.
Project SEARCH began in 1996 at Cincinnati Children's Hospital Medical Center, USA, and there are now around 50 project SEARCH sites in the UK and Europe.
It was launched at Bradford Royal Infirmary in September 2013, and is a partnership between Southfield School, Bradford, Hft (a national charity that supports people with learning disabilities), and Bradford Teaching Hospitals.
Huge impact
The programme has had a huge impact for interns, and their families, carers, mentors and employers.
Interns are supported by Bradford Council's travel training unit to travel on their own to and from the hospital which, in turn, helps them become more independent.
The intensive programme also helps the young people focus on their career with a desire to attain paid employment. Each intern is supported by a mentor who offers support and guidance for the duration of the placement.
Since the programme started, 36 interns have been supported through the programme to graduation. Of these, 26 have gained employment, a success rate of over 70 per cent. This compares to a national employment rate of around six per cent for people with learning difficulties. Since the programme began, 10 former interns have gained employment at the Trust.
Lorraine Cameron, Head of Equality and Diversity and Business Liaison for the project, said: "We are utterly delighted to win this award for this fabulous project. The Trust has developed a great partnership with Southfield School, Hft and a number of large and small local businesses who have helped us turn interns into employees."
The judging panel for the award was also full of praise, commenting: "This trail-blazing project showed clear benefits over time and strong communications. The team is passionate about individual stories."
Next month will see Project SEARCH Bradford hold its annual graduation ceremony.