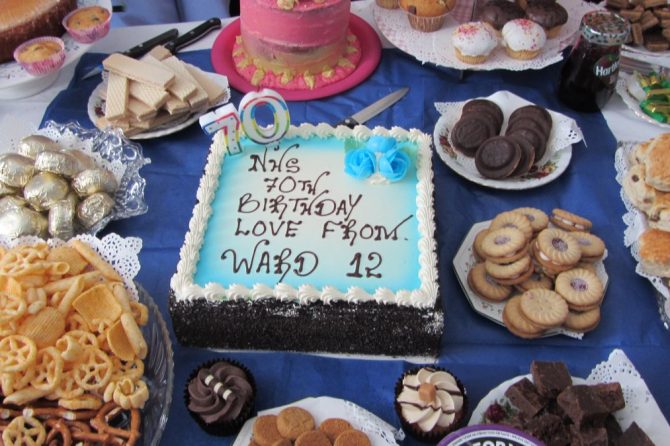 People across Bradford clinked tea cups yesterday to celebrate 70 years of the NHS.
The NHS Big7Tea – organised by NHS charities around the UK – has seen people up and down the country come together to toast the historic anniversary.
Across Bradford people drank tea and ate cake with friends, family and colleagues to mark the occasion and support Bradford Hospitals' Charity.
Tea brings us all together. It breaks down social boundaries, and like the NHS and NHS charities, is a symbol of comfort and community.
Staff at sites across Bradford Teaching Hospitals NHS Foundation Trust made a big effort to celebrate with tea parties and bake sales. From the Children's Community Team and Adult Outpatients at St Luke's Hospital, to ENT, A&E, the Children and Young People's Unit, Health Library and wards around Bradford Royal Infirmary.
Hayley Collis, Head of Fundraising for Bradford Hospitals' Charity, said: "We are thrilled that NHS charities such as ours are benefiting from these wonderful celebrations.
Work in partnership
"We work in partnership with Bradford Teaching Hospitals NHS Foundation Trust (BTHFT) to support vital equipment, training and research.
"If you want to do more to support your beloved NHS, please get in touch. We have opportunities for fundraising and volunteering, and of course you can make a one-off donation if you wish. All money raised directly benefits Bradford patients."
There are more than 250 NHS charities across the UK. Most of them focus on helping our hospitals do more. In recent years, NHS charities have funded major capital projects, pioneering research and medical equipment at our hospitals that could not and should not be funded by the NHS. Across the UK they help patients access the best possible care when they need it most.
NHS charities also play a key role in mobilising volunteers to support NHS staff, brightening wards and waiting areas with colourful and engaging art and building an important link between our hospitals and communities.
Last year, Bradford Hospitals' Charity contributed around £300,000 to the new hospital wing at Bradford Royal Infirmary. The money paid for specialist equipment for children with additional needs, a multi-sensory room, toys and art equipment for young patients, parent beds, furniture, artwork and dementia-friendly items.
Important role
Karen Dawber, the Trust's Chief Nurse, said: "Bradford Hospitals' Charity plays an important role in supporting our hospital care and services. We aim to provide the very best for patients and Bradford Hospitals' Charity enables us to do this. I would encourage all our staff and the public to get behind our wonderful charity."
There is still time to host your own tea party. To download your free NHS Big 7Tea pack visit www.bradfordhospitalscharity.org/nhs70
To make a donation to Bradford Hospitals' Charity's NHS Big 7Tea campaign, please visit: https://www.justgiving.com/campaigns/charity/bradfordteachinghospital/nhsbig7tea or text NHSB22 and the amount you want to donate to 70070.
You can also support Bradford Hospitals' Charity by getting behind a special single that aims to celebrate the 70th birthday of the NHS, break a world record, and raise funds for NHS charities across the UK. Produced by Brit award-winning John Cohen, it features an array of stars from across the last seven decades including Seal, Beverley Knight, Guy Garvey and many more.
The charity single has been released today. All proceeds will go to NHS charities. For more information and regular updates visit www.nhsvoices.com.
Photos taken from all the NHS Big 7Tea parties are available to view on Twitter at @BTHFT.