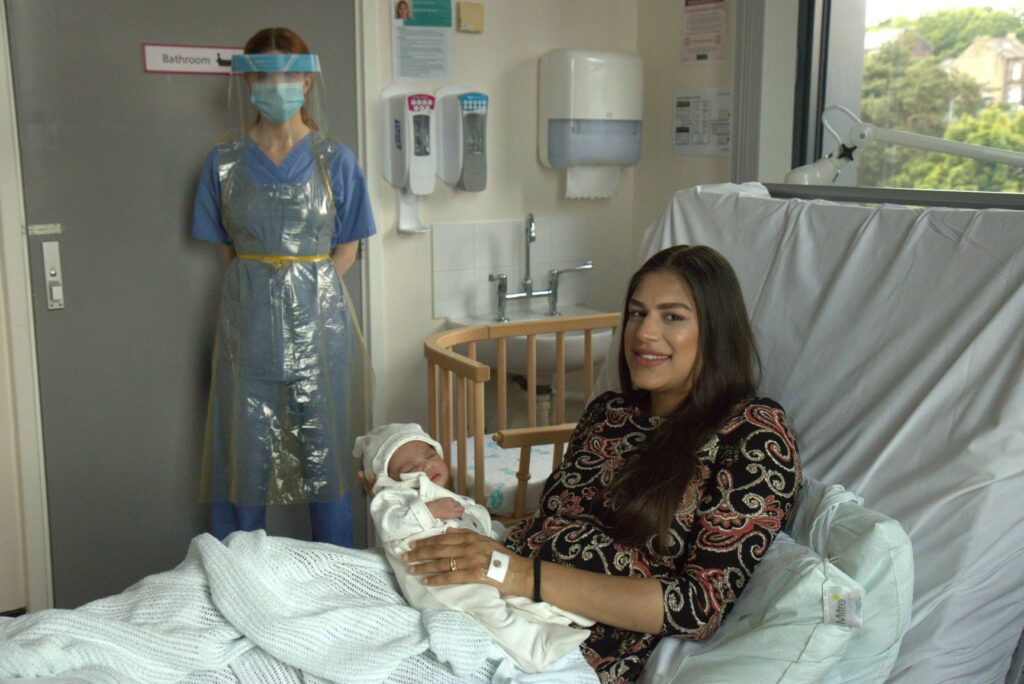 DURING the month of June, 454 babies including nine sets of twins were born at Bradford Royal Infirmary's maternity unit – and some of these 'lockdown' babies will now feature in a BBC 1 documentary.
The Panorama special, fronted by acclaimed documentary film maker and TV personality, Stacey Dooley, looks at how the Covid-19 virus is transforming hospital ante-natal care and birth, and what it has been like for mums giving birth during a pandemic. 'Stacey Dooley and the Lockdown Babies' will air on Monday, 3 August, 7.30pm.
She meets pregnant women terrified of getting the virus, women giving birth and new mums, who have tested positive with coronavirus, who have to isolate themselves from friends and family. Stacey also speaks to midwives and doctors who reveal how their lives have changed in order to protect mothers, babies and themselves from the risk of infection.
Filming, which was carried out by Candour Productions, a Yorkshire based independent production company, took place over a week in early June at BRI's Women's and Newborn Unit, Neonatal Unit and Bradford Institute for Health Research (BIHR), all part of Bradford Teaching Hospital's NHS Foundation Trust.
During a break in filming, Stacey, who has received acclaim for her documentaries covering current affairs issues, revealed this was the first time she had visited Bradford.
She said: "I'd never been to Bradford before and I have to say everyone at the hospital has been very lovely and generous with their time. The staff have been fantastic, and I've met mums to be, mums who have just given birth and birth partners. I think we have a great film and I really hope it captures the human element that exists here. I can't thank everyone enough for having me here."
Candour Productions is based at Farsley, half way between Leeds and Bradford and its Creative Director is Anna Hall.
Leading research
Anna said BRI had been chosen due to its role in leading research into the recovery from Covid 19 and the fact that it was at the forefront of research into the impact of the virus within the BAME community.
"Obviously with such a high BAME population both in terms of staff and patients, it was great to be able to see what was happening on the front-line. Choosing maternity services was a way in to tell the story of the fact that life goes on in a pandemic – as well as show how the hospital has had to adjust to cope with the understandable anxieties that patients have.
"We loved filming in Bradford, and Stacey had a very warm welcome. She particularly loved the fact that she got offered a cup of tea every half an hour in Yorkshire!"
The Trust's Chief Nurse, Karen Dawber said: "We were thrilled to have Stacey and the film crew with us. I've had a sneak preview of the footage and I feel it really captures the spirit, kindness and dedication of our maternity teams, who work so hard to make birth a wonderful and special experience for our mums in these unprecedented times.
"It just shows that even in the midst of a global pandemic, new life is being brought safely and joyously into the world. I'd like to say a special thanks to all our staff who made Stacey and the crew feel so welcome."
The maternity unit at BRI is one of the busiest, delivering more than 6,000 babies each year. The hospital's neonatal unit has an award-winning, secure video link system – the first of its kind in the country – which connects mums and babies who cannot always be together.
ENDS
For further media information, please contact communications@bthft.nhs.uk or call 01274 382265
Note to Editors:
Bradford Teaching Hospitals NHS Foundation Trust:
Bradford Teaching Hospitals NHS Foundation Trust is responsible for providing hospital services for the people of Bradford and communities across Yorkshire. We serve a core population of around 500,000 and provide specialist services for 1.1 million people.
Our 5,500 staff work over several sites, including Bradford Royal Infirmary, which provides the majority of inpatient services, and St Luke's Hospital, which predominantly provides outpatient and rehabilitation services. We also manage local community hospitals at Westwood Park, Westbourne Green, and Eccleshill.
In early 2017, a new £28 million wing opened at Bradford Royal Infirmary, part of a £75m investment to improve patient care across our hospitals over a five-year period. It provides world-class facilities for elderly care, children's services, a state-of-the-art intensive care unit with increased single-room provision and a retail concourse.
The new wing is a continuation of our work to improve patient experience after our new £2 million neonatal unit officially opened in January 2015. Our maternity services were recently shortlisted for the Royal College of Midwives' (RCM) Midwifery Service of the Year Award, recognising excellence and innovation in the provision of maternity care.
In 2017, we also completed a £2m refurbishment of our Emergency Department (ED) as part of an ambitious vision to create a more efficient acute medicine service for the people of Bradford. It has been designed to provide a slicker and more efficient service, with faster senior clinical involvement at an early stage in the patient pathway.
As a teaching hospital, we are at the forefront of education and development in healthcare, and have an excellent reputation for research performance. We are one of the leading centres in conducting applied research in the country, particularly in quality and safety, elderly care and rehabilitation.
The Trust is home to the Bradford Institute for Health Research (BIHR) where researchers have led the development, validation and implementation of the award-winning Bradford Electronic Frailty Index (eFI) which helps calculate an elderly person's risk of disability, impairment, falls and complications of chronic diseases, as well as their diminishing independence and capability. This is now being used by 98% of all GPs across the country.
Our award-winning Ophthalmology department is home to numerous worldwide clinical trials taking the lead in eye care research and we are one of only three sites in the United Kingdom to be enlisted in the Perioperative Enhanced Recovery Hip Fracture Care of Patients with Dementia (PERFECTED) study, which will investigate how the NHS can introduce better standards of care to improve outcomes for people with dementia.
The Trust has its own Bradford Hospitals Charity: https://bradfordhospitalscharity.org/
Follow us on Twitter: @BTHFT
For more information please visit www.bradfordhospitals.nhs.uk