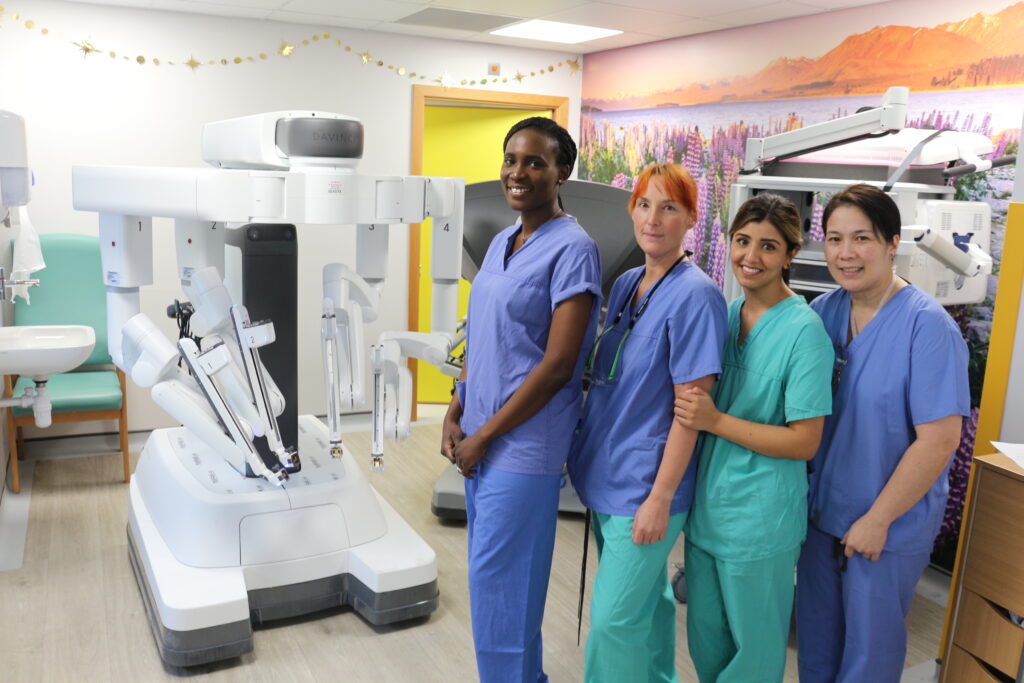 Bradford hospital surgeons are set to be placed firmly on the map internationally as they forge ahead with an enhanced programme of innovative multi-speciality robotic-assisted procedures.
Bradford Teaching Hospitals NHS Foundation Trust (BTHFT), which is responsible for Bradford Royal Infirmary, has just taken delivery of its second state-of-the-art 'da Vinci' robotic-assisted surgical systems – or 'robots.'
This makes it one of the first trusts in the region to have more than one da Vinci 'robot.'
The acquisition of another of these latest specification operating systems now means the hospital can expand its reputation as a multi-speciality robotic centre, able to treat a wider variety of patients for a wider variety of cancer surgeries and procedures.
The Trust pioneered robotic urological cancer surgery in Yorkshire with the advent of its first robotic-assisted surgical system back in 2012. This original 'robot' was upgraded with the latest and most up-to-date £1.7 million da Vinci Xi robotic operating system in April 2022.
But the acquisition of a second da Vinci Xi 'robot' means that a wider variety of cancer surgeries can now be operated on. As well as urological (prostate, bladder, kidney) and head and neck cancer surgeries, patients will now be able to undergo robotic-assisted surgery for a variety of colorectal procedures, bowel and gynaecological cancers as well as hernia repair.
As well as a second da Vinci Xi robotic operating system, the Trust has also purchased a dual console, which will enable existing and new surgeons to be trained in-house using the robotic operating systems. This is a development that puts BTHFT ahead of many trusts across the country with an ability to train and upskill robotic surgeons of the future.
Consultant Urological Surgeon and the Trust's Cancer Lead, Raj Singh, explained:
The acquisition of our second 'robot' is fantastic news for our Trust and of course for our patients.

This really puts Bradford on the map regionally, nationally and even internationally as we can now offer an enhanced programme of innovative multi-speciality robotic-assisted procedures and surgeries; a greater number of patients with different conditions will be able to be treated and benefit from this innovative type of surgery.

Our two da Vinci Xi 'robots' are the latest in state-of-the art technology, offering enhanced functionality for our surgeons, and having two of these robotic-assisted systems will allow us to run two theatre lists for robotic-assisted surgery at the same time.
Consultant Colorectal and General Surgeon, Miss Tabitha Gana said:
Minimally invasive colorectal surgery has been delivered expertly at Bradford for many years now; however, with the arrival of the second da Vinci Xi, we have the opportunity to take it one step further utilising innovative robotic technology.

The fact that we will also be able to offer an enhanced programme of multi-specialty robotic surgery is good news for our patients. The longer-term benefits of robotic surgery for patients include shorter stays in hospital as well as quicker recovery times as this type of surgery is less invasive.

The ergonomic design of the robotic systems also offers many benefits in terms of comfort for the surgeons operating them, especially during long and complex, challenging procedures.

Overall, robotic surgery delivers our vision here in Bradford of being an outstanding provider of healthcare and a great place to work.
Bradford is one of the highest volume robotic urological centres in the north of England and since 2012, surgeons have conducted more than 2,100 surgical procedures. Consultants carried out their first procedures and surgeries on the new system today (Wednesday, 18 January.)
More about the da Vinci robotic-assisted surgical systems
Using the da Vinci robotic operating system allows for high precision surgery where the robot is docked onto the patient. The operation is then carried out with the help of four robotic arms that are inserted into the patient's body through tiny incisions.
The da Vinci surgical systems give surgeons an advanced set of instruments to use in performing robotic-assisted minimally invasive surgery. The term "robotic" often misleads people. Robots don't perform surgery. Surgeons perform the surgery using instruments that they guide via a console.
During a procedure, the consultant sits at the robot's computer console, which offers a clear 3D close up view of the patient's organs, nerves, blood vessels and muscles.
The da Vinci systems have four arms that hold a camera and the surgical tools. The use of the da Vinci systems allows surgeons to use tiny wristed instruments that move like a human hand, but with a greater range of motion. The precision of the surgery can reduce the amount of time patients are required to stay in hospital post-surgery.
The 'robot' is named after the renowned Italian Renaissance painter, scientist and sculptor Leonardo da Vinci, who was also intrigued by mechanics and automation, which eventually led to the design of the first known robot, 'Leonardo Robot' in 1495.