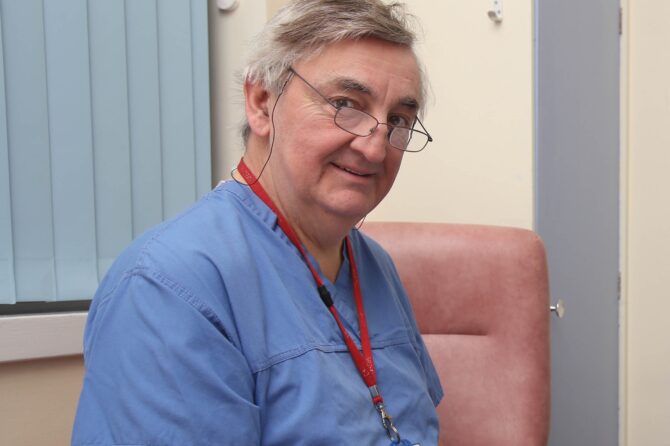 AS WORLD Hearing Day approaches, a Bradford ear, nose and throat (ENT) consultant has stressed the importance of regular hearing testing.
World Hearing Day is held on March 3 each year to raise awareness of how to prevent deafness and hearing loss – as well as promote ear and hearing care across the world.
Each year, the World Health Organization (WHO) decides the theme, and this year it's 'Don't Let Hearing Loss Limit You' – highlighting how timely and effective interventions can ensure that people with hearing loss are able to achieve their full potential.
Globally, 466 million people are estimated to be living with hearing loss – 5% of the population. Yet 83% of those who need a hearing aid do not use one and, more importantly, 59% of the disability attributed to hearing loss could be reduced if every individual in need uses a hearing device.
Consultant ENT Surgeon Professor Chris Raine MBE is part of the team at Bradford Royal Infirmary's (BRI) hi-tech Listening for Life Centre. The centre is home to the Yorkshire Auditory Implant Service, funded by The Ear Trust, which was set up by Prof Raine after he learned of the benefits cochlear implants could bring.
He said: "At all stages in life, communication and good hearing health connect us to each other, our communities, and the world.
Timely interventions
"For those who have hearing loss, appropriate and timely interventions can make the world of difference, enabling them to have improved access to education, employment and communication.
"Hearing loss is recognised to be associated with more ill health and dementia. Early intervention should be made available as soon as possible through a variety of health systems."
Prof Raine added that hearing tests were available free on the NHS or a GP may refer a patient to a hearing specialist (audiologist) who can do the test. Large pharmacies and high street opticians also offer tests.
While there's no substitute for a check-up with a hearing professional, interactive hearing tests are available online and can give someone an idea of how well they can hear and communicate in everyday life.
You can check your hearing thanks to cochlear implant manufacturers Medel via this link, which has two online tests and a special questionnaire for parents: https://www.medel.com/about-hearing/hearing-test
You can also Read about free NHS hearing tests here.
The Listening for Life Centre
The hi-tech £2.8million Centre, based in the grounds of the BRI, opened on October 15, 2009 and is currently the only centre of its kind in Yorkshire.
Over the past 10 years it has become the home of cochlear implant technology, which transforms the lives of patients with profound deafness. Since its inception more than 1,300 people have received in excess of 2,000 implants.
During cochlear implant surgery, the surgeon places electrodes into the cochlea (the sense organ that translates sound into nerve impulses to be sent to the brain) and an electronic device called the receiver under the skin behind the ear, securing it to the skull in this area. The cochlear implants send a signal to the auditory nerve, giving patients the sensation of sound.
Patients now come from across the North of England and as far away as the Isle of Man. The youngest child to be implanted was six months old and the oldest 93.
Prof Raine was awarded his MBE for services to the NHS and The Ear Trust in the 2015 Queen's Birthday Honours.
ENDS
For further media information, please contact communications@bthft.nhs.uk or call 01274 383901
Note to Editors:
Bradford Teaching Hospitals NHS Foundation Trust:
Bradford Teaching Hospitals NHS Foundation Trust is responsible for providing hospital services for the people of Bradford and communities across Yorkshire. We serve a core population of around 500,000 and provide specialist services for 1.1 million people.
Our 5,500 staff work over several sites, including Bradford Royal Infirmary, which provides the majority of inpatient services, and St Luke's Hospital, which predominantly provides outpatient and rehabilitation services. We also manage local community hospitals at Westwood Park, Westbourne Green, and Eccleshill.
In early 2017, a new £28 million wing opened at Bradford Royal Infirmary, part of a £75m investment to improve patient care across our hospitals over a five-year period. It provides world-class facilities for elderly care, children's services, a state-of-the-art intensive care unit with increased single-room provision and a retail concourse.
The new wing is a continuation of our work to improve patient experience after our new £2 million neonatal unit officially opened in January 2015. Our maternity services were recently shortlisted for the Royal College of Midwives' (RCM) Midwifery Service of the Year Award, recognising excellence and innovation in the provision of maternity care.
In 2017, we also completed a £2m refurbishment of our Emergency Department (ED) as part of an ambitious vision to create a more efficient acute medicine service for the people of Bradford. It has been designed to provide a slicker and more efficient service, with faster senior clinical involvement at an early stage in the patient pathway.
As a teaching hospital, we are at the forefront of education and development in healthcare, and have an excellent reputation for research performance. We are one of the leading centres in conducting applied research in the country, particularly in quality and safety, elderly care and rehabilitation.
The Trust is home to the Bradford Institute for Health Research (BIHR) where researchers have led the development, validation and implementation of the award-winning Bradford Electronic Frailty Index (eFI) which helps calculate an elderly person's risk of disability, impairment, falls and complications of chronic diseases, as well as their diminishing independence and capability. This is now being used by 98 per cent of all GPs across the country.
Our award-winning Ophthalmology department is home to numerous worldwide clinical trials taking the lead in eye care research and we are one of only three sites in the United Kingdom to be enlisted in the Perioperative Enhanced Recovery Hip Fracture Care of Patients with Dementia (PERFECTED) study, which will investigate how the NHS can introduce better standards of care to improve outcomes for people with dementia.
The Trust has its own Bradford Hospitals Charity: https://bradfordhospitalscharity.org/
Follow us on Twitter: @BTHFT