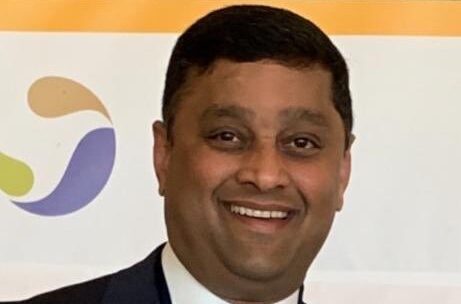 A BRADFORD Teaching Hospitals clinician has spoken of his pride in leading a trial to find an effective Covid-19 vaccine, describing it as the 'pinnacle of his research career.'
Professor Dinesh Saralaya, a Respiratory Consultant at Bradford Royal Infirmary (BRI) is Director of the newly-established National Institute for Health Research (NIHR) Patient Recruitment Centre, which is based at the hospital and under the auspices of which, the late phase Novavax vaccine trial in Bradford was organised.
On hearing that the Novavax coronavirus vaccine had been shown to be 89.3% effective at preventing Covid-19 in participants who took part in the large-scale UK trials, Professor Saralaya said: "This is tremendous news. It's fantastic! The more vaccines we have the better. Vaccines are the only way out of this pandemic and the way for us to get back to normal life.
"We now have another vaccine candidate with Novavax, and one which has an easy cold chain – it does not require stringent freezing conditions for storage, meaning it will be easier to roll out. It also contains no animal components, and I am looking forward to seeing this rolled out in the city once it gets its licence. We are now just waiting for its approval for use by the Medicines and Healthcare Products Regulatory Agency (MHRA).
"I am proud and humbled to have been involved in this trial. I feel it is the pinnacle of my research career and I also feel I have achieved something I have always wanted to do; make a difference to the people of Bradford and this city.
"The people of Bradford can also be proud at being part of a world race to find an effective vaccine against Covid-19."
Effective
The Novavax jab is also the first to show in trials that it is effective against the new virus variant found in the UK.
Professor Saralaya led the last phase trial in Bradford – one of only three regional and one of 20 national centres to deliver it. In Bradford, a total of 726 participants were recruited – making Bradford the third highest recruiting centre in the UK.
"Initially we were asked to recruit 500 participants which we achieved the fastest in the UK, and when Novavax increased the recruitment target, we were asked to recruit another 200, which we did – another 226 in fact. I am pleased that 7 per cent of our participants were from the BAME community and I would now encourage more people from this community to take part in clinical trials and to have the vaccine when offered," said Professor Saralaya.
He paid tribute to all those who had taken part in the trials which were held at the University of Bradford. The trials were run under the auspices of the newly-established National Institute for Health (NIHR) Patient Recruitment Centre (PRC), which is based at the hospital, part of Bradford Teaching Hospitals NHS Foundation Trust.
"I want to thank all the participants for their time and support, the Trust and the University for their incredible help and support as well as say a huge thank you to the PRC," he said.
"So many people have been instrumental in making the trials happen and in particular I am indebted to the PRC Clinical Manager, Karen Regan, who was our lead nurse at the trials centre, Professor John Wright, Director of Bradford Institute for Health Research (BIHR) as well as the Trust's Chief Executive, Mel Pickup, who gave us tremendous support from day one."
Trials
He added that the trials were 'blind' in that neither clinicians nor participants knew whether they were given two doses of the vaccine or a placebo, 21 days apart.
"When we are given the green light we will start to 'unblind' the trial and we will see which participants have received the vaccine. Those who received the placebo will now be asked back to receive two doses of the Novavax vaccine 21 days apart. This means that all those who took part on the trial will ultimately have protection against this deadly virus."
The Novavax phase three trials – the final stage before a vaccine is looked at by a regulator – enrolled more than 15,000 people aged between 18-84, of whom 27% were older than 65, US firm Novavax said.
It has shown to be around 86% effective at protecting against the new UK variant.
In the South African part of the trial, where most of the cases were the South African variant of the virus, the vaccine was 60% effective among those without HIV.
Stan Erck, chief executive of Novavax, said the results from the UK trial were "spectacular" and "as good as we could have hoped", while the efficacy in South Africa was "above people's expectations".
ENDS

For further media information, please contact communications@bthft.nhs.uk or call 01274 383901
Note to Editors:
Bradford Teaching Hospitals NHS Foundation Trust:
Bradford Teaching Hospitals NHS Foundation Trust is responsible for providing hospital services for the people of Bradford and communities across Yorkshire. We serve a core population of around 500,000 and provide specialist services for 1.1 million people.
Our 5,500 staff work over several sites, including Bradford Royal Infirmary, which provides the majority of inpatient services, and St Luke's Hospital, which predominantly provides outpatient and rehabilitation services. We also manage local community hospitals at Westwood Park, Westbourne Green, and Eccleshill.
In early 2017, a new £28 million wing opened at Bradford Royal Infirmary, part of a £75m investment to improve patient care across our hospitals over a five-year period. It provides world-class facilities for elderly care, children's services, a state-of-the-art intensive care unit with increased single-room provision and a retail concourse.
The new wing is a continuation of our work to improve patient experience after our new £2 million neonatal unit officially opened in January 2015. Our maternity services were recently shortlisted for the Royal College of Midwives' (RCM) Midwifery Service of the Year Award, recognising excellence and innovation in the provision of maternity care.
In 2017, we also completed a £2m refurbishment of our Emergency Department (ED) as part of an ambitious vision to create a more efficient acute medicine service for the people of Bradford. It has been designed to provide a slicker and more efficient service, with faster senior clinical involvement at an early stage in the patient pathway.
As a teaching hospital, we are at the forefront of education and development in healthcare, and have an excellent reputation for research performance. We are one of the leading centres in conducting applied research in the country, particularly in quality and safety, elderly care and rehabilitation.
The Trust is home to the Bradford Institute for Health Research (BIHR) where researchers have led the development, validation and implementation of the award-winning Bradford Electronic Frailty Index (eFI) which helps calculate an elderly person's risk of disability, impairment, falls and complications of chronic diseases, as well as their diminishing independence and capability. This is now being used by 98% of all GPs across the country.
Our award-winning Ophthalmology department is home to numerous worldwide clinical trials taking the lead in eye care research and we are one of only three sites in the United Kingdom to be enlisted in the Perioperative Enhanced Recovery Hip Fracture Care of Patients with Dementia (PERFECTED) study, which will investigate how the NHS can introduce better standards of care to improve outcomes for people with dementia.
The Trust has its own Bradford Hospitals Charity: https://bradfordhospitalscharity.org/
Follow us on Twitter: @BTHFT