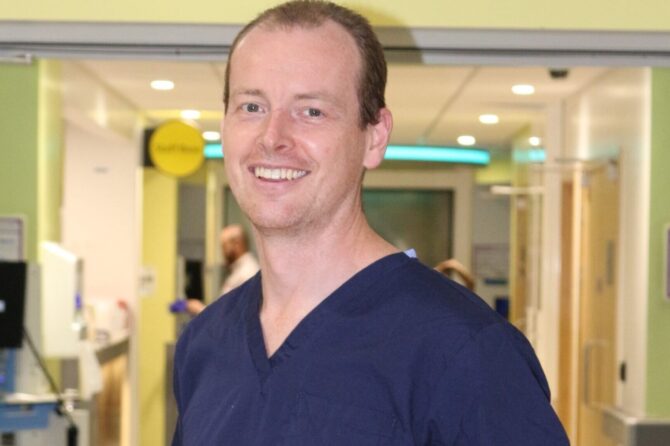 A BRADFORD doctor who has been at the forefront of the fight against COVID-19 – both as a medic and pioneering researcher – has been awarded an MBE for his services to the NHS.
Dr Tom Lawton MBE, an Intensive Care Consultant (ICU) and Anaesthetist at Bradford Teaching Hospitals NHS Foundation Trust and the Trust's Clinical Head for Artificial Intelligence, received the  honour after being nominated for going 'above and beyond' by his colleagues at Bradford Royal Infirmary.
The 2020 Queen's Birthday Honours are usually awarded to coincide with the Queen's Official Birthday celebrations in June, but were delayed until October to include those involved in the fight against COVID-19.
Leeds-born Dr Lawton, 40, said the award was a total surprise and was "as much an honour for my many colleagues across the Trust who continue the daily fight to save the lives of patients during this pandemic, as it is for me".
He added: "I feel delighted to be nominated for this award, but also a little guilty as if anything characterised Bradford's response to the first wave of COVID-19 it was teamwork.
"I am honoured to have been part of so many projects where the response to something innovative or out-of-the-box was a 'yes, how can we do this?' attitude; and to have been able to work with colleagues old and new across the hospital and healthcare system to help patients during the pandemic.
"I believe this award is in recognition of the whole Bradford team's tremendous support, and efforts of my many friends and colleagues throughout our hospitals and the Bradford Institute for Health Research (BIHR)."
Critical care
Dr Lawton's citation read: "From the moment COVID-19 began to take hold in the UK, Dr Lawton was a key member of the team preparing critical care in Bradford.
"His avid tracking of international reports and research led him to be one of the early proponents of CPAP (1.) and a recognition that providing this in a ward-based setting would allow critical care to focus on sicker intubated patients."
(1.) CPAP stands for "continuous positive airway pressure", and is a breathing therapy device that delivers air to a mask worn over the nose and/or mouth to help consistent breathing. It's used primarily for sleep apnoea, but has also been found to be beneficial in the treatment of COVID-19 and some other breathing conditions.
"He not only oversaw the introduction of community CPAP machines (which use much less oxygen compared to hospital-based CPAP machines) onto the wards but also developed 3D printed valves to efficiently entrain oxygen in case machines ran out (they didn't), which he hopes can be used in low-income countries.
"Recognising the long-term sequelae from COVID-19 he has harnessed his expertise to set up a COVID-19 Cohort study to evaluate the medium and long-term physical and mental health impacts on survivors.
"Having established the use of early CPAP, Dr Lawton was keen to share this innovation with others. He regularly contributed to the NHS Frontline programme on BBC Radio 4 and was featured in several articles on the BBC News website with several million online views. This led to many critical care colleagues contacting him from around the country. In order to manage this demand he created a website sharing all his ideas so that others could benefit.
"His paper evaluating his upstream prevention approach found that in Bradford only 7% of patients were admitted to ICU compared to 18% nationally, yet case fatality rates were lower."
Dr Lawton continued: "Nationally about 16% of COVID-19 patients used CPAP machines whereas in Bradford it was about 30%. We ended up admitting fewer patients to ICU and had a lower death rate than elsewhere in the UK, so I am sure we are doing something right for our patients."
Sterilising masks
Along with ICU colleagues at Bradford Royal Infirmary, Dr Michael McCooe and Dr Pete Hart, Dr Lawton also initiated new ways of sterilising masks so they could be re-used. With the help of Whittaker's gin distillery, which is based in the Yorkshire Dales, they found that 96% proof gin could be diluted for the purpose.
Prior to the arrival of COVID-19, Dr Lawton was an integral member of the Trust's critical care team and lead for clinical research. With Kuldeep Sohal at BIHR he leads the Connected Yorkshire programme that has linked primary, secondary, education, social care and geospatial data for 1.4 million people. Connected Yorkshire is one of the richest large datasets in the UK and is being used to provide health intelligence, develop predictive analytics and evaluate large scale system-wide interventions.
Dr Lawton said: "I am also hoping to use this valuable data to look into our patients who are experiencing 'long COVID' and people who have had COVID-19 previously to examine what happens to them in the long term."
Mel Pickup, Chief Executive, said: "I am delighted Dr Lawton's devotion to his specialty and to patient care in Bradford has been recognised nationally. I know his many friends and colleagues across Bradford Teaching Hospitals will be extremely pleased to hear about his much-deserved MBE."
Dr Bryan Gill, the Trust's Chief Medical Officer, said: "Dr Lawton has made an outstanding contribution to the Trust's response to COVID-19. His dedication, innovation and rapid interpretation of research and reports into clinical practice have undoubtedly played a considerable role in our Trust's fantastic patient outcomes during the pandemic."
In July, Dr Lawton also ran 22 miles in a face mask to prove they do not reduce oxygen levels as some have speculated. His sponsored run also raised more than £3,600 for The Trussell Trust, which operates food banks in Bradford and nationwide.
In his spare time, Dr Lawton is a keen long-distance triathlete and is due to compete in next year's World and European Long Distance Championships as a member of the Great Britain Age Group Team.
ENDS
For further media information, please contact communications@bthft.nhs.uk or call 01274 382265.