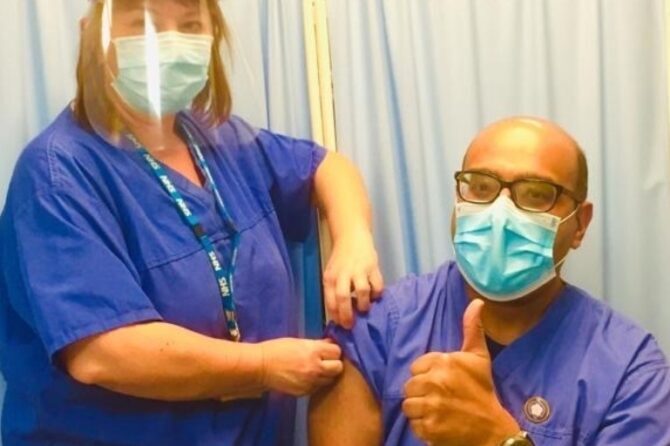 BUILDINGS across Bradford district and Craven lit up in blue on April 7 to celebrate a key milestone in the local COVID-19 vaccination programme – as 250,000 local people have now received their first dose.
Council and NHS buildings including the clock tower at City Hall in the centre of Bradford, Bradford Teaching Hospital NHS Foundation Trust buildings, and Airedale General Hospital all turned blue to mark the occasion.
Thanks to the efforts of staff and volunteers at vaccination sites across the area, over a quarter of a million people have moved a step closer to being protected against coronavirus and returning to the things they love. The district-wide vaccination programme has resulted in those greatest at risk being offered the vaccine first, in line with the priority groups identified by the Joint Committee on Vaccinations and Immunisations (JCVI).
Karen Dawber, and Nancy O'Neill from the local NHS, who head up the Bradford district and Craven vaccination programme, are using the milestone to recognise the efforts of those involved in the programme as well as issuing a reminder for people to take up the offer of a vaccine if they are eligible.
Significant milestone
Chief Nurse at Bradford Teaching Hospitals, Karen Dawber, said: "This milestone is a significant one for all of us as our health and care colleagues, partners and volunteers have worked tirelessly since the first vaccine was delivered in our district on Tuesday 15 December 2020. Since then we have been indebted to the efforts of NHS staff, our local councils and community and voluntary groups across the area who have all played a vital role in the successful roll out of our programme.
"Across health and care in Bradford district and Craven we are developing a system transformation programme called Act as One and our vaccination programme is a great example of how we have been living these values."
Nancy O'Neill, Deputy Accountable Officer and Strategic Director of Transformation and Change at NHS Bradford District and Craven Clinical Commissioning Group (CCG), said: "We have worked hard to help people make an informed choice when offered the vaccine and these efforts are paying off. We've also been innovative in our programme and recently we became the first place in the country to offer a women's only vaccine clinic.
"Just because we have hit this milestone doesn't mean we can relax. It's really important that people take up the offer of the vaccine when invited to do so. We are particularly keen to remind those who are either aged 50 and above or those who are clinically extremely vulnerable to book an appointment today. It's really easy you can either call 119 or go online at www.nhs.uk/coronavirus-vaccination."
Grateful
Sarah Muckle, Director of Public Health for Bradford Council, said: "Reaching 250,000 first vaccinations is a significant achievement and is really encouraging news for our district as we look to get our lives back on track. To reach this number only a few months after our vaccination programme began reflects how well services in our district work in partnership and we are really grateful for everyone coming together to support the roll out.
"A huge thank you is also due to our residents for their patience and for taking up the opportunity to get vaccinated which has helped with the smooth roll out of the programme.
"If you are eligible to book a vaccine appointment then I would urge you to do so, we want to ensure everyone who is eligible right now has had the vaccine."
People who have had the vaccine are reminded that they still need to follow national Government guidance to protect both themselves and others from COVID-19.
To find out more about the COVID-19 vaccine please visit www.nhs.uk/covid-vaccine
ENDS