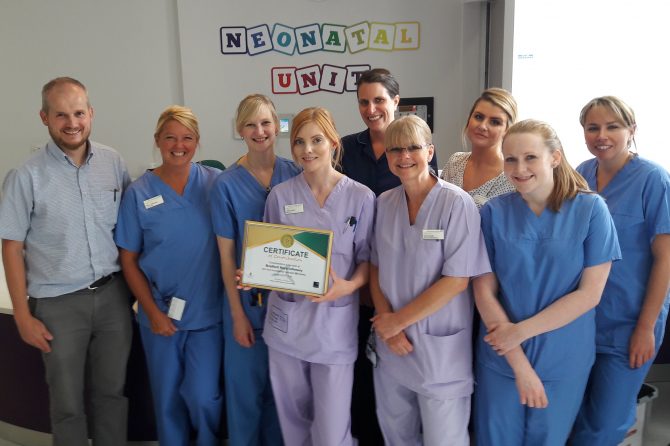 A dedicated Bradford neonatal team has been presented with a certificate of excellence for its role in a major research trial.
The neonatal unit at Bradford Royal Infirmary (BRI), part of Bradford Teaching Hospitals NHS Foundation Trust, has now recruited an amazing 205 babies to the ELFIN study which could have a major impact on infant health.
This makes the Trust the top recruiter in the country for the study – what's more BRI was the very first hospital to recruit to ELFIN!
Consultant Neonatologist, Sam Oddie, who is Principal Investigator at BRI, has been involved in the design and running of the trial.
He said: "Recruiting so many babies is fantastic especially as the Bradford target has been increased twice – initially from 50 to 100 babies and then from 150 to 180 babies, and it is in recognition of our efforts, that ELFIN has awarded the certificate to our neonatal team."
The ELFIN study is a multi-centre, randomised, placebo-controlled trial which involves giving lactoferrin (a natural infection-reducing cow's milk protein) to very preterm infants to evaluate if it can reduce infection.
About 20 per cent of very preterm babies born before 32 weeks' gestation acquire serious infections and so better methods of infection prevention are needed. The babies involved remain on the trial until they reach 34 weeks.
Dr Oddie added: "This is a trial which has the potential to make a real difference to the long-term outcomes of babies' health because it could prevent the late onset of infections which can impact negatively on preterm babies and in some cases be life-threatening."
"From the beginning the neonatal unit at BRI has been right behind this trial – we recruited the first patient – and are very pleased to have recruited so many babies to ELFIN. We have found that parents are very happy to join in studies if we take the time to explain them carefully; indeed many families are very content to join more than one study."
"We have a whole team approach to research so that all babies who fit the inclusion criteria are offered the opportunity to take part in the study. The study is looking to recruit 2200 babies nationally and so Bradford will have contributed to nearly 10 per cent of the total."
Lactoferrin is a naturally-occurring protein in breast milk and introducing this milk protein may reduce the risk of these infections by as much as 50 per cent. The protein, which is in powder form and mixed with mum's breast milk and water to make a 1.5ml dose, is given once a day.
The trial, which is sponsored by the University of Oxford, is open to recruitment in 37 neonatal units around the country. It is completely blind and neither staff nor parents know whether babies are allocated to lactoferrin or the placebo.
It closes in December 2017, and the results, which will be evaluated by the National Perinatal Epidemiology Unit, are expected in late 2018.
Dr Oddie said: "Alongside Elfin we are also running the MAGPIE study (Mechanisms Affecting the Gut of Preterm Infants in Enteral feeding studies). Parents who have agreed to take part in ELFIN are invited to take part in MAGPIE to help find out how the bacteria in the gut change over the first few weeks of life. We have found parents are more than happy to be part of both studies as they complement each other."
"We are hugely grateful to our families for taking part and to all the staff involved in making this study such a great success here at Bradford. It's a brilliant testament to a great team effort."