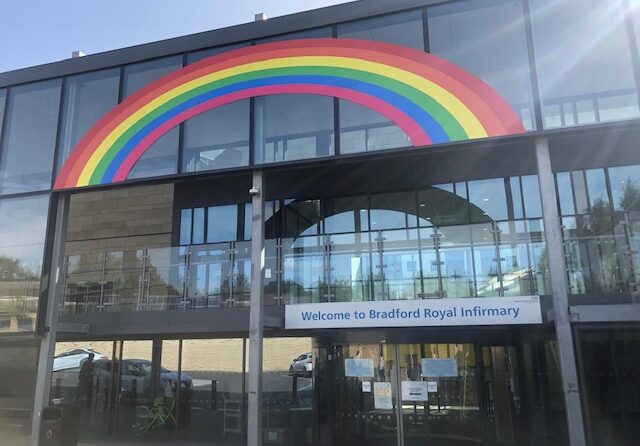 ANAESTHETISTS at Bradford Teaching Hospitals have been honoured for providing the highest quality care to patients across the district.
The doctors recently received the prestigious Anaesthesia Clinical Services Accreditation (ACSA) from the Royal College of Anaesthetists (RCoA) for meeting its strict safety criteria across all their services.
To qualify for accreditation, the medics are expected to achieve a high benchmark in areas such as patient experience, patient safety and clinical leadership.
Less than 25 per cent of all hospitals across the UK currently hold the award.
Consultant Anaesthetist and accreditation lead who is based at Bradford Royal Infirmary, Dr Maria Garside, said: "We are absolutely delighted and incredibly proud to see Bradford Teaching Hospitals' name included on the Royal College of Anaesthetists' website as one of their accredited trusts.
"Less than 25 per cent of all the 172 anaesthetic departments across UK hospitals have secured this award and it demonstrates the very high standards our anaesthesia service places on quality and safety.
"We had to meet a mammoth 140+ standards and it's taken us just over two years to achieve this accreditation – as the project's completion was delayed due to the pandemic – but it's a day to celebrate as colleagues strive to provide outstanding care to the people of Bradford."
As well as intensive care and theatres, the trust's 50 plus anaesthetists work across maternity, the emergency department, radiology and cardiology.
Every ACSA standard is based on recommendations from the Royal College's Guidelines for the Provision of Anaesthetic Services and the standards are continually updated.
Evidence
The ACSA process involves self-assessment, a two-day Care Quality Commission-style, onsite review by five ACSA inspectors, including a lay member, and further evidence submission in order to achieve accreditation.
Now the Trust is accredited, it will continue to provide evidence to the ACSA committee to show that it is continuing to meet new standards year on year.
Dr Garside added: "One of the main aspects of the accreditation, and importantly for our patients, is the work we did in improving the patient experience.
"Our patient satisfaction with surgery was already pretty high overall, but through this scheme, we have identified and put in place a number of service improvements for our children's provision.
"Children's provision was spread over a number of theatres and so we are centralising this where possible.
"As well as purchasing new child-friendly screens for recovery areas, thanks to a generous donation from Bradford Hospitals' Charity, we are determined to make theatres a more welcoming environment for young people.
"We're also hoping to introduce pagers for parents to alert them that their child will soon be ready to return to the ward after surgery."
The team also improved patient leaflets for adults by updating information, adding a QR code for mobile phones and translating material into different languages which can be accessed through our website.
Forefront of best practice
Chief Medical Officer, Ray Smith, said: 'Achieving successful ACSA Accreditation is the culmination of more than two years' work, and puts Bradford Teaching Hospitals at the forefront of best practice at a national level.
"The scope of the accreditation extends beyond anaesthesia to our operating theatres, intensive care unit, and to every aspect of the peri-operative journey, assuring the very highest quality care for our patients.
"Maria's personal leadership role in this achievement has been outstanding. I am delighted for her and for all of the wider anaesthetic and operating theatre teams."
Professor Ravi Mahajan, President of the Royal College of Anaesthetists, said: "I would like to offer my personal congratulations to the entire anaesthetic department on achieving ACSA accreditation. It is richly deserved and demonstrates their commitment to providing the best possible care for their patients.
"It was fantastic to see the many innovative practices taking place at Bradford Teaching Hospitals which helps them keep patients as the primary focus and deliver excellent flexibility to match patient's needs.
"As well as meeting the standards, the department demonstrated many areas of excellent advanced practice that have now been highlighted for sharing through the ACSA network."
Dr Kirti Mukherjee, RCoA ACSA lead reviewer, said: "I am very pleased that Bradford has achieved accreditation following the ACSA visit. This is a great achievement on the part of the department covering a wide geographical area across the hospital site.
"I would like to offer congratulations on behalf of the review team and thank the ACSA Lead and Clinical Director along with all the departmental colleagues who worked extremely hard with a wonderful unified approach and demonstrated a great commitment and engagement to meet the high standards set by the College. The accreditation is richly deserved. Well done."
Chief Executive of Bradford Teaching Hospitals, Mel Pickup, concluded: "Congratulations to all involved in securing us this accreditation and for all your hard work and perseverance.
"The benefits of enrolling in this scheme have been incredibly rewarding on so many levels, but ultimately I would like to congratulate theatre teams involved for gaining this external assurance for our patients.
"As we forge ahead in our journey to providing outstanding care, this accreditation gives us a clear framework for continuing to improve and maintain the very highest quality of care for the people of Bradford."
ENDS