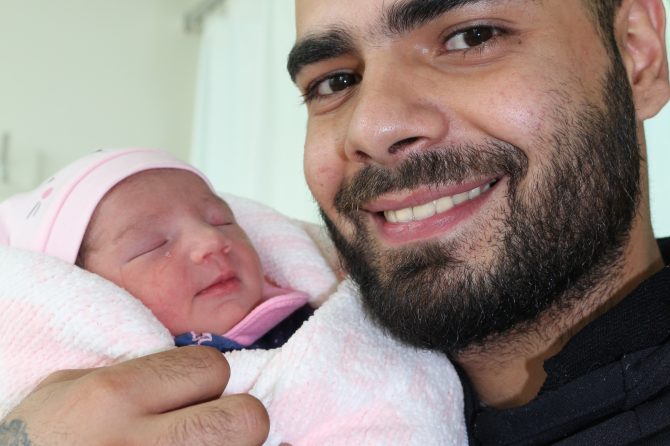 A bouncing bundle of 'Royal' babies made their arrival into the world in Bradford on the same day as the new baby prince.
Five baby girls, born at Bradford Royal Infirmary (BRI) maternity unit, part of Bradford Teaching Hospitals NHS Foundation Trust, will now share their birthdays with the son of The Duke and Duchess of Sussex, who was born on Bank Holiday Monday, May 6.
Iluta Firsova (26) gave birth to daughter Jessica (7lbs 4oz) on her due date at 8.23pm. She and partner, Gatis Plursenatis (25), who live in Bradford, already have a three-year-old son, Adrian.
Jessica's name was chosen by dad who said: "When I saw her I thought how beautiful she was. She's like a princess and fit to marry the new prince!"
Jemima Gidley (35) and husband, Phil welcomed Rozann Eleanor Pippa (9lbs 6oz) three weeks early at 3.02am.
Maternity staff
Jemima said: "After she was born, I said to the maternity staff I bet Meghan has her baby today now and sure enough, they popped in later and told me she had!"
Rozann is Jemima's fifth baby – she has a daughter and two sons. Sadly, a previous daughter, Megan died from a heart condition at nine-months-old.
Jemima added: "Rozann looks just like Megan."
Silvia Tatarovia (20) gave birth to first child, daughter Rachel Silva (6lbs 9oz), two weeks early at 6.35am.
Dad, Joni Barnabas said: "I know how proud Prince Harry must be feeling. My new baby daughter is perfect. I'm thrilled."
ENDS
Pic: Joni Barnabas with baby Rachel
For further media information, please contact communications@bthft.nhs.uk 
Note to Editors:
Bradford Teaching Hospitals NHS Foundation Trust:
Bradford Teaching Hospitals NHS Foundation Trust is responsible for providing hospital services for the people of Bradford and communities across Yorkshire. We serve a core population of around 500,000 and provide specialist services for 1.1 million people.
Our 5,500 staff work over several sites, including Bradford Royal Infirmary, which provides the majority of inpatient services, and St Luke's Hospital, which predominantly provides outpatient and rehabilitation services. We also manage local community hospitals at Westwood Park, Westbourne Green, and Eccleshill.
In early 2017, a new £28 million wing opened at Bradford Royal Infirmary, part of a £75m investment to improve patient care across our hospitals over a five-year period. It provides world-class facilities for elderly care, children's services, a state-of-the-art intensive care unit with increased single-room provision and a retail concourse.
The new wing is a continuation of our work to improve patient experience after our new £2 million neonatal unit officially opened in January 2015. Our maternity services were recently shortlisted for the Royal College of Midwives' (RCM) Midwifery Service of the Year Award, recognising excellence and innovation in the provision of maternity care.
In 2017, we also completed a £2m refurbishment of our Emergency Department (ED) as part of an ambitious vision to create a more efficient acute medicine service for the people of Bradford. It has been designed to provide a slicker and more efficient service, with faster senior clinical involvement at an early stage in the patient pathway.
As a teaching hospital, we are at the forefront of education and development in healthcare, and have an excellent reputation for research performance. We are one of the leading centres in conducting applied research in the country, particularly in quality and safety, elderly care and rehabilitation.
The Trust is home to the Bradford Institute for Health Research (BIHR) where researchers have led the development, validation and implementation of the award-winning Bradford Electronic Frailty Index (eFI) which helps calculate an elderly person's risk of disability, impairment, falls and complications of chronic diseases, as well as their diminishing independence and capability. This is now being used by 98% of all GPs across the country.
Our award-winning Ophthalmology department is home to numerous worldwide clinical trials taking the lead in eye care research and we are one of only three sites in the United Kingdom to be enlisted in the Perioperative Enhanced Recovery Hip Fracture Care of Patients with Dementia (PERFECTED) study, which will investigate how the NHS can introduce better standards of care to improve outcomes for people with dementia.
The Trust has its own Bradford Hospitals Charity: https://bradfordhospitalscharity.org/
Follow us on Twitter: @BTHFT
For more information please visit www.bradfordhospitals.nhs.uk