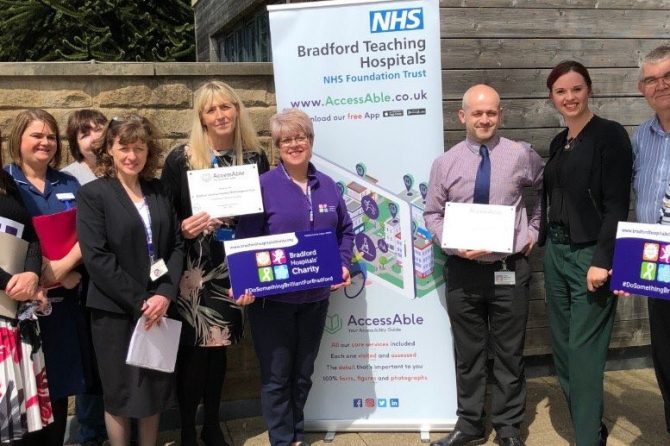 Bradford Teaching Hospitals NHS Foundation Trust has partnered with AccessAble to create detailed access guides for all of the Trust's hospitals.
The guides are 100 per cent facts, figures and photographs and give you loads of useful information to work out if somewhere is going to be accessible to you. They cover everything from parking to hearing loops, walking distances and accessible toilets.
We know everyone's accessibility needs are different, which is why having detailed, accurate information is so important.  It's why all of the details you'll find in this guide have been checked in person, by trained surveyors.
The free accessibility guide for patients, visitors and staff and is available at: https://www.accessable.co.uk/organisations/bradford-teaching-hospitals-nhs-foundation-trust and on the AccessAble App.
Dr Gregory Burke, Founder of AccessAble said: "Bradford is part of a trailblazing group of NHS trusts who recognise how vital access information is for disabled patients, visitors and staff. Our initiative is all about removing barriers and enabling greater patient experience and access for everyone.
"I hope other organisations will recognise the leadership role the Trust has taken and look at how the project can work for them and the people they serve."
Find out more about facilities
Anna Nelson, Executive Director of AccessAble said: "We know that visiting hospital can be a really stressful time and not being able to find out about the facilities available can really add to that.
"We want our guides to provide the information people need about accessibility so they plan their visit and feel confident about what to expect. We are also working with the Trust to look at how the hospital can be improved over time and to attract more disabled people to work within the Trust."
Bradford Teaching Hospitals' Chief Nurse, Karen Dawber, said: "Visiting hospital can often be stressful, but this can be worse for disabled patients and their families who have the added worry of thinking about which floor the ward is on, whether there is a lift nearby, where the toilets are, and are there disabled toilets.
"I'm passionate about doing all we can to make sure patients feel welcome, safe, and cared for when they come to our hospitals, so making these access guides available is a real step forward, and will help patients plan ahead and have a clear understanding of the hospital during their visit.
"In such a large and complex environment as a hospital, this is particularly important. The excellent work that has made the online guide possible shows our commitment to putting patients at the centre of everything we do.
"By working in partnership with Bradford Hospitals' Charity we have been able to invest in this quality initiative which will make a real difference."
The information to the Trust's sites joins over 125,000 places already covered across the UK, making www.AccessAble.co.uk a great tool for planning a day out or trip away.
#KnowMoreGoMore