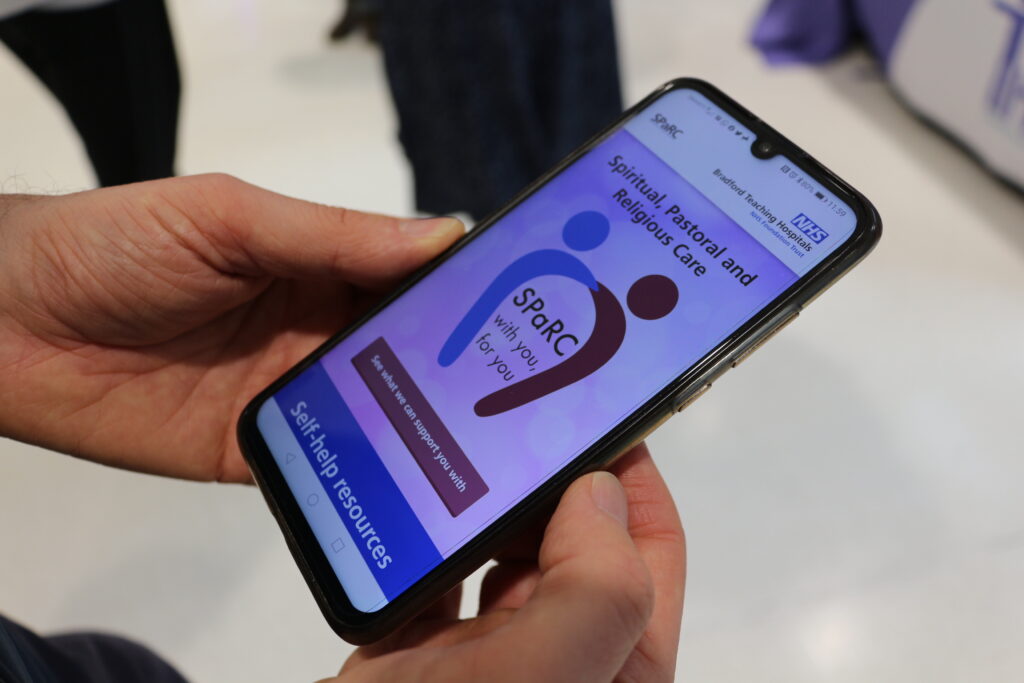 Bradford hospital patients in need of spiritual, pastoral, or religious guidance can now use an innovative new app on their smartphone or PC to access help.
The app is the first of its kind in the country and has been funded by Bradford Hospitals' Charity – the official NHS charity of Bradford Teaching Hospitals NHS Foundation Trust. It was developed to meet the growing need for support from the Trust's chaplaincy service, re-named the Spiritual Pastoral and Religious Care (SPaRC) team.
The web-based app (accessed via https://sparc.bradfordhospitals.nhs.uk/) contains a wealth of information, self-help support and cross-belief guidance in written, audio and video formats collated by the team who work from both Bradford Royal Infirmary and St Luke's Hospital.
Mohammed Arshad, Head of the SPaRC team and Imam, explained how he felt technology was the best way to complement their service and reach out to more patients and staff.
"We learnt a lot during COVID-19, and were there to see the impact it had so feel with this new resource we are now much better equipped to benefit and reach out to more staff and patients."
He said the app was tailor made using the team's wealth of knowledge and experience.
"When developing the app, we reflected on the experience and journey of patients in hospital. We know patients may experience stress and anxiety and we wanted to create an app which addressed this using videos and audio clips, which people can revisit whenever they wish."
Mohammed said clinical staff had helped to introduce the app to patients. "The patient and staff feedback has been fantastic," he said. In fact, it has been such a success that other health trusts and organisations have expressed an interest in it. There are also plans to add more faiths and a paediatric section for younger patients.
"We are very grateful to Bradford Hospitals' Charity for believing in us, having faith in our plans and understanding where we wanted to go with this," said Mohammed.
Sharon Milner, Director of Bradford Hospitals' Charity, said: "We are delighted to support such an innovative and worthy piece of technology. Supporting the wellbeing of so many people from a wide variety of faith and non-faith backgrounds is very humbling, and we are proud to be the first in the country to achieve this.
"We would certainly like to give further support to simple, yet widely effective projects such as this one, in the future.
"We are also delighted to be able to deliver, in such a meaningful and worthwhile way, to the diverse communities we serve across Bradford and beyond."
For more information about Bradford Hospitals' Charity, and to make a donation, visit https://bradfordhospitalscharity.org/