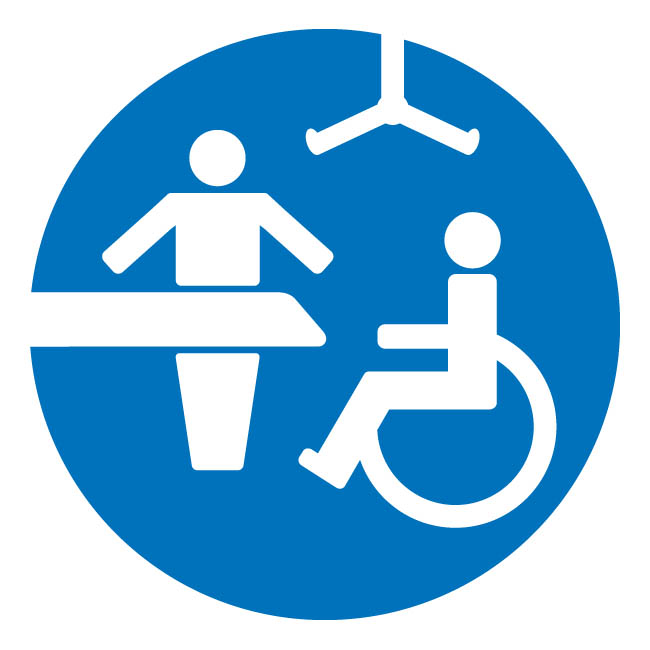 PATIENTS with disabilities in Bradford are set to benefit from improved toilet facilities in their local hospitals, the Government has announced today.
Bradford Teaching Hospitals NHS Foundation Trust has received £17,000 in new funding to build a specially-adapted Changing Place space at St Luke's Hospital.
Changing Places are toilets with additional equipment for people who are not able to use the toilet independently, including adult-sized changing benches and hoists. Disabled patients visiting St Luke's Hospital will now have access to these new facilities.
More than £500,000 has been made available to 10 Trusts across England today to start work on 16 new facilities, with a further £1.5 million made available to bid for.
There are currently only around 40 of these facilities on the NHS England estate. With this tranche of funding, it is expected that the total number of Changing Places in hospitals will eventually increase to over 100.
The new space at St Luke's Hospital builds on the positive feedback the Trust has received about an initial Changing Places facility, which opened at Bradford Royal Infirmary in 2018.
Positive feedback
Projects Officer, Sam Hunter, said: "The Trust is very grateful in receiving this match-funded grant. Following the success of our BRI changing place and positive feedback received, we will create a facility at our St Luke's Hospital site with user engagement and consultation.
"A vision of our Trust is to make our hospitals and estate as inclusive as possible for everyone and these Changing Places facilities greatly benefit visitors with disabilities."
These spaces are invaluable for many disabled people, who are unable to use standard accessible toilets as they need more space for mobility and assistance.
This includes people with profound and multiple learning disabilities, as well people with other physical disabilities such as spinal injuries, muscular dystrophy and multiple sclerosis who often need extra equipment and space to allow them to use the toilets safely and comfortably.
Changing Places toilets are clean and provide a safe environment; they allow people with complex and multiple disabilities to enjoy community life and days out with their family and friends in the same way as everyone else. Without these facilities, the alternative is to cut short an outing or change the person in a potentially unhygienic location and undignified fashion.
Sam added: "According to national figures, over a quarter of a million people need Changing Places toilets to enable them to get out and about and enjoy the day-to-day activities many of us take for granted – so I am really pleased that as a Trust we are doing our part to try and improve the experience for disabled visitors to our hospitals."
Campaign launch
The Changing Places Consortium launched its campaign in 2006 on behalf of people with profound and multiple learning disabilities, motor neurone disease, multiple sclerosis, cerebral palsy, as well as older people.
The St Luke's Hospital facility will be registered, alongside that of BRI, at www.changing-places.org  as a reference point for the Trust's patients, carers and visitors.
Just like at BRI, in order to access it, users will need a RADAR key. RADAR Keys are made available to people with disabilities from the local council. However if a person does not have a RADAR key and is in need of the Changing Places toilets, keys will be available at BRI Monday to Friday, 8am to 5pm from the Physiotherapy Reception, which is next to the toilet, and out of these times from the main reception desk, while similar details will be arranged for St Luke's Hospital.
The Trust's Changing Places facilities are open 24 hours a day, seven days a week.
Minister for Care, Caroline Dinenage said: "People in Bradford with severe disabilities deserve to live with dignity and independence, but lack of access to adequate toilet facilities can be a huge challenge. Hospitals, like all public spaces, have a duty to cater for people with disabilities – who risk discomfort, embarrassment and even injury without access to a Changing Place.
"This funding will make a real difference to thousands of people and their carers who use Bradford Teaching Hospitals NHS Foundation Trust and I am delighted they can begin building work as soon as possible, with further funding still available."
ENDS
For further media information, please contact communications@bthft.nhs.uk or call 01274 383901
Note to Editors:
Bradford Teaching Hospitals NHS Foundation Trust:
Bradford Teaching Hospitals NHS Foundation Trust is responsible for providing hospital services for the people of Bradford and communities across Yorkshire. We serve a core population of around 500,000 and provide specialist services for 1.1 million people.
Our 5,500 staff work over several sites, including Bradford Royal Infirmary, which provides the majority of inpatient services, and St Luke's Hospital, which predominantly provides outpatient and rehabilitation services. We also manage local community hospitals at Westwood Park, Westbourne Green, and Eccleshill.
In early 2017, a new £28 million wing opened at Bradford Royal Infirmary, part of a £75m investment to improve patient care across our hospitals over a five-year period. It provides world-class facilities for elderly care, children's services, a state-of-the-art intensive care unit with increased single-room provision and a retail concourse.
The new wing is a continuation of our work to improve patient experience after our new £2 million neonatal unit officially opened in January 2015. Our maternity services were recently shortlisted for the Royal College of Midwives' (RCM) Midwifery Service of the Year Award, recognising excellence and innovation in the provision of maternity care.
In 2017, we also completed a £2m refurbishment of our Emergency Department (ED) as part of an ambitious vision to create a more efficient acute medicine service for the people of Bradford. It has been designed to provide a slicker and more efficient service, with faster senior clinical involvement at an early stage in the patient pathway.
As a teaching hospital, we are at the forefront of education and development in healthcare, and have an excellent reputation for research performance. We are one of the leading centres in conducting applied research in the country, particularly in quality and safety, elderly care and rehabilitation.
The Trust is home to the Bradford Institute for Health Research (BIHR) where researchers have led the development, validation and implementation of the award-winning Bradford Electronic Frailty Index (eFI) which helps calculate an elderly person's risk of disability, impairment, falls and complications of chronic diseases, as well as their diminishing independence and capability. This is now being used by 98 per cent of all GPs across the country.
Our award-winning Ophthalmology department is home to numerous worldwide clinical trials taking the lead in eye care research and we are one of only three sites in the United Kingdom to be enlisted in the Perioperative Enhanced Recovery Hip Fracture Care of Patients with Dementia (PERFECTED) study, which will investigate how the NHS can introduce better standards of care to improve outcomes for people with dementia.
Follow us on Twitter: @BTHFT
The Trust has its own Bradford Hospitals Charity: https://bradfordhospitalscharity.org/