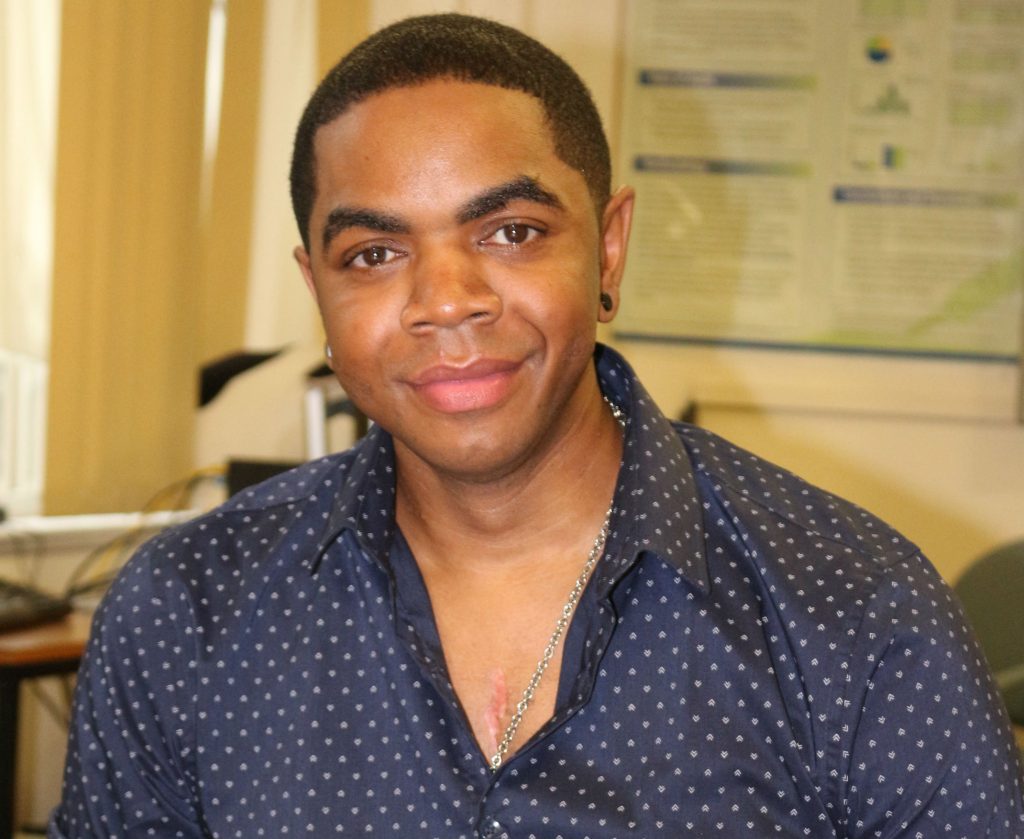 Thinking about signing the Organ Donation Register? Read Kevin's amazing story and discover why you could make a difference.
Kevin, a data improvement officer at St Luke's Hospital, Bradford, was admitted to Bradford Royal Infirmary on 25 January, 2018, and transferred immediately to the hospital's Intensive Care Unit (ICU) where he was found to be in heart, lung, liver and renal failure. Only seven per cent of his heart was functioning.
He was 39.
Kevin was transferred to Wythenshawe Hospital (University Hospital of South Manchester) on 28 January, 2018 and underwent a heart transplant in April, 2018, after doctors diagnosed an unidentified virus which they think he picked up while on holiday in Barcelona in December 2017.
London-born Kevin grew up in St Alban's but moved to Bradford in 2010 after meeting his partner. The couple have a two-year-old daughter, Lacie-Rose.
Kevin has worked at St Luke's, part of Bradford Teaching Hospitals NHS Foundation Trust, for three years.
Background:
Kevin said: "Towards the end of the holiday in Barcelona, I started feeling unwell. I felt very fatigued, breathless and nauseous but I wasn't being physically sick. Then I got better. Towards the end of December 27 or 28, I started feeling bad again. I couldn't eat – that was hard when I love my food.
"I recall vividly that my Christmas Day dinner was the last time I really ate a proper meal. After that, I just couldn't eat.
"Unbeknown to me, my heart was starting to fail. I was getting progressively worse. I couldn't pass urine, I was being sick but it was just water as I wasn't eating anything. This continued for a couple of weeks. I couldn't work. I went to work for three days in January but I had no energy and couldn't manage any more.
"I went to my GP a couple of times to get a sick note and medication. The doctors thought I had flu and a chest infection. I was given antibiotics but these made me feel worse. Every time I took them I was sick. They just thought I had a bad flu or virus but my symptoms were worsening, in that I was feeling more and more tired, more and more out of breath. I remember lying there thinking I wasn't going to make it.
"On one occasion, I remember lying on the settee and just blacking out and then I remember hearing the words: 'No!' I came round about three minutes later and I remember thinking 'I really need to get back to the doctors I am just not right'.
"I went to A&E the day before my daughter's second birthday on January 17, and was diagnosed with a bad case of flu. They couldn't find what was wrong with me so I came home.
"I just tried to carry on as normal, I tried to go to work but I couldn't walk and just kept being violently sick. The vomiting became a constant every day. I just thought it was just a bad case of flu and was taking paracetamol and Lemsip to try and get better.
Out of breath
"I couldn't get into work, I was unable to eat, pass urine, and I was out of breath when I tried to walk or climb the stairs, so I went back to my GP for about the fourth time to see what was wrong with me and luckily she noticed that the whites of my eyes had turned yellow (yellowing of the eyes occurs if you have jaundice of the liver). She rang BRI immediately and I got a taxi to the hospital's Ambulatory Care Unit (ACU).
"I immediately had the attention of the doctors and nurses and was put through a load of tests.
"At first they diagnosed pneumonia but then things got very, very serious. They discovered I had multi-organ failure. They started fitting a catheter. I never felt like I was dying although I felt very, very sick.
"The doctors rang my mum, who lives in Luton, and told her to come up immediately as they didn't think I was going to make it through the night and I was moved straight away to ICU.
"I remember it clearly. It was on January 25 that I was told by a doctor that I was dying. He basically said I was on the edge of a cliff and that I was not going to make it through the night. I was going to be in a box by the end of the night. My heart was failing.
"I was in ICU from January 25 to 28. I was kept stable but the medical technology that needed to help me and my heart alive was in Manchester – so I was blue-lighted over in an emergency ambulance with a consultant anaesthetist and ICU nurse on board to the Cardiothoracic Critical Care Unit (CTCCU) at Wythenshawe Hospital in Manchester."
Kevin remained in the CTCCU for four months and, between January and April, prior to his heart transplant, underwent six operations. At one stage he was removed from the transplant list as he was deemed too poorly to undergo life-saving surgery.
Heart had gone
Kevin continued: "Wythenshawe then kept telling me that I wasn't going to make it as my whole heart had gone and I had only got seven per cent working. I was also in renal, liver and lung failure.
"Within the first two weeks of being admitted, and following lots of medical investigations, I was told if I was to survive I needed to have a heart transplant so it was a case of waiting until the best matched heart possible became available.
"Until then, the doctors had to figure out how to keep me alive and keep the pressure off my heart. I went through six operations between February and March, where various procedures were explored to try and stabilise my situation to get me into a position where I was healthy and fit enough to undergo a heart transplant.
"One procedure included having a balloon pump inserted through my groin and subsequently through my shoulder, to try and take the pressure off my heart. I also had a clot on my lungs and was on a BIVAD machine."
A Biventricular Assist Device or 'BIVAD' has four simple, air-driven pumps. They are given to patients like Kevin who have severe heart failure and are deemed to be too ill to have a transplant.
The pumps, one to support the left side of the heart and one to support the right, keep the patient alive until recovery or until a heart transplant is possible.
The BIVAD takes over the function of a patient's own heart when it becomes too weak to pump sufficient amounts of blood to the lungs and/or around their body.
Attached to the heart
The device is implanted above the diaphragm and is attached to the heart, leaving natural circulation in place while providing all of the energy necessary to propel blood throughout the body.
Kevin continued: "At times I didn't want to eat but if you don't help yourself people won't help you so I had to show them that I was strong, I will get through this and do my best.
"I was on the BIVAD machine for more than month. It kept me alive while a heart was being found. They (the doctors and nurses) said I was the only person they have seen walking 70 yards with the machine attached.
"While I was on the BIVAD I kept strong and positive and knew that something good was going to come out of my situation. I wanted to be positive for my loved ones and my family.
"I felt a really sharp pain on my chest and they did an echo and noticed that blood was leaking internally into the heart one. I was rushed down to theatres and they drained the blood and I was sedated for four days while they drained the blood from me.
"I was never scared, I had such confidence in them and I knew I would pull through. I heard the word: 'No' and I knew it wasn't my time to go. In the back of my mind I always knew that I would be OK and that's why I was able to pray for other patients lying alongside me while I was in the intensive coronary care unit.
"I had up and down days. I was on a morphine pump. Sometimes I was fine, sometimes I was very sick, throwing up blood or the contents of what I had eaten.
Positive
"Psychologically, I was very positive. I trusted the doctors completely. They knew what they were doing. They'd done this procedure on hundreds of patients before. Whatever I could do to live, I would do it. My will to survive was astonishing. I was the perfect patient, whatever they told me to do, I did.
"Then in April, one of the heart transplant co-ordinators, Laura, appeared at my bed to tell me that she had found me a heart.
"I cried when she broke the news. At first, I didn't believe what she was telling me. I thought it was a dream. I never thought I was going to get through it as I had a doubt because I had waited so long for the news to come. But then there was uncertainty as you don't know what is going to happen. Is it going to go ahead or not – if the heart isn't suitable when it arrives in Manchester, then the transplant won't take place. That's the only time I really got scared.
"They give you the statistic that three out of 10 people do pass away during the procedure. It's very high risk. There is also a chance of a stroke or brain damage, so it's hairy stuff and then you are afraid that you might not wake up again.
"I remember clearly Laura saying: 'We've found you a very, very good heart' and I had complete faith.
"A few hours later and after the doctors had tested the heart to check that it was working properly and was compatible, they took me down to theatre.
"I was quite relaxed in the end because I knew all the staff well by this stage and I trusted them completely. I told them to look after me and that was the last I remember.
No blood pressure
"I remember waking up, the surgery had taken around 12 hours, and everything had gone well. Although during the transplant I lost 19 pints of blood and had no blood pressure for 10 minutes so there was a concern I could be left with brain damage. Thankfully this didn't materialise. I was on an ECMO (extra corporeal membrane oxygenation) machine in ICU for five days, and sedated for six, but I could still hear."
An ECMO machine provides mechanical support for patients in recovery before or after a heart transplant. It takes over a patient's heart and lung function to allow these organs to recover. During ECMO, tubes (cannulas) are connected into major arteries and veins through an incision in the neck, chest or groin. The tubes direct blood from the body to an external machine that removes carbon dioxide and supplies oxygen to the blood. The oxygenated blood is then returned to the patient to be circulated throughout the body.
Kevin added: "I heard the voice of my consultant, Dr Shaw, and he told me afterwards that I gave him the 'thumbs up'. I then called him over to my bedside and gave him the strongest handshake he has ever had in his life.
"Dr Shaw said that it was then that he knew I was going to make it and that I hadn't had a stroke or suffered any brain damage. Seemingly, I wouldn't let go of his hand!
"I was six days sedated in total, and didn't wake up fully until after that time. I describe my transplant now as being reborn. I had to learn to do simple things again that we take for granted, like learning to use my mobile phone, feeding myself,  shaving and brushing my teeth.
"A few hours later, after coming round, they put me on the bed exercise bike and I did 1.9 miles in 10 minutes… I was so determined to be fit and healthy as soon as possible!
"My recovery was actually very swift because I was very fit before the operation and despite being so sick, I always tried to stay active but I did lose an awful lot of muscle very fast with being bed bound for so long."
Coronary care unit
After two-to-three days on the coronary care unit, Kevin was transferred to the coronary care ward for a week and then it was off to the rehabilitation ward for a further three weeks.
"I was finally discharged on May 3. I'd had no fresh air permanently for about two or three months and to feel the fresh air on my face was amazing. I found it so difficult not being able to walk outside or go home when my family were leaving and that's what kept me going. I knew it wouldn't be like that forever so to be able to finally walk out of the hospital doors was fantastic.
"I felt reborn; I felt relief when I walked out of the hospital doors. I had another chance at life. It felt so good. My life has started over again. I have a new lease of life. I am more thankful for the little things – the fresh air, the birds, the wind on my face, the sun in the sky. The little things you take for granted and life should never be taken for granted. I feel incredibly humbled to be able to still be a father, a son and a partner.
"I might not have been around to see Lacie-Rose grow up but she says I now have a new heart so I can love her more and more when she is older. That's what kept me going.
"The doctors say they will never know why I got ill because my heart was in such a bad way when they removed it. They couldn't tell why I had got sick. They think I had a virus which attacked the heart.
Zest for life
"I was 16 stone when I went in and was 11 stone when I came out.
"My love of life, my zest for life has changed. I have been given another chance. I look at life in so much more detail.
"My passion now is to help others and use this as a positive rather than a negative experience.
"I would encourage people to donate. I didn't know anything about it before I got sick. It's also crucial that people in the black, Asian and minority ethnic communities are educated as there is such a need in these communities yet there is not enough donor organs. There is no doubt that organ donation saves lives and I am living proof of that. People never think it will happen to them, but look at me. If it can happen to me it can happen to anyone.
"I get emotional every time I think of my donor. I have an image where I see the person who has given me their heart and they are saying: 'This is my heart, take good care of it.'
"They are my hero and my guardian angel. Thank you will never be enough. They have given me another chance of life. I will do all I can to look after their heart and make them proud of their gift."