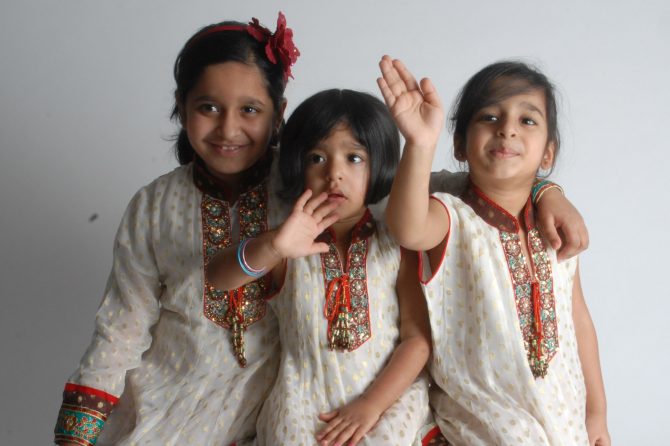 What makes a happy and healthy child?  That's the question that the team at the city's landmark Born in Bradford (BiB) programme are looking to answer… and they're looking for your help.
BiB is one of the UK's largest studies looking into the health of children and is tracking the lives of 13,500 babies and their families from different cultures and backgrounds. The research will be used to answer important questions about why some children remain healthy while others fall ill.
The new initiative is being launched to seek opinions from young people, parents, community members, leaders and representatives who work with children and young people.  The team will also be interviewing individuals and groups to collect feedback from as many different people as possible.
BiB Director, Rosie McEachan, said: "Responses from our communities about what they think is important for happy and healthy children will help shape our "ActEarly" research which is investigating ways of helping children and young people to grow up happy and healthy and reducing the risks of ill health developing.
Health and happiness
"We are really excited to hear about the ideas people have about introducing new ways in which we can work together to improve the health and happiness of the city's children and young people."
Research Fellow and BiB Study Co-ordinator, Aamnah Rahman, added: "Every opinion counts so please get involved and let your views be known.
"Born in Bradford is a project that will help change the health of future generations in our city, so we want as many people as possible to be involved in shaping our research and are keen to listen to everyone's views, as what you say really matters."
Once the feedback has been collated, researchers will organise a community consultation workshop where the public will help decide on the ActEarly project's top research priorities.
The questionnaire can be found at: https://borninbradford.nhs.uk/haveyoursay
ENDS
For further media information, please contact Aamnah Rahman, Research Fellow – Community Engagement, Born in Bradford: aamnah.rahman@bthft.nhs.uk or
communications@bthft.nhs.uk or call 01274 383901.
Note to Editors:
Bradford Teaching Hospitals NHS Foundation Trust:
Bradford Teaching Hospitals NHS Foundation Trust is responsible for providing hospital services for the people of Bradford and communities across Yorkshire. We serve a core population of around 500,000 and provide specialist services for 1.1 million people.
Our 5,500 staff work over several sites, including Bradford Royal Infirmary, which provides the majority of inpatient services, and St Luke's Hospital, which predominantly provides outpatient and rehabilitation services. We also manage local community hospitals at Westwood Park, Westbourne Green, and Eccleshill.
In early 2017, a new £28 million wing opened at Bradford Royal Infirmary, part of a £75m investment to improve patient care across our hospitals over a five-year period. It provides world-class facilities for elderly care, children's services, a state-of-the-art intensive care unit with increased single-room provision and a retail concourse.
The new wing is a continuation of our work to improve patient experience after our new £2 million neonatal unit officially opened in January 2015. Our maternity services were recently shortlisted for the Royal College of Midwives' (RCM) Midwifery Service of the Year Award, recognising excellence and innovation in the provision of maternity care.
In 2017, we also completed a £2m refurbishment of our Emergency Department (ED) as part of an ambitious vision to create a more efficient acute medicine service for the people of Bradford. It has been designed to provide a slicker and more efficient service, with faster senior clinical involvement at an early stage in the patient pathway.
As a teaching hospital, we are at the forefront of education and development in healthcare, and have an excellent reputation for research performance. We are one of the leading centres in conducting applied research in the country, particularly in quality and safety, elderly care and rehabilitation.
The Trust is home to the Bradford Institute for Health Research (BIHR) where researchers have led the development, validation and implementation of the award-winning Bradford Electronic Frailty Index (eFI) which helps calculate an elderly person's risk of disability, impairment, falls and complications of chronic diseases, as well as their diminishing independence and capability. This is now being used by 98% of all GPs across the country.
Our award-winning Ophthalmology department is home to numerous worldwide clinical trials taking the lead in eye care research and we are one of only three sites in the United Kingdom to be enlisted in the Perioperative Enhanced Recovery Hip Fracture Care of Patients with Dementia (PERFECTED) study, which will investigate how the NHS can introduce better standards of care to improve outcomes for people with dementia.
The Trust has its own Bradford Hospitals Charity: https://bradfordhospitalscharity.org/
Follow us on Twitter: @BTHFT
For more information please visit www.bradfordhospitals.nhs.uk
Born in Bradford 2019
Born in Bradford (BiB) is one of the biggest and most important health research studies undertaken in the UK. The project started in 2007 and is looking to answer questions about Bradford's health by tracking the lives of over 13,500 children and their families from across the city.
The aim of BiB is to find out more about why some families stay healthy and others fall ill by studying children and their families from all cultures and backgrounds as their lives unfold. It provides vital research information for studies across the UK and around the world.
Bradford has some of the highest rates of childhood illness in the UK. BiB is helping to unravel the reasons for this ill health and bringing new scientific discovery to the world. It is also providing a catalyst for communities to work with the NHS and local authority to improve child health and wellbeing in the city.
Examples of the success of BiB in changing practice include the establishment of a Yorkshire-wide congenital anomalies register, the first hospital in the UK to provide gestational diabetes screening for all pregnant women in the district, major improvement in vitamin D supplementation in high risk mothers, rapid implementation of NICE guidelines in midwifery practice, improved detection of childhood obesity by health visitors, and development of a simple mobile phone app to help parents and health professionals monitor children's weight. Its findings on the effect of air quality on health have been used by the council to lobby for investment to refurbish some of the city's most polluting buses.
BiB will continue to follow the children, and their families, until they are adults, and help doctors to understand more about the big health challenges of the 21st century, such as heart disease, mental health and cancer. The BiB project has the potential to promote real change at a local level and also make major contributions to global knowledge: our children may be born in Bradford, but they will change the world.
BiB is led by Professor John Wright and Dr Rosie McEachan and the research team is based at the Bradford Institute for Health Research at Bradford Royal Infirmary.
BiB is hosted and supported by Bradford Teaching Hospitals NHS Foundation Trust.
For more information, visit www.borninbradford.nhs.uk, Twitter @BiBresearch or Facebook www.facebook.com/BornInBradford