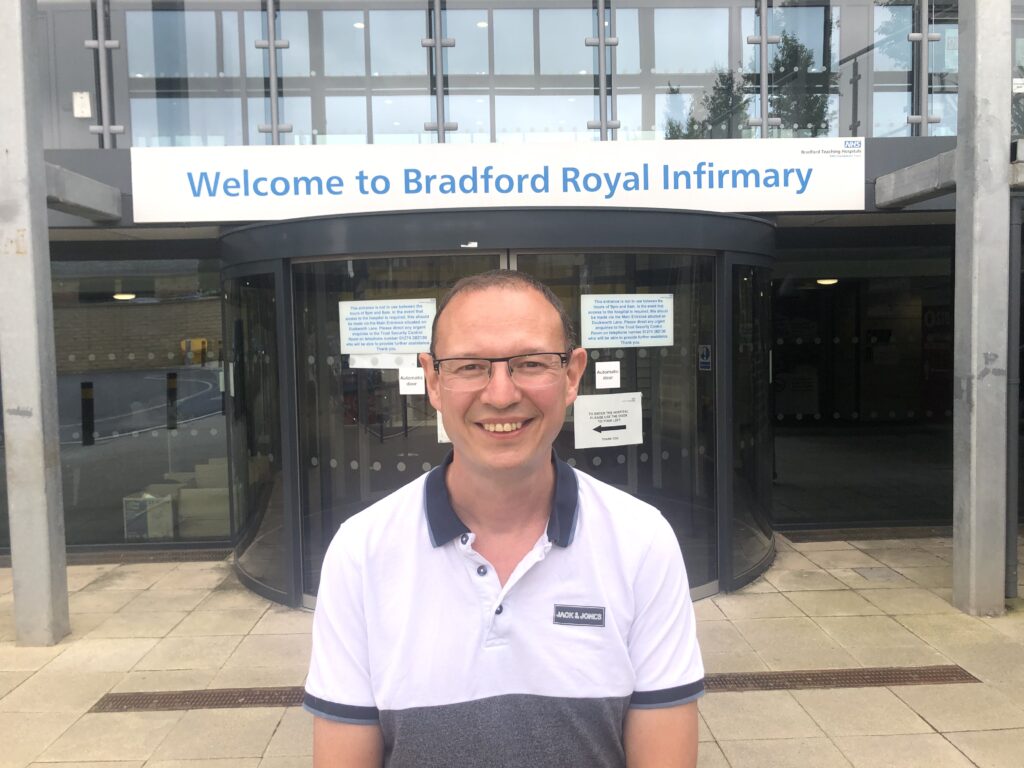 RENAL Transplant Nurse, Michael Speight, has become Bradford's first-ever Living Donor Coordinator.
Michael, a senior renal transplant nurse at Bradford Teaching Hospitals NHS Foundation Trust for the past 10 years, will help raise awareness of living kidney donation across Bradford and Airedale.
He said: "I've always been interested in renal transplantation, but now I have the opportunity to focus my efforts on promoting living donation and supporting potential living kidney donors who come forward for assessment.
"A living donor kidney is likely to provide better outcomes for the recipient than a deceased donor kidney. The living donor is more likely to share the same tissue type as the recipient and a living donor transplant is performed as a carefully planned procedure. Living donation also increases the overall donor pool in the UK, which means that other patients have a shorter wait for a deceased donor kidney transplant."
Michael will lead promotional activity on behalf of the Trust throughout the district. This will include spending time speaking to families and community groups about the benefits of living kidney donation, but he is aware that living donation is a sensitive topic of discussion.
"We have to strike a balance," he added. "People can get anxious and need to make the decision themselves. I will be providing any information and support they need to guide them through the entire living donor pathway.
"Living donors are usually family members or close friends, but we do also support altruistic donors who come forward. Once they confirm that they wish to proceed, we do some tests to see if they are compatible and do all we can to minimise any risks.
"If potential living donors are not compatible with the intended recipient, there is also the option of taking part in the UK Living Kidney Sharing Scheme, which pools donor and recipient pairs to help find better matches."
Living donors
The Trust currently supports around four-to-five living donors in Bradford each year, but Michael and colleagues in the renal team hope to more than double that figure.
Potential living donors are independently assessed before donation can proceed. The pathway takes around six months from start to finish, with the actual operation performed via keyhole surgery at the regional transplant centre in Leeds. Most donors are discharged home within two-to-three days of the procedure. The Trust provides care and support for living donors for the rest of their lives.
Renal Clinical Lead, Dr John Stoves, said: "I am proud to say that this is a first for Bradford, and in winning Trust approval for the post there has been excellent support from regional and national colleagues including representatives from NHS Blood and Transplant (NHSBT) and the National BAME Transplant Alliance (NBTA).
"Patients with advanced kidney disease are likely to wait much longer for a deceased donor transplant than a living donor transplant, especially our South Asian patients because of their 'matchability' to potential deceased donors in the UK, so we are very keen to ensure that we are able to strengthen our living donor pathways in Bradford."
Lisa Burnapp, Clinical Lead for Living Donation at NHSBT, said she was delighted that a Living Donor Co-ordinator had been appointed in Bradford.
She added: "Dr Stoves and the Bradford team are champions of living donor kidney transplantation and have been valued members of the UK Living Kidney Donation Network since its inception in October 2016.
"We know from UK-wide experience that these posts are critical in raising the local profile of living donor kidney transplantation and increasing opportunities for patients and their families who wish to access this 'gold standard' treatment for end-stage kidney disease.
"During the COVID era it has become even more evident that multi-disciplinary support for living donation in every renal centre is critical to establishing and expanding activity. It is particularly encouraging to hear this news in these difficult times and I wish the whole team every success."
Dr Stoves added:  "Michael's appointment is a major step forward for living donor transplantation in Bradford and Airedale. As always, the success of the Living Donor Coordinator post will depend on strong team engagement and our continuing involvement with the UK Living Kidney Donation Network. Thank you to everyone for supporting Michael in his new role!"
ENDS
For further media information, please contact communications@bthft.nhs.uk or call 01274 383901.
Note to Editors:
Bradford Teaching Hospitals NHS Foundation Trust:
Bradford Teaching Hospitals NHS Foundation Trust is responsible for providing hospital services for the people of Bradford and communities across Yorkshire. We serve a core population of around 500,000 and provide specialist services for 1.1 million people.
Our 5,500 staff work over several sites, including Bradford Royal Infirmary, which provides the majority of inpatient services, and St Luke's Hospital, which predominantly provides outpatient and rehabilitation services. We also manage local community hospitals at Westwood Park, Westbourne Green, and Eccleshill.
In early 2017, a new £28 million wing opened at Bradford Royal Infirmary, part of a £75m investment to improve patient care across our hospitals over a five-year period. It provides world-class facilities for elderly care, children's services, a state-of-the-art intensive care unit with increased single-room provision and a retail concourse.
The new wing is a continuation of our work to improve patient experience after our new £2 million neonatal unit officially opened in January 2015. Our maternity services were recently shortlisted for the Royal College of Midwives' (RCM) Midwifery Service of the Year Award, recognising excellence and innovation in the provision of maternity care.
In 2017, we also completed a £2m refurbishment of our Emergency Department (ED) as part of an ambitious vision to create a more efficient acute medicine service for the people of Bradford. It has been designed to provide a slicker and more efficient service, with faster senior clinical involvement at an early stage in the patient pathway.
As a teaching hospital, we are at the forefront of education and development in healthcare, and have an excellent reputation for research performance. We are one of the leading centres in conducting applied research in the country, particularly in quality and safety, elderly care and rehabilitation.
The Trust is home to the Bradford Institute for Health Research (BIHR) where researchers have led the development, validation and implementation of the award-winning Bradford Electronic Frailty Index (eFI) which helps calculate an elderly person's risk of disability, impairment, falls and complications of chronic diseases, as well as their diminishing independence and capability. This is now being used by 98% of all GPs across the country.
Our award-winning Ophthalmology department is home to numerous worldwide clinical trials taking the lead in eye care research and we are one of only three sites in the United Kingdom to be enlisted in the Perioperative Enhanced Recovery Hip Fracture Care of Patients with Dementia (PERFECTED) study, which will investigate how the NHS can introduce better standards of care to improve outcomes for people with dementia.
The Trust has its own Bradford Hospitals Charity: https://bradfordhospitalscharity.org/
Follow us on Twitter: @BTHFT