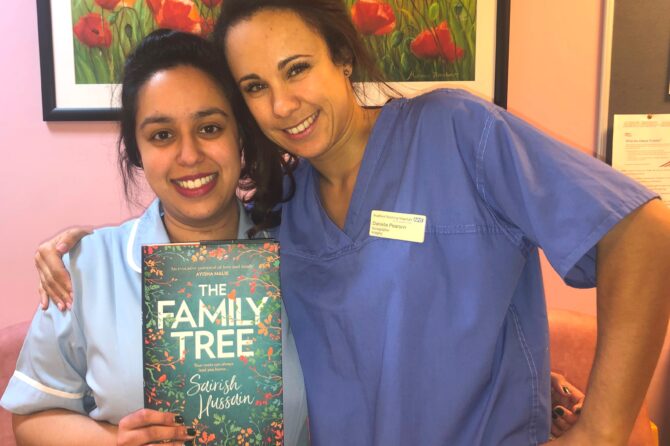 WE ARE thrilled to announce that Healthcare Assistant Sairish Hussain has been nominated for a leading literary award after penning her debut novel.
Back in February, big-name publishers Harper Collin's published The Family Tree, Sairish's moving, multigenerational story of a British Muslim family in the North of England and the faults, mistakes and stubborn loyalties which make us all human.
The book has since gone on to collect widespread acclaim, rave reviews – and now inclusion on The Guardian's Not the Booker award longlist!
Every novel on the list was chosen by readers, who took the time to nominate their favourite book published between October 2019 and summer 2020.
A public vote is now taking place on The Guardian's website to whittle the 211-strong shortlist down to just three titles, who will go through to the final round.
Sairish said: "I'm thrilled just to be nominated because every book was chosen by and resonated with readers, which makes it a little more special.
"It's so hard to get recognised when there are so many great books out there."
Despite only being on shelves for around a month until Covid-19 forced bricks-and-mortar bookshops to close, The Family Tree has still done well, with the paperback version of the novel now also set for release this November.
Book clubs
"At Bradford's branch of Waterstone's there was a table for Bradford authors that the book was on, which hasn't been there for a few months now," said Sairish. "But the book has been read by book clubs around the world.
"I've had messages from readers as far afield as Toronto, Munich, Dubai and Melbourne, and feel like the book has really resonated with people.
"We had a lot of literary festivals planned this summer, but many have taken place virtually and have also been successful, so we've found innovative ways around the current situation. Sales have suffered but the book has still done pretty well and I am really happy with how everything has gone."
The Family Tree opens with widowed father Amjad trying his best to raise his two young children. When the kids are older, a brutal, random attack changes their lives forever and sends the family off into different directions. The story follows each of them as they try to find their way back to each other.
The idea for the book first came to Sairish, 27, who is part of the Sonography team within our Maternity Unit, while she was an English Language and Literature student at the University of Huddersfield.
She later put pen to paper while studying for an MA and then a PhD in Creative Writing, and the novel began to take shape.
Then, in 2017, Sairish – whose favourite writers include Zadie Smith, Chimamanda Ngozi Adichie and James Baldwin – attended a talk at Bradford Literature Festival on how to get published.
One of the members of the panel was Lisa Milton from Harper Collins, who offered to read her manuscript, and a few weeks later Sairish got an email back saying she loved it and wanted to be her publisher!
Family roots
Sairish works part-time at the Trust alongside her proud mum, long-term Urdu and Punjabi translator Perveen Hussain, who chose the colours for the novel's beautiful sleeve. It picks out the branches of a host of different trees to highlight one of the book's key themes: family roots.
Sairish, who lives with her family in Fairweather Green, Bradford, signed a two-book deal with Harper Collins, and has already begun writing a second novel.
But she admits being creative has proven to be a challenge while also working through a pandemic.
"It's not been easy working on book two because work here has been quite intense," she added. "I have been assisting with the scanning of Covid-19 patients and supporting my colleagues as best as I can, so it has been difficult to be creative in this environment.
"But although I am a bit behind, I am writing!"
Huge congratulations to Sairish on the novel's success. The Family Tree (HQ, Harper Collins) is available now from all good bookshops.
To vote for The Family Tree in the Not the Booker awards, please visit The Guardian's website via the link below before Monday 17 August.
https://www.theguardian.com/books/booksblog/2020/aug/03/not-the-booker-prize-longlist-vote-now-to-decide-the-2020-shortlist
ENDS
Picture caption: Sairish with her manager at Bradford Teaching Hospitals, Senior Sonographer Danielle Pearson