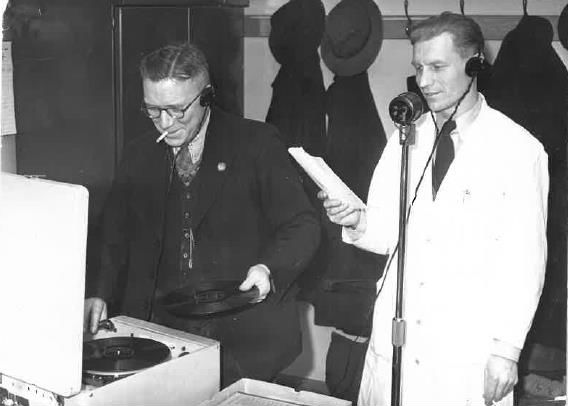 It began with a simple record player and a few borrowed hits sung by artists such as Vera Lynn, Frankie Laine, Doris Day and Nat King Cole, who were topping the charts at the time.
The year was 1952 and the news headlines told of Queen Elizabeth II ascending to the throne, Len Hutton being appointed England cricket captain and the end of tea rationing.
On 17 October, Radio Royal celebrated 65 years of broadcasting and being a bedside friend to countless patients at Bradford Royal Infirmary, part of Bradford Teaching Hospitals NHS Foundation Trust.
A birthday party, attended by past and current presenters, volunteers and guests was held on 13 October when there was also a special cake to mark the historic anniversary.
Radio Royal chairman and presenter, George Sumner, who joined the station 11 years ago and presents two shows – Anything Goes and The 60s Show, said: "Over these past decades Radio Royal has been a real bedside friend, making a huge contribution to the lives of the thousands of patients who have tuned in.
Technological advances
"These days we no longer have records of course or even CDs! Technological advances mean that all music is stored on a computer, which enables us to grant requests for thousands of songs."
The station was originally started by the hospital's electricians who, in their spare time, put the first studio together. Broadcasting began under the name, The Medicine Chest, and presenters had to borrow records from a local music shop in order to play songs requested by the patients. Once played, they were put back in their sleeves and returned the same night!
The first song to be played on the hospital airwaves back in 1952 was US crooner Al Martino's hit 'Here in My Heart'.
George added: "The advent of an automated play-out system also means that we can broadcast 24 hours a day. We entertain the patients with easy-listening music, gentle comedy shows and concerts. We like to believe that music and the hospital radio beings comfort to patients as well as entertaining them; it all helps as part of the journey to recovery."
Bedside entertainment system
Since the introduction of a bedside entertainment system, listening figures can be monitored and, on average, patients tune in to around 10,000 hours of Radio Royal output every month. The broadcasts are also shared in 83 different countries, including the US, Canada and Australia, thanks to the internet. Listeners can also tune in via the Tune-in app on their smartphones.
To mark the anniversary, the station's presenters will be playing hits from the 1950s and guests popping in to the studio will include honorary Radio Royal president and former world snooker champion, Joe Johnson, and 1960s songwriter, Sammy King, who penned 'Penny Arcade', which became a worldwide hit for the late, great Roy Orbison.
Volunteers are always needed and people don't need a radio background to get involved.
"Volunteers can help by collecting requests from the wards, conducting interviews or even with supporting outside broadcasts. If anyone is interested we would love to hear from them," added George.
Radio Royal can be contacted on 01274 364917.