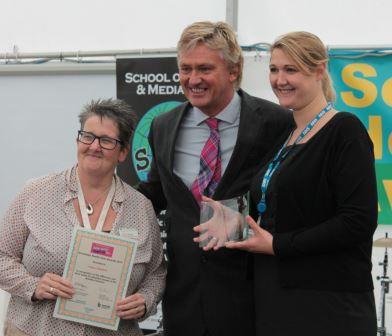 Bradford Teaching Hospitals NHS Foundation Trust has walked away with a top prize at an awards ceremony in the city for its ground-breaking Project SEARCH.
Bradford Project SEARCH helps Bradford students with learning disabilities find employment through work experience placements and classroom teaching.
The Trust has now scooped the award for Best Practice in Employment of Disabled People in new awards set up by Bradford and District Disabled People's Forum, supported by Sovereign Healthcare and Easier Access.
Lorraine Cameron, head of equality and diversity and Ruth Reid, HR manager, pictured above with Russ Piper, chief executive of Sovereign Healthcare, picked up the award at this year's Easier Access – people can make a difference event in Bradford's City Park.
Thrilled
"I'm absolutely thrilled that the Trust has won this award," said Lorraine. "One of the biggest barriers to employment is the recruitment process which disadvantages people with learning difficulties. If faced with an interview against other non-disabled candidates, people with learning difficulties are much less likely to get the job.
"We won this award because we have changed our recruitment practices to make it fairer for our interns to get paid employment with us when the programme finishes.
"That's why Project SEARCH makes such a difference to these young people's life chances as it supports them to move towards paid employment, and boosts their confidence so they realise they can do a job as well as anyone else."
Successful programme
This is the fifth year of this very successful programme which equips interns with the skills to compete for jobs. The employment rate for people with learning difficulties generally is less than 6%, but for those who have completed Project SEARCH it is 67%.
Over the course of an academic year, interns on the programme complete over 900 hours of work experience in conjunction with an Employability Skills qualification, and are supported by job coaches and tutors.
Bradford Teaching Hospitals has, to date, employed eight Project SEARCH graduates, with this number set to increase over the coming months.
The project is a partnership, run jointly by Southfield School, Hft – a national charity which supports adults with learning, the University of Bradford and Bradford Council. The aim of the project is to support young adults with learning disabilities to move towards paid employment.