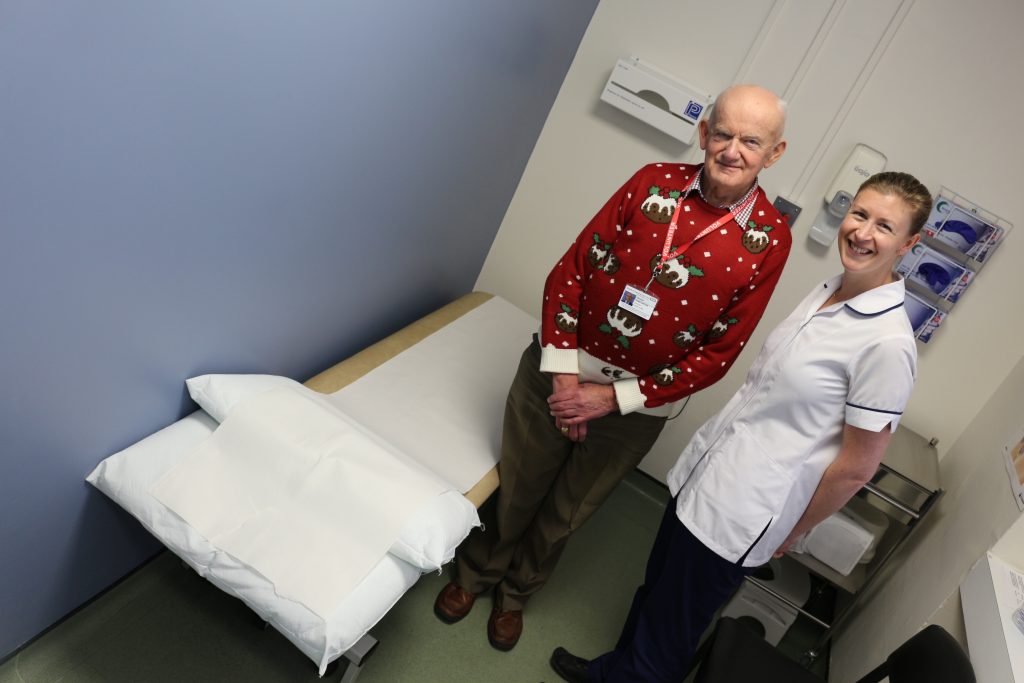 Physiotherapy patients in Bradford now have new treatment rooms, thanks to a generous gift from hospital volunteers.
The Friends of Bradford Royal Infirmary (BRI) donated £5,300 towards the renovation of clinical rooms used to treat people suffering from pelvic floor dysfunction, such as incontinence.
Rachel Burnett, clinical lead for pelvic health physiotherapy at Bradford Teaching Hospitals NHS Foundation Trust, of which BRI is part, said: "We often work with vulnerable patients so privacy and dignity is vitally important to them.
"Before the renovation we had four cubicles within one room which were separated by curtains. We could use a separate room but we had to share it with other teams, so it wasn't always readily available when our patients needed it.
"Now, thanks to the refurbishment, we've been able to add partitioned walls and lockable doors to three cubicles which means our patients have increased privacy during their appointments and we aren't solely reliant on the one, separate single room.
"We are very grateful to the Friends for their help and on behalf of the team and our patients, we can't thank the volunteers enough for their very generous donation."
Obstetric patients
A fourth cubicle still has its curtain as many obstetric patients attend appointments with children and buggies, so they find the curtain more beneficial.
Trevor Constantine, chairman of the Friends of BRI, visited the refurbished physiotherapy rooms to see for himself the difference the donation has brought for patients.
The Friends of BRI donate thousands of pounds worth of equipment for the benefit of patients every year. This year they have purchased items such as laryngoscopes, specialist chairs and a specialist cardiac ultrasound couch.
The majority of the volunteers' funds are raised through their tea bars located in the Ear, Nose and Throat Outpatients' department, and Orthopaedic Outpatients. All the money raised is donated back to the hospital in the form of equipment to improve patient experience.
The 430-strong volunteers group also carries out other important roles including guiding people, serving refreshments and feeding patients, running a mobile shop, working as play assistants on children's wards and running and presenting our hospital radio stations, Radio Royal and St Luke's Sound.
If you are interested in learning more about volunteering at BRI, please contact Voluntary Services at volunteer.information@bthft.nhs.uk or call (01274) 364309.