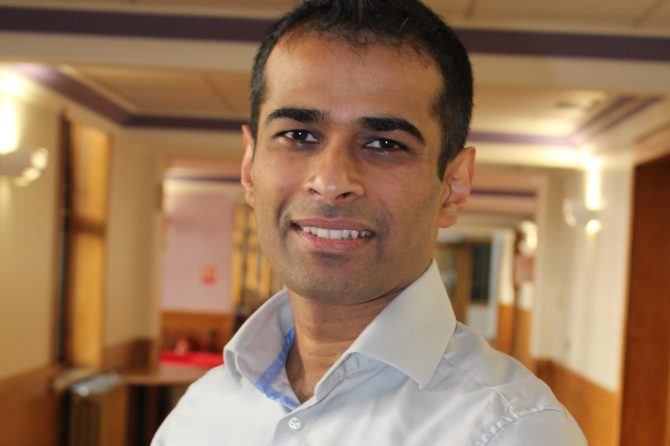 PAEDIATRIC doctors at Bradford Teaching Hospitals NHS Foundation Trust are calling on parents and carers to complete a short, anonymous survey to help them deliver the best-possible care during and after the pandemic.
Consultant Paediatrician and Children's Ambulatory Care Lead, Dr Mat Mathai, and GP trainee Victor Animasahun aim to use the poll's results to shape care and meet the varied needs of young patients and their parents and carers.
Dr Animasahun said: "Since the COVID-19 pandemic began, there have been changes in how parents and carers have sought help for their children when they are unwell.
"Bradford Teaching Hospitals NHS Foundation Trust, together with community partners, is now running a short anonymous survey to get your views on how you would like to get the right help for your child when they are unwell.
"We hope to use the results of this survey to develop our services with you."
Dr Mathai added: "Nationally and locally we have seen a reduction in children presenting to A&E and referred to paediatric units in hospital for their acute illness.
Safely
"This doesn't appear to have resulted in a significant increase in late presentations to hospital. Families have been managing their children's symptoms differently and safely.
"We are really keen to know how they would like to access care in the coming months and years and develop services that more closely reflect their needs."
Paediatric doctors at Bradford Teaching Hospitals recently became the first in the UK to partner with TytoCare, the healthcare industry's first all-in-one, handheld device and AI-powered telehealth platform which provides remote, real-time examinations for children and young people.
The device enables comprehensive and clinical grade physical exams of the heart, lungs, skin, ears and throat, and measures body temperature and heart rate, to enable remote assessment and management of patients.
The project has been spearheaded by the Trust's Ambulatory Care Experience (ACE) team, which cares for children in the comfort of their own home, preventing unnecessary admissions.
The paediatric team's survey also seeks the views of parents and carers on remote appointments using video and telephone.
To complete the survey, please click here.
ENDS
For further media information, please contact communications@bthft.nhs.uk
Note to Editors:
Bradford Teaching Hospitals NHS Foundation Trust:
Bradford Teaching Hospitals NHS Foundation Trust is responsible for providing hospital services for the people of Bradford and communities across Yorkshire. We serve a core population of around 500,000 and provide specialist services for 1.1 million people.
Our 5,500 staff work over several sites, including Bradford Royal Infirmary, which provides the majority of inpatient services, and St Luke's Hospital, which predominantly provides outpatient and rehabilitation services. We also manage local community hospitals at Westwood Park, Westbourne Green, and Eccleshill.
In early 2017, a new £28 million wing opened at Bradford Royal Infirmary, part of a £75m investment to improve patient care across our hospitals over a five-year period. It provides world-class facilities for elderly care, children's services, a state-of-the-art intensive care unit with increased single-room provision and a retail concourse.
The new wing is a continuation of our work to improve patient experience after our new £2 million neonatal unit officially opened in January 2015. Our maternity services were recently shortlisted for the Royal College of Midwives' (RCM) Midwifery Service of the Year Award, recognising excellence and innovation in the provision of maternity care.
In 2017, we also completed a £2m refurbishment of our Emergency Department (ED) as part of an ambitious vision to create a more efficient acute medicine service for the people of Bradford. It has been designed to provide a slicker and more efficient service, with faster senior clinical involvement at an early stage in the patient pathway.
As a teaching hospital, we are at the forefront of education and development in healthcare, and have an excellent reputation for research performance. We are one of the leading centres in conducting applied research in the country, particularly in quality and safety, elderly care and rehabilitation.
The Trust is home to the Bradford Institute for Health Research (BIHR) where researchers have led the development, validation and implementation of the award-winning Bradford Electronic Frailty Index (eFI) which helps calculate an elderly person's risk of disability, impairment, falls and complications of chronic diseases, as well as their diminishing independence and capability. This is now being used by 98% of all GPs across the country.
Our award-winning Ophthalmology department is home to numerous worldwide clinical trials taking the lead in eye care research and we are one of only three sites in the United Kingdom to be enlisted in the Perioperative Enhanced Recovery Hip Fracture Care of Patients with Dementia (PERFECTED) study, which will investigate how the NHS can introduce better standards of care to improve outcomes for people with dementia.
The Trust has its own Bradford Hospitals Charity: https://bradfordhospitalscharity.org/
Follow us on Twitter: @BTHFT
For more information please visit www.bradfordhospitals.nhs.uk