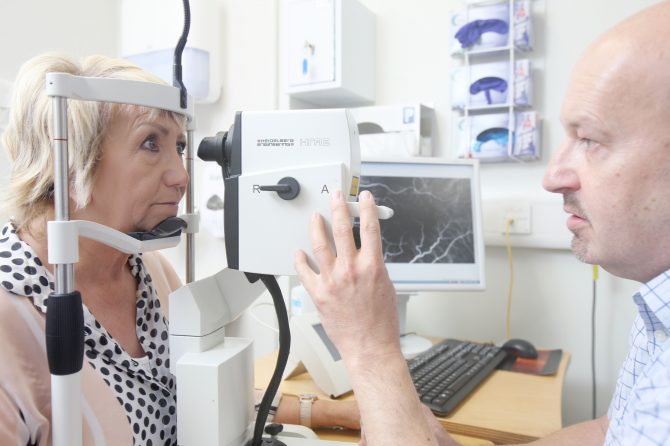 An international, ground-breaking clinical trial seeking to find a new way of treating wet macular degeneration (a condition that causes the loss of central vision, usually in both eyes) is looking to recruit patients in Bradford.
Staff at Bradford Royal Infirmary's award-winning Ophthalmology Research Network (BORN), part of Bradford Teaching Hospitals NHS Foundation Trust, are taking part in the clinical trial, sponsored by PanOptica, Inc.
Currently, the most common treatment for wet age-related macular degeneration (wet AMD) involves regular injections of a drug into the back of the eye. The research trial is investigating whether these injections could be replaced by eye drops, an approach which has the potential to transform treatment for patients.
Consultant Ophthalmic Surgeon, Professor Faruque Ghanchi, said: "Macular disorders are the leading cause of blindness, and a decade ago treatment options were limited. The current standard medicine used in treating wet AMD relies on injections and, although eye drops remain the most popular way of administering ophthalmic medicine to the eye, they are not available to treat this condition.
"There is a growing need for research to find better treatment options. This is a great opportunity for Bradford patients with newly diagnosed wet AMD to directly participate in such research."
Participants in the clinical trial will receive randomised treatment in the first 12 weeks of the trial, with an additional month of checks to make sure everything is proceeding safely; and they will be followed up every 2-4 weeks by phone or visit over the course of the trial.
Ophthalmology Research Nurse, Nicola Hawes, added: "If proven successful this treatment has the potential to revolutionise the way we treat patients. It is non-invasive, does not rely on injections into the eye and patients would be able to safely treat themselves in the comfort of their own home with eye drops. This would be a new way of treating what can be a very debilitating condition. We are looking for patients aged 50 and over with newly diagnosed wet AMD."
The ophthalmology research team can be contacted on 01274 276378 or by emailing Nicola.hawes@bthft.nhs.uk
The Trust's ophthalmology department is home to numerous worldwide clinical trials taking the lead in eye care research. In 2016 the 'first class' work of Bradford Teaching Hospitals' ophthalmology service was recognised with two prestigious national awards.