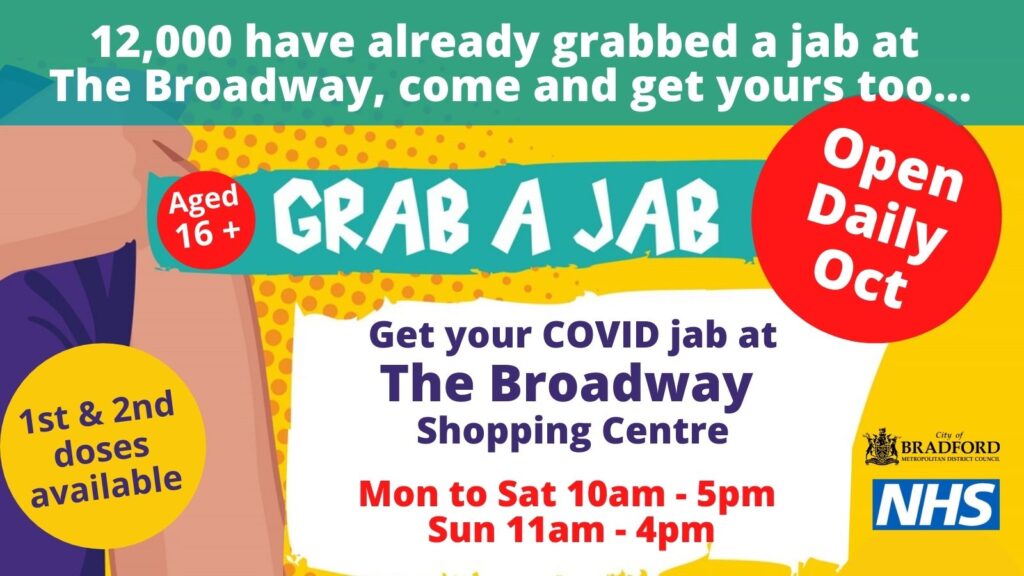 Over 12,000 residents and workers across the Bradford District have been to 'Grab A Jab' at The Broadway Shopping Centre since the walk-in clinic opened in mid-July.
Currently administering the Pfizer and Moderna vaccines, the convenient COVID-19 walk-in vaccination clinic is open daily near the Market Street entrance to The Broadway shopping centre. The service has been set up by local health and care partners through NHS COVID vaccination programme for Bradford District and Craven.
Anybody aged 16 and over can have their first vaccination and those requiring their second must have allowed eight weeks between each dose. People aged between 16 and 17 and three quarters, will only require a single dose in line with current guidance.
Cllr Sarah Ferriby, Bradford Council's Executive Member for Healthy People and Places, said: "We want to thank everyone who has already had their COVID-19 vaccine. The success of The Broadway vaccination centre is a credit to all our partners who are working to make it as easy as possible for people to get their COVID-19 vaccine. It's really important that everyone is protected against COVID-19, especially young people where we continue to see increases in infection rates since restrictions have been eased."
Karen Dawber, Bradford Teaching Hospitals' Chief Nurse and NHS co-lead for the vaccination programme across Bradford District and Craven, added: "We're really proud to be working with a range of partners on our Bradford District and Craven Covid vaccination programme making it really convenient for people to 'Grab a Jab' and get vaccinated. The Broadway Bradford offers a really quick and efficient option to get the COVID-19 vaccine without the need for an appointment.
"The walk in clinics have proven popular with shoppers, workers and residents and I hope as many people as possible will continue to attend and get vaccinated quickly and easily.  Our flexible walk-in clinics available throughout Bradford District and Craven, offer people a chance to go to a service near where they live or work."
Ian Ward, General Manager at The Broadway, said: "The Broadway is committed to helping and providing for the community in all the ways it possibly can. It is really positive to have seen so many customers, retailers and staff already grab their COVID-19 vaccination at The Broadway. The clinic is open daily so if you are visiting The Broadway and are over 16, come and 'Grab A Jab' while you're shopping, you don't need an appointment just walk in."
To find out more information about the Bradford District and Craven walk in clinics, venues and times visit www.bradfordcravenccg.nhs.uk/covid-19-vaccine-resources/. For those wanting to book ahead they can do so by calling the NHS national booking service on 119 or by visiting www.nhs.uk.