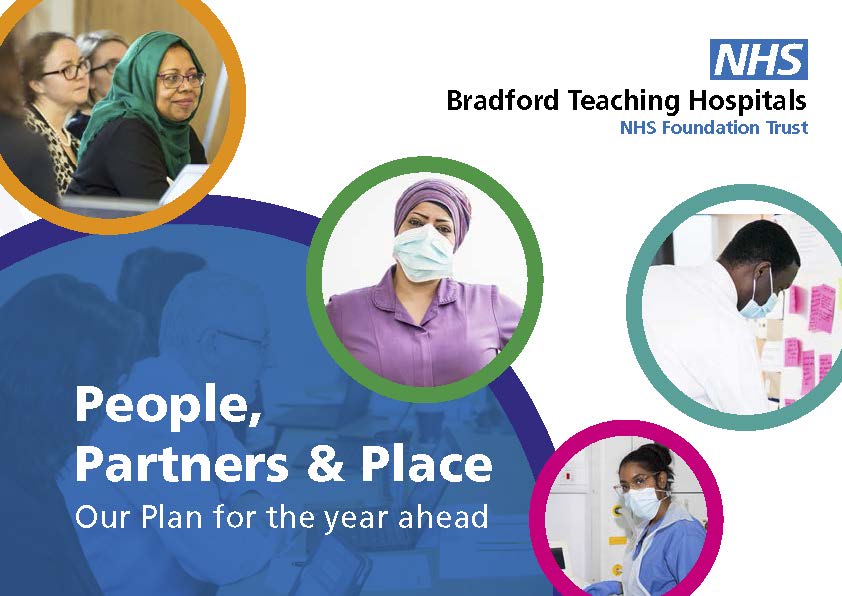 We're delighted to announce that we have launched our plan for the year ahead, which we've called "People, Partners and Place."
This has been a year like no other. Despite the huge challenge of the pandemic, we have delivered care to be proud of, and lived up to our vision to be an outstanding provider of healthcare, research and education, as well as a great place to work.
It's important that despite the pressure we're currently under, we continue to look forward.
So this plan is also the first step in our journey to develop a new five year strategy for our organisation, working with partners across Bradford District and Craven (our 'Place') so that we "Act as One" to deliver care in an integrated way, bringing our services closer to home to those who need them and making a real difference to the lives of our residents.
In order to achieve this vision, we have organised our ambitions for the year ahead into three, distinct areas:
People
Our population – we are committed to making a difference to everyone who needs our care.
We can best do this by developing high quality, innovative services with our partners and by embedding a culture of kindness.
Our colleagues – the dedication, care and compassion of our colleagues is awe-inspiring; this has especially been the case during the COVID-19 pandemic. We will continue to develop and nurture our people to support them to deliver outstanding care.
Partners
Our regional partners are, like us, active members of the West Yorkshire and Harrogate Health and Care Partnership (WYHHCP) – "this is our integrated care system" (ICS). We are committed to working with them to deliver innovative solutions and create new models of care to meet the health and care needs of the 2.6m people who live in the region.
Place
The health and care organisations in Bradford District and Craven are working together to keep local people Happy, Healthy at Home so that we can meet the demand for our services. Our joint response to COVID-19 has given us the impetus to accelerate our plans to "Act as One"; creating new ways to deliver outstanding care to local people, making best use of our resources, preventing illness and reducing hospital attendances.
This plan is a reflection of the wide range of work we're already doing to support our population and an ambitious statement of intent about what we will do to improve our services. Thank you to everyone who has contributed.
For more information, go to https://www.bradfordhospitals.nhs.uk/ppp/